Andre Drighetti – Sympla
He's Sympla's ticket to success
The shows must go on, especially after the lengthy intermission the entertainment sector endured during COVID-19. But it's mostly back to normal with resumed demand for tickets to all kinds of celebratory events.
Sympla is the largest "experience ecosystem" in Brazil and when Andre Drighetti spoke with Vanguard in April, it was all about moving beyond the trials and tribulations of the past couple years.
"It's important to regain our reputation with our customers and our clients," he says from his office in Belo Horizonte. "We were growing before the pandemic, but it hit us hard. Now, as we look to the future, we have been innovating so we can grow faster as the events market starts to grow again."
As director of legal, human resources and corporate affairs, the 32-year-old Drighetti is well-positioned to aid the cause on the legal and business fronts, as he's done since joining Sympla in March 2021. Pandemic notwithstanding, there hasn't been much down time, not with Drighetti identifying so many areas for Sympla to upgrade as a ticket seller and manager of internet events.
Perceiving shortcomings in governance, he spearheaded the processes for a more structured and transparent organization with responsibilities clearly defined and data to aid decision-making. There's a strengthened privacy team and with the focus on governance complemented by initiatives on environmental and social concerns, Drighetti sees a more progressive-minded company with greater appeal for young consumers.
They've got many choices, he says, with Sympla offering concerts, theatrical productions, stand-up comedy, children's events, tours and corporate events. Generally speaking, he says Sympla has everything when it comes to events in Brazil.
Wired for tech
Having achieved his goal of working in-house with a tech-minded company, he's enjoying himself. A Universidade Presbiteriana Mackenzie graduate, he joined Sympla after a couple positions in private and in-house law. His preceding job from 2018 to 2021 was with Takeda Pharma, with the last year as legal manager.
"A challenging and far-reaching position," he says about how he managed and coordinated all legal matters in Brazil. That included litigation, contracting, crisis management, development of service teams and mergers and acquisitions. But while it offered security, it wasn't where Drighetti wanted to sustain a career.
"I wanted to move into a technological company and staying in pharma would have made it harder to get the job I wanted," he says. "It has such a regulated system that doesn't give you much space to create or innovate in the legal suite. I didn't want to be pharma forever. I can put my ideas to work at Sympla."
A young company, Sympla's only been around since 2011 but has grown steadily. By 2016, it had been bolstered by $30 million in venture capital by Grupo Movile and since then acquiring its main competitor, Eventick, as well as other firms. What might be Drighetti's favorite part of the job is just being able to ask questions to all departments and mull improved business practices.
"I don't always need to be the lawyer", he says. "There's a chance to do so much more here. Every day I'm talking to the infotech, marketing and products teams, and others. It's so different than being at a law firm, having to specialize at something and not really understanding everything your client does or how they do it".
At home in-house
But while Drighetti went in-house at a young age, he still had to hone his skills as an associate from 2011 to 2014 with the Brazilian heavyweight Lazzarini Moretti Advogados. Having worked eight months as a secondment for Coca Cola's division in Sao Paulo, he took a full-time role with the beverage company for a couple years.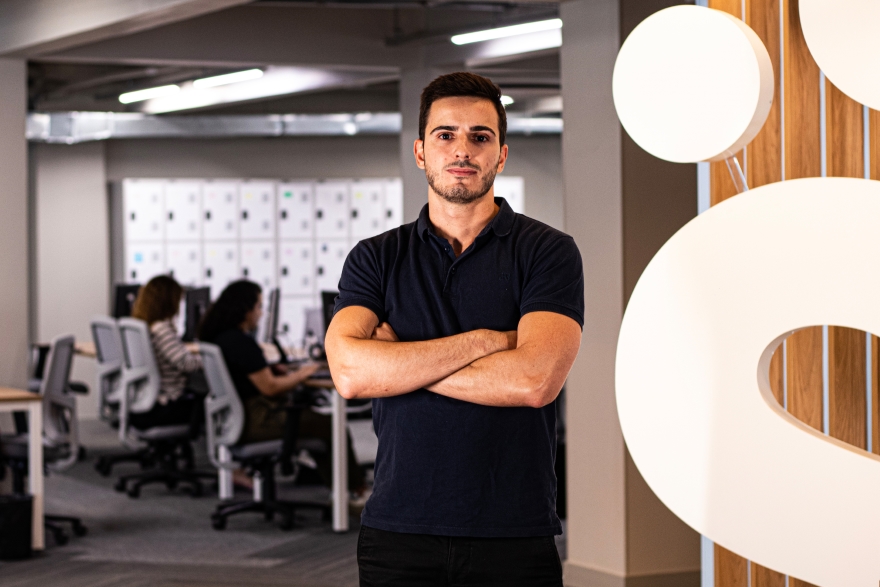 There always was much to do at Coca Cola where Drighetti's responsibilities included litigation, contracting and environmental matters. From there, he spent a year as senior counsel to Suzano, the world's largest pulp paper producer, managing its Brazilian and foreign offices in civil, credit recovery, environmental, regulatory and administrative matters. Afterward came Takeda Pharma and, of course, Sympla and the technological emphasis that Drighetti had so sought.
"I was almost gambling," he says. "I didn't know what would happen in the future but wanted to change the industry."
More than two years later, it would seem Drighetti's calculated risk has met his professional needs. But he's always been the sort to take chances and says he's most often come out ahead.
As for what drew him into law, it wasn't always on his radar. International relations were and remains one of his interests. But Drighetti says he was also drawn to law by his older sister who was finishing her legal education when he was studying for his college boards. The more she asked him to help her study, the more he found law compelling.
In retrospect, he's glad his parents nixed his early desire to attend college in the United States. As an exchange student, Drighetti spent two years in Buffalo, which marked the first time he saw snow.
"A historic 75-year storm," he recalls of a 2007 blizzard that blew off Lake Erie and covered the Rust Belt city. That had him thinking of attending college in Florida, but his parents beckoned him back home, which gave him an early start in his legal education: Unlike Americans, Brazilians can begin law classes as undergraduates.
Whereas some Americans might say that leaves Brazilian lawyers less rounded, Drighetti says the ensuing years have been a great equalizer. He's also enhanced his skills with post-graduate curriculum on alternative dispute resolution and civil procedure code, an MBA from Fundacao Instituto de Administracao and an extension course in leadership from New York University.
"I want to continue bringing value to the company," he says. "We have much room to continue growing, and I want my team growing too."
View this feature in the Vanguard Spring III 2023 Edition here.
Showcase your feature on your website with a custom "As Featured in Vanguard" badge that links directly to your article!
Copy and paste this script into your page coding (ideally right before the closing