Anna Aguilar – Aguilar Bentley LLC
Doing it her way
It's not exactly a modern-day retelling of the David versus Goliath saga, but when it comes to Aguilar Bentley's track record in New York City law, some of the story's elements might well ring true.
Replace the two guys with women, one being a mother of triplets. Then consider that the small feisty firm—founded in 2014 by Aguilar and her partner Lisa Bentley—has achieved large victories against powerful multinational companies with big legal defense accounts.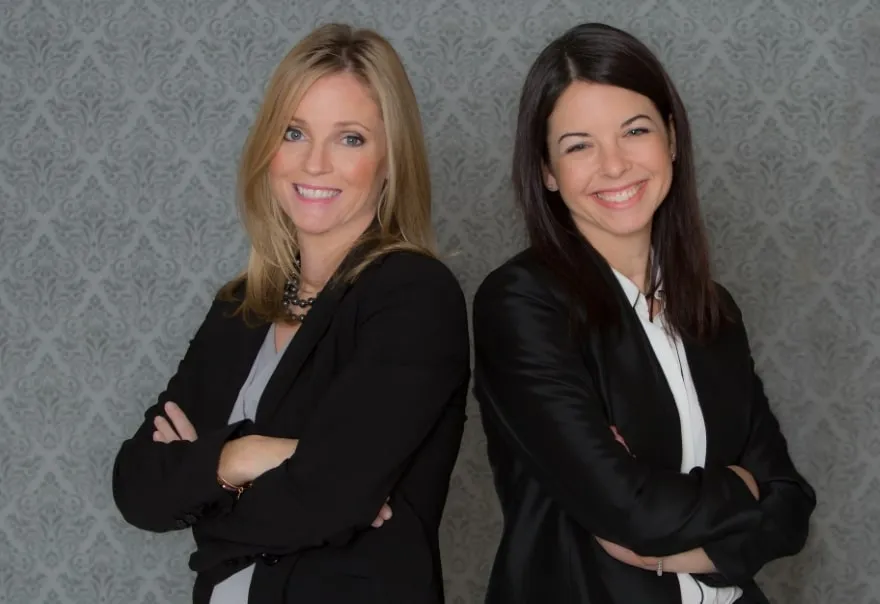 With nearly 20 years of experience and being "big law trained," Aguilar thrives on complex commercial litigation matters for Fortune 500 corporations, mid-sized companies, private equity firms and hedge funds. In one of its first major victories, the firm won a multi-million-dollar insurance recovery from a large Swiss firm for one of its private equity clients.
"We were up against a large, well-known international law firm that specialized in insurance defense work and they threw plenty of resources at it," she says. "At end of the day we had the better side of the argument."
"They should've tried to settle a lot earlier," she says.
Beginner's luck? Nope
Aguilar's team recently won another judgment for more than $11 million.
The case involved a company that loaned $40 million to a group of Florida health care companies. As Aguilar explains, the principal of the company receiving the loans signed personal guarantees, and when the company failed to repay the loans, the principal was on the hook for a significant portion.
When the company defaulted on the loan, her client tried to invoke the guarantees, asking for approximately $10 million to be repaid.
"The principal refused to pay and it led to nastiness between parties and fighting. I was asked to bring a suit against the principal in a New York court. We opted to pursue summary judgment in lieu of a complaint to get the money back," she says, which is a unique procedural mechanism that is available in New York, unlike most other states.
The option, she told her client, could be a clever one, potentially allowing them to get a resolution in a matter of months instead of years.
She guessed right.
Aguilar presented oral arguments and the judge ruled from the bench in her client's favor—ultimately awarding judgment for more than $11 million for her client.
"You get a lot of male litigators that throw their egos around and try to bully you," Aguilar says. "But I am no shrinking violet … eventually you have to go to court and all the yelling and screaming in my face won't make a difference."
Beyond dollars
Not all rewards are based on money.
A satisfying accomplishment for Aguilar's team was to gain certification by the National Association of Minority and Women Owned Law Firms (NAMWOLF) in early 2018 and the Women's Business Enterprise National Council (WBENC) in 2016.
Being selected is the culmination of a vigorous certification process that includes having your corporate clients vouch for you, as well as undergoing a peer review.
Aguilar's firm now has five lawyers, one paralegal and an administrative bookkeeper—comprising five women and two men.
"We are proud of our diversity here," she says, "and we hope that we can diversify even more over the next few years."
Changing it up
Aguilar started her career earning a bachelor's degree in sociology at Boston University in 1997 and after winning a raffle for an LSAT prep course, followed it up with a Columbia Law School degree in 2000.
Staying in the New York City area, she took her first post as a law clerk for a federal judge in Newark and in 2002 went to work as an associate at Willkie Farr and Gallagher in New York, staying there for more than six years and meeting Bentley during that time.
"Lisa is very smart and well-spoken and could organize her thoughts clearly," she recalls. "I was a couple of years senior to her and was very impressed."
Aguilar left Willkie in July 2008, when her triplets, one of whom had Down syndrome, were a year and a half old. A few years later in 2012, Aguilar had another son.
"I was on track to make partner and realized this was not the lifestyle I wanted to lead. I decided to leave and do things on my own terms," Aguilar says.
Renting office space on 5th Avenue, she went solo for two years. Leaving her private office in 2009, she took a position as head of litigation at Berger Legal; Bentley joined her there in 2011.
In the midst of it all, one of Aguilar's triplets, her 7-year-old daughter with Down syndrome, died from complications due to lung disease, a sobering reminder of the things that are most important in life.
"After a few years, Lisa and I decided to separate from Berger Legal and form Aguilar Bentley, which specializes in commercial litigation matters," she says.
Since making it official, much of its business comes from referrals. In a growth period right now, Aguilar says her and Bentley's roles are a combination of litigator, CEO and COO. They recently hired an associate from Davis Polk. Aguilar remarked, "We love the idea of bringing on new attorneys that we trust and can mentor. The fact that they have worked in the big firms is huge for us."
Aguilar's style, she says, is to be forthright and try to over deliver, drawing on skills gleaned by working in firms both big and small, synthesizing their best qualities.
"The most important thing I've learned is to communicate and be responsive to clients," she says. "You don't have to have the correct answer right away, but you need to let them know you care and that you are aware of the issue and will get back them quickly."
For Aguilar satisfaction, beyond a big win, is striking a work-life balance while raising three boys. This includes myriad sports and extracurricular activities, including running a charitable organization in her daughter's name that raises funds for kids with special needs in her community.
"The most rewarding aspect of my job is the fact that I still get be a lawyer litigating real cases in NYC without completely sacrificing time with my kids," Aguilar says. "I get to do it on my own terms and I'm proud of the business we're building. And it's not just about being here as a mom, but also about building the kind of life I want to live."
Showcase your feature on your website with a custom "As Featured in Vanguard" badge that links directly to your article!
Copy and paste this script into your page coding (ideally right before the closing