Brendan O'Connor – Garrett – Advancing Motion
Revved to go public
You could say the spin cycle has turned out more than OK for Brendan O'Connor. Or, to be precise, the spinoff cycle.
For most of 2018, O'Connor, then the assistant general counsel of mergers and acquisitions at Honeywell International Inc.'s headquarters in northern New Jersey, was entrusted with fronting the company's spinning off of its homes products division into an independent, publicly owned entity that would be rebranded and ultimately become Resideo Technologies Inc.
Meanwhile, another in-house lawyer would divest Honeywell of its transportation and turbo technologies wing that would also be going public as Garrett-Advancing Motion.
The two divestures proceeding independently, it was still a relatively small world at Honeywell, one in which O'Connor knew all parties. So when the Garrett team reached out and asked him to join them, telling him, "we think you'd be a great fit here," O'Connor agreed, though he still had Resideo responsibilities pending. Like a private lawyer with two heavyweight clients, he would juggle his duties to the satisfaction of each, even if it put something of a strain on his own lifestyle.
"I'd come to work one day and find out my workshop with Garrett was in some fill-in-the-blank city—London, Rolle [Switzerland], Morris Plains [New Jersey]—and that's where I'd be the next few days," O'Connor tells Vanguard. "Then Resideo would have its own workshop in Minneapolis, Hoboken [New Jersey] or London the following week. I ended up getting to know United Airlines far too well."
But he also got to know people a long way down the hall from the so-called C-Suites.
"These were the folks who, day to day, were pouring their heart and soul into making the spinoffs successful without the recognition," he says. "They were incredible people who were a big help to me throughout. It reminded me of stories I had always heard about the camaraderie of a platoon, and half the time I was wondering if this would someday turn into the equivalent of a wartime flashback."
A mature startup
O'Connor says that as hyperbole, for though the process of divesting part of a company and taking it public is complicated and cumbersome, it wasn't as if Garrett was a startup per se.
"A mature startup," is how he describes his new employer.
The brainchild of the late, great California aerospace engineer and entrepreneur John "Cliff" Garrett, some form of that company had been around since 1954 and was absorbed by Honeywell in 2004. Being an established enterprise simplified some aspects of Garrett breaking free from Honeywell and going the IPO route; other matters would prove to be more complicated.
Headquartered in Switzerland and with operations in 30 countries, meant that O'Connor would have to deal with around 60 far-flung legal entities in sorting out such details as taxes, supply chain, procurement and compliance before the "independence day" of Oct. 1, 2018. Around 74 million shares of Garrett common stock, worth $16.37 each would be distributed that day, with each Honeywell stockholder of record receiving one share of the spinoff for every 10 shares of Honeywell common stock.
Game face on
The months since have gone as smoothly as practically possible for any new enterprise, O'Connor goes on to say. When speaking to Vanguard in mid-April, the first quarter performance was about to be detailed, and the stock price was around $19 and labeled "bullish" by online reviewers. Proxy season was underway, with the first annual meeting scheduled for June.
"After that, we'll have done all our heavy lifting for our first year," he says. "It'll be good to have all that under our belt."
And while Garrett is legally free of Honeywell, he notes the parent company's model is one that continues to serve the new offshoot. "Honeywell's operational DNA still runs deep," says O'Connor, who cut his in-house teeth there from 2013 to 2018 after earlier stretches handling business law with Hughes Hubbard & Reed and then Latham & Watkins.
Though law may not have been the 40-year-old O'Connor's primary interest half a lifetime or so ago.
A pretty fair high school hockey player in Colorado Springs, O'Connor contemplated trying to play in Canada's junior leagues before opting for Tufts University in the Boston area, where he'd meet his wife of the past 12 years and become father to two young twins. He'd play for the Jumbos before damaging his back, and while rehabbing would enroll in a Japanese language class that would figure in him studying abroad in Tokyo as well as at Spain's Universidad Autónoma de Madrid where he'd advocate asylum for deserving refugees.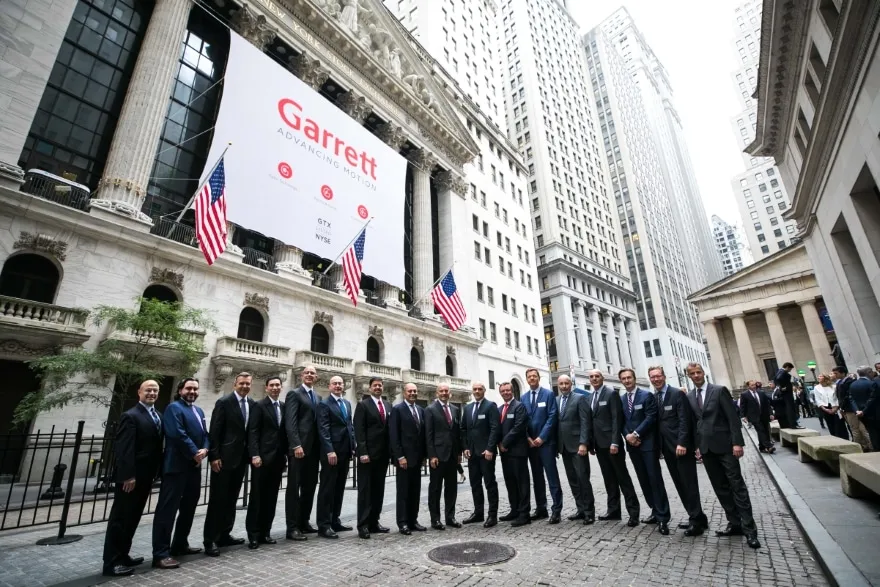 While at Cornell Law School from 2002 to 2005, he'd spend semesters at Pontificia Universidad Católica de Chile as well as at the Law Centre Northern Ireland.
In retrospect, that back injury might have been for the best. And, for what it's worth, the Division III Tufts icemen attract sparse, if any, attention from National Hockey League scouts. For O'Connor, a window might have closed, but a door opened.
Which always seems to be the case for a man who makes his own breaks.
"The way I live is to seize every moment," O'Connor says.
Son of a Bronx-born professor of classic Spanish literature and a Bronx-born kindergarten teacher, the San Diego-born O'Connor recalls how students would come to his family's house for dinner and how much he wanted to speak their language.
Dad would help, but only to an extent. He'd give his precocious son a Spanish-English dictionary and leave it up to him to pore through it. He would do so well that years later in Madrid he could advocate in Spanish on behalf of refugees who hadn't mastered the native tongue.
There's another interest of O'Connor's that also makes him ideal for Garrett-Advancing Motion.
"I grew up around cars," he says, noting that Colorado Springs has a strong Air Force presence and how men in all the services tend to be gearheads. "Garrett supplies turbo technologies to all the big players in motorsport—winning at Le Mans, Formula One, Indianapolis."
A perk of his position may one day be attending a Formula One race in Monaco, Monza or Abu Dhabi, watching with pride as Garrett boxes arrived at the track.
"Who knows, maybe fate has played a role in my career," he says with a laugh.
Self-sufficiency, too.
Showcase your feature on your website with a custom "As Featured in Vanguard" badge that links directly to your article!
Copy and paste this script into your page coding (ideally right before the closing