Gail Sharps Myers: Senior Vice President and General Counsel with Snyder's-Lance Inc.
From Capitol Hill to white shoe firms, Sharps Myers brings new expertise to U.S. snack giant
Gail Sharps Myers started planning for her career early. When she was a child, it was astronaut, actress and lawyer that topped her list of prospective professions.
"Eventually I realized I didn't have the math skills to be an astronaut and being an actress was just not in the cards, but my uncle was a judge in New York and I always thought he was the coolest and I became really enamored of the good you can do with the law," says Sharps Myers.
Initially Sharps Myers intended on a career on Capitol Hill where she could affect social and political change in her role as a lawyer, but after graduating Howard University in 1993 and taking a position on the Hill, she began to have doubts.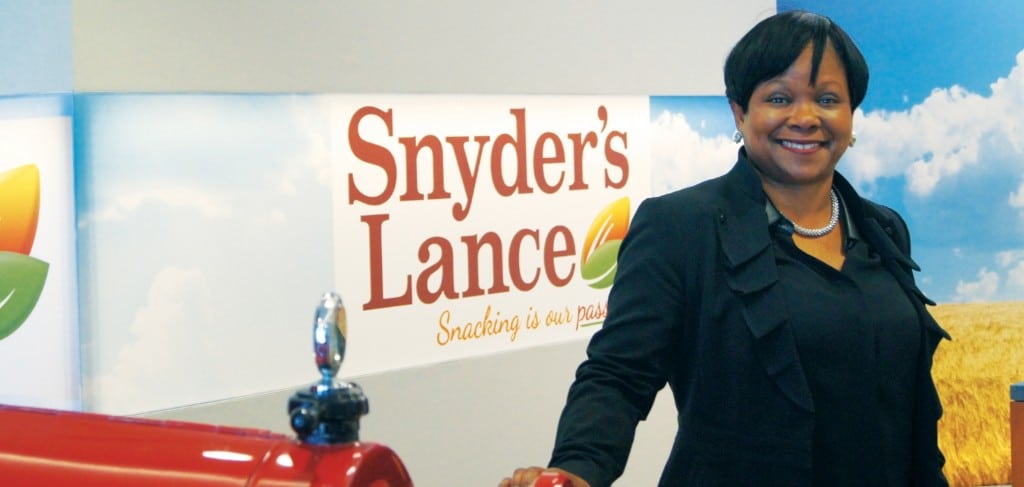 "In those days Capitol Hill was breaking down and was just not what I thought it was going to be: you couldn't get anything done on either side of the aisle. I realized that environment wasn't one I wanted to work in and I decided to study corporate law," she says."In those days Capitol Hill was breaking down and was just not what I thought it was going to be: you couldn't get anything done on either side of the aisle. I realized that environment wasn't one I wanted to work in and I decided to study corporate law," she says.
As a woman in a largely male-dominated atmosphere, the patriarchal nature of Capital Hill was another challenge that motivated Sharps Myers to seek her law degree. "I felt like there was a gender divide and a glass ceiling that forced me into law school earlier than I might have because I wanted real-life work experience," she says.
Back t

o the books
Sharps Myers enrolled America University's Washington College of Law, earning her JD in 1997 and launching her career into the world of corporate law. The fledgling lawyer cut her teeth at storied white shoe New York City law firm Kaye Scholer where she spent two years as a clerk and another two as an attorney.
"That was a great experience and I only left because I burned out, so I left and went to a midsize firm in hopes of making a lifestyle change," she says. Sharps Myers joined Loeb & Loeb LLP in 1999, rising to the role of senior associate before drastically reprioritizing her life after the birth of her first child.
"I was driven totally crazy by the fact that I now had an infant and her nanny heard her talk for the first time and saw her walk first. I had to make a choice: I was either going to be a mom who got to see those types of firsts or I was going to be a partner in a law firm," she says.
Stints at large and midsize firms had proven incompatible with motherhood, but Sharps Myers tried once more with two small boutique law firms in Washington, D.C., Lewis & Munday PC, and Blackwell Igbanugo PA.  "I quickly realized a small firm was not for me and I was still not satisfied with my work life balance, so I decided to go in-house with U.S. Foods in 2002," Sharps Myers says.
Sharps Myers entered U.S. Foods as an entry-level attorney in the legal department of one of the country's leading food distributors. Having finally found a position in the legal field that allowed her to advance her career while fulfilling her child-rearing goals, Sharps Myers stayed with U.S. Foods for over 10 years, working her way up to senior vice president, deputy general counsel and chief compliance counsel  before being recruited to Snyder's-Lance in early 2015.
The move to the country's second largest salty snack producer allowed Sharps Myers to maintain a more regular schedule and relocate to Charlotte, South Carolina, after a life spent in far colder climates. "The opportunity was very attractive and my family loves North  Carolina," she says.
Formed after the 2010 merger of Lance and Synder's of Hanover, Snyder's-Lance later acquired Snack Factory in 2012 for $312 million, further expanding the company's myriad brands which today include Cape Cod Potato Chips, Late July, EatSmart Naturals, Archway and Stella D'oro.
The company is also looking to acquire California-based Diamond Foods; a move that would expand Synder's-Lance's manufacturing capabilities into Europe and present new and exciting legal challenges for the company. With current revenues of approximately $1.7 billion and 5,000 employees, the acquisition of Diamond Foods would see Synder's-Lance's valuation climb to $2.6 billion and add some 2,500 workers.
While working for a snack food company might be a far cry from Sharps Myers initial aspirations on Capitol Hill, the benefits and opportunities presented by the move to Snyder's-Lance were just too good to pass up. "I was intrigued because I was obviously familiar with their product — I had many of them in my pantry," she says.
It was a follow-up interview with the company's executive management team that pushed Sharps Myers to take the leap. "Sometimes you make a step on faith," she says. "It sounded like an exciting prospect when the CEO and others explained to me where they were trying to take the company. When I heard the company was transforming and looking to the future, I wanted to be part of that."
"It sounded like an exciting prospect when the CEO and others explained to me where they were trying to take the company. When I heard the company was transforming and looking to the future, I wanted to be part of that."
Perks aside, the new position meant uprooting her family from Chicago to Charlotte. While Sharps Myers was initially reticent, the journey south has allowed her to achieve the work-life balance she had been seeking all those years. "We've only been here 12 months, but it provided us with so many more opportunities to engage in outdoor activities as a family and we've definitely become closer because of it," she says.
Leading teams and setting expectations
Sharps Myers serves Synder's-Lance as senior vice president, general counsel and secretary with a specialty in securities law, mergers and acquisitions, and intellectual property. "Employment law, litigation; you name it, I've got a finger in it. That's what makes in-house practice so exciting," she says.
As a public company, Synder's-Lance often works with outside counsel to assist in areas such as securities, corporate governance, commercial litigation, employment law and regulatory issues. In her role as top legal expert at the company, Sharps Myers is often called upon to establish clear communications and concrete expectations when engaging with outside firms.
"It's important to set the tone related to the expectations of the relationship so there is never any question as to why I am engaging you, how I expect you to conduct yourself run your teamand interact with me and any other members of the company's staff," she says.
One of the biggest challenges in working with outside counsel is ensuring that all stakeholders are on the same page and understand the long-term effects of any decisions that might be made. "Sometimes outside counsel don't understand that you're managing not only a legal issue, but also the internal ramifications of that legal issue and the mitigation and prevention of such issues in the future," she says.
Complex legal issues faced by in-house general counsels like Sharps Myers often involve stakeholders from a range of different educational, socioeconomic and cultural backgrounds and she says her strength lies in her ability to foster communication and understanding between diverse groups. "I think I have a way of engaging people so that no matter who they are, the message I am trying to communicate is received in a way that they understand. Culturally people are different and if you can't communicate with a person from a different background, your message is going to get filtered out," she says.
"I try to connect with people as individuals before there are problems so that when it comes time to work on a business or legal issue, we already have a relationship and communication  style that works for each of us," says Sharps Myers.
In her brief time at the company, Sharps Myers has felt very welcomed and valued by management team at Synder's-Lance, who often seek her opinion on aspects of the business that fall outside her traditional scope of expertise.
"I feel like I'm very involved and engaged in the business," says Sharps Myers. "My CEO includes me in both business and legal issues and conversations and that's how I try to engage the rest of the executive team: I tell them all the time 'I'm a business partner first, how can I help you?'"
While Sharps Myers is content in her current roles as senior vice president, general counsel and secretary, she has long held aspirations of getting into the business side of the industry, earning her MBA from Arizona State University in 2010 while working for U.S. Foods. "I thought it would be valuable in my toolkit and it absolutely was; I'm not just a lawyer for the company, I'm part of a business solution for the company," she says.
Looking back over her career thus far Sharps Myers is content with what she's accomplished, but that doesn't mean she's going to stop her self-improvement streak anytime soon. "Now the challenge is just growing myself and looking at how to  become better," she says.
Crediting a portion of her success to a strong team of mentors early on in her career, Sharps Myers would like to play that same role for an up-and-coming attorney like herself. "I definitely believe in paying forward and giving back, that's what I try to do," Sharps Myers says.
When she isn't busy ensuring the legal footing of one of the nation's largest snack producers, Sharps Myers can be found spending time with her kids, whose primacy in her life led her to pick the world of corporate law over the fast-paced world of a private law firm. "I just love engaging with them and doing anything as a family. This weekend we're going to make gingerbread houses and then come home and watch Rudolph," she says.
As Sharp Myers approaches her 1-year anniversary at Synder's-Lance Inc. she will continue to serve the company with unique skill sets honed over years at law firms large and small, bringing a positive attitude, team-player mentality and business acumen to bear on her role as general counsel.
Showcase your feature on your website with a custom "As Featured in Vanguard" badge that links directly to your article!
Copy and paste this script into your page coding (ideally right before the closing