Hailey You – Gluwa
Sound digital currency for everyone
She has a fascination with the more unconventional, even mysterious industries. It's one of many traits that seem to set Hailey You apart from most lawyers, be they in private practice or in-house.
Hence, the San Francisco-based startup for which she became the first general counsel this past February.
That's Gluwa, a blockchain-powered platform built to provide sound digital currency for everyday use, though in a world where the concept is only catching on incrementally. For Hailey, there's been excitement in spades—and queries aplenty from legal colleagues about why someone with her qualifications and options would have chosen such a role.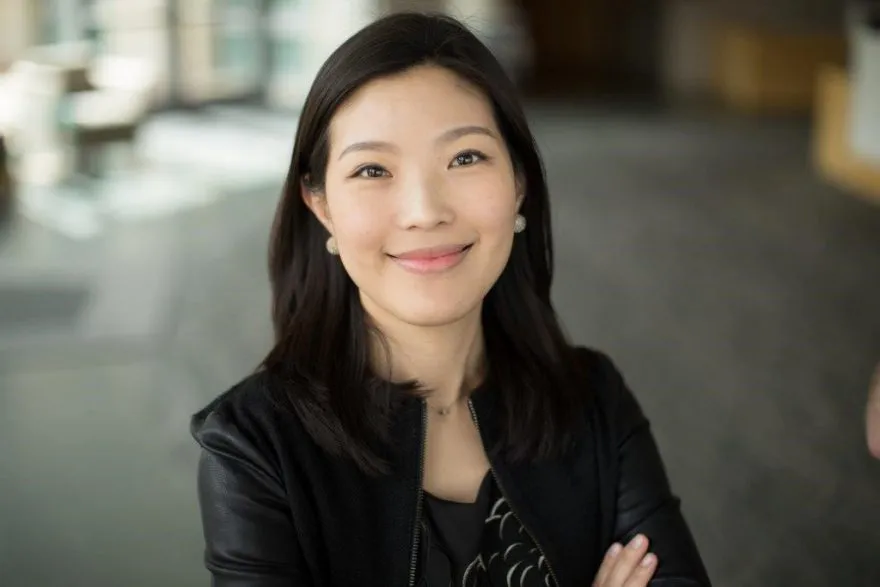 Seems to a lot of folks, cryptocurrency carries sinister connotations akin to the dark web. Hailey understands why the subject rings alarm bells and trepidation among many professionals.
"I plainly tell them that we lawyers who serve businesses have to take off our glasses, have an open mind and not be afraid of regulatory uncertainties," the lively, 32-year-old tells Vanguard in July from her office in Palo Alto, California. "The risk is great but the reward could be democratizing the financial sector and opening the doors to the world's unbanked population. That's a worthwhile goal."
And that might also put her with a company at the forefront of the next evolutionary state of money, albeit with many variables.
Gut of the matter
Hailey spoke to Vanguard just days after two congressional committees—the House Committee on Agriculture and the House Financial Services Committee—held hearings on digital currency, with more than a few members seemingly dumbstruck by the subject and any resolution on hold pending further action.
Rep. Austin Scott, a Georgia Republican, just might have summed up the feelings of many of his colleagues on both sides of the aisle with this understatement: "We are a long way from the peanut fields in Sycamore, Georgia."
Well, time was when the concept of peanut subsidiaries could be a gut issue in the Peach Tree State. In the crypto business, gut issues include categorization of the digital tokens, the extent to which the U.S. government should consider cryptocurrencies as money, and the potential domestic and global uses for cryptocurrencies. Hailey doesn't seem to have any particularly strong feelings on how cryptocurrencies should be categorized, just as long as there is more settled clarity in regulating different types of digital tokens.
"Right now, we are playing with a lot of uncertainties," she says. "One poor word choice could send chills, and as such, general counsels are pressured to have a deep understanding of the nascent space to navigate the hurdles. To me, regulatory compliance is critical and our stance is to show our best efforts in complying with all laws within the existing frameworks until new, more fitting framework becomes available. Regulatory compliance in this space is tricky because different regulatory authorities could have concurrent jurisdiction and the scope of each authority's reach is still unclear."
At last look, the Securities and Exchange Commission classified Bitcoin as a commodity, but most initial coin offering (ICO) tokens as securities. That could change as the Venture Capital Working Group—an association of traders, lawyers and regulators—is trying to sway the SEC into viewing virtual currencies as "utility tokens"—future functional units of currency. The SEC could weigh in to clear up issues, at least in the United States.
But it's not just the United States that concerns Gluwa—as Hailey explains, the company seeks to serve the "unbanked world," the developing countries where over 2 billion people lack access to money. Far from enabling the bankrolling of some nefarious cause with untraceable currency, Gluwa would like to put cash—well, digital tokens—in the hands of those who need it most.
"It's a vicious cycle for the unbanked," Hailey explains. "Without a bank account, you cannot borrow money, but the world's unbanked cannot afford to navigate the system to open an account. We want to solve this problem using blockchain technology by creating a robust credit network programmed to incentivize lenders to lend and automatically punish borrowers for any default. Lenders can select credit history parameters (based on data collected by our partners), return rates, and various risk models, and borrowers can borrow money seamlessly without having to set up a bank account. The best part is, borrowers get to build credit history on the immutable digital ledger."
Around the world
Operating in different parts of the world, however, does put Gluwa at the mercies of regulatory bodies in many different places. Hailey—South Korean-born, and raised in Indonesia and the Philippines before coming to America for law school—would at least seem to have the credentials and the big-picture view to put the process in motion. She'll need vigilance as well.
"To be honest, it's daunting," she says. "I have to monitor basically the regulatory approach of many different countries. What are the regulations of South Korea? Nigeria? We're constantly trying to figure out whether this country or that country is friendly to cryptocurrency and which agency has jurisdiction over it."
But there have been encouraging indicators. Gluwa has offices in Canada, South Korea, and Nigeria, the latter country where there are over 350,000 users today. As long as a country has internet access and the people have smartphones, there's potential for Gluwa to be a monetary and economic disruptor in the best sense.
Which is what inspired Gluwa to launch in January 2012, the founders basing the name on the first ironclad warship, the Gloire, launched by France in 1859 after the Crimean War. Just as that vessel disrupted what passed for the era's modern naval technology, Gluwa seeks to do to a global monetary system that, in a sense, has red-lined the neediest countries and people.
It'll be easier to be so disruptive once the regulators resolve some issues, and at Gluwa, there's the sentiment that the company is on the cutting-edge of something big. For Hailey, there's the opportunity to weigh in on many matters, legal and nonlegal, though on the former, she's often working solo.
Seems that many lawyers still shy away from the cryptocurrency world.
"It can be hard to hire talented counsels," she says. "We have been rejected by a big banking law firm in New York, even for just regulatory advice. Not sure if it's the lawyers or their clients, but we face an uphill battle."
No doubt, it's one she won't shy away from.
Showcase your feature on your website with a custom "As Featured in Vanguard" badge that links directly to your article!
Copy and paste this script into your page coding (ideally right before the closing