Jeff Jackson – State Farm Insurance Companies
Establishing strong legal and executive leadership to support nationwide business
Since forming in 1922, State Farm Insurance Companies have helped customers recover from the unexpected and unfortunate situations that arise throughout life. With more than 70,000 employees and some 18,000 agents nationwide, State Farm represents hundreds of thousands of policyholders across the U.S. and Canada, who it promises to serve unlike any other insurance company. Behind the multibillion dollar company is a strong in-house legal team and this extended family of lawyers and professionals workday in and day out to help clients achieve goals and solve problems.
Jeff Jackson, chief legal officer at State Farm, has a long tenure with State Farm. Jackson has been with the company for more than 28 years. His specialty is in trial law and corporate governance, but in his former role as general counsel, Jackson oversaw all facets of State Farm's legal department. Today, he works with the firm's top executives as a key business-strategy adviser and professional development leader.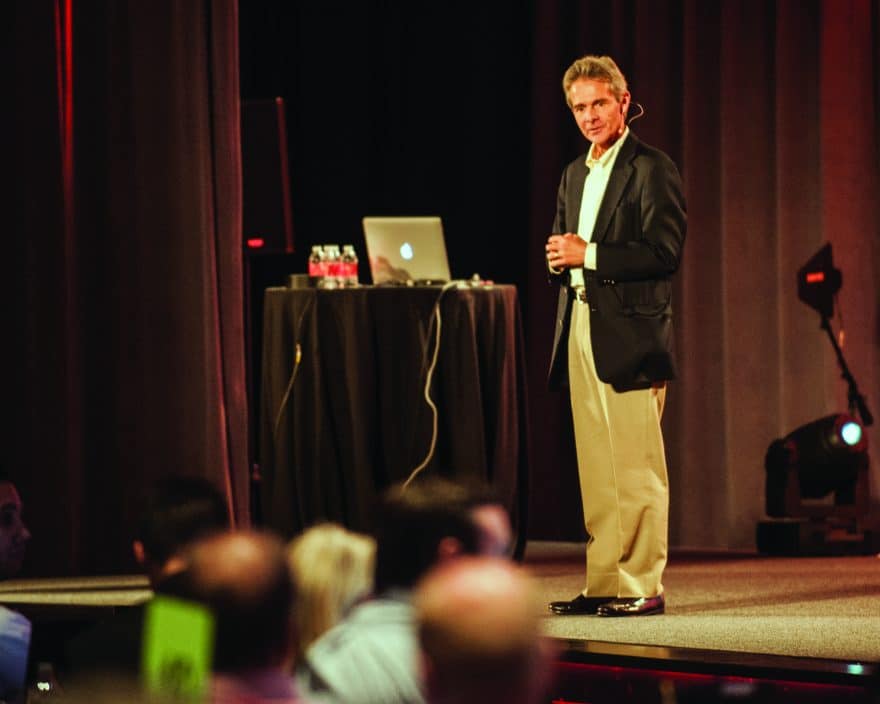 Building a company within a company with solid leadership
Growing up, Jackson's father was a trial attorney. He says his father was reminiscent of Gregory Peck, the actor who portrayed Atticus Finch in 'To Kill a Mockingbird'. Jackson says hearing his father's stories initially inspired him to become a lawyer. "I remember sitting down to dinner and wanting and waiting to hear his fascinating stories from the day, which were really the cases he was trying," he recounts.
Before joining State Farm, Jackson worked in private-practice law for nine years. "I started out as a transactions lawyer and was asked to pick up inventory in the trial arena, representing an array of large corporations in state and federal courts around the state of Illinois," he recounts.
Through this work, Jackson was sought out by State Farm to establish the company's in-house trial capacity. He joined State Farm in 1988.
"Over the first eight years with State Farm I established 38 branch offices around the country, comprised of lawyers and legal professionals to help represent State Farm policyholders in court," says Jackson.
Part of this task was to define the role of trial attorneys within the large-scale organization. "Luckily I had a lot of help and I hired some really good people to work with me on this assignment," says Jackson. "I wanted to build law firms that I would want to be a partner in. In short, I was basically building a company within a company."
Jackson says during this busy selection process he was on the lookout for creative people, humble individuals. "I wanted team members that have some ability to look two blocks down and three over," he says. "People who are not afraid to take risks and allow other people to take the spotlight and lead from behind — that's the kind of person we were looking for. Another quality is humility. We wanted people who are humble and willing to give others credit. For the most part, we wanted team players because working with others to get the job done is critical, especially due to the complexity of this business and the amount of regulations the insurance industry is under."
Today, these 38 offices help State Farm offer efficient, economical and high-quality policy-holder representation. "This gives us the ability to work closely within our organization and allows others in the company to learn from these people without having to pay additional money for an outside firm's knowledge/opinion," explains Jackson.
In terms of the more traditional in-house law department, housed at State Farm's headquarters, Jackson says the company has benefited from a number of recent initiatives. "Whether it's a professionalism committee or a talent review committee; or a strategic initiative that helps us review a department and see how we can become more customer-centric — all of these things have been very beneficial to State Farm," he says.
Jackson's second major assignment was to head up a litigation division comprised of lawyers capable of defending State Farm when the company was sued in courts around the country. Jackson says being a good trial lawyer is about being authentic and approachable to jurors.
"You need someone who is very comfortable in who they are and can be comfortable with a whole diverse group of people — whether they're in the South, Northeast or the Western United States," says Jackson. "This also applies to business leadership such as CEOs of large organizations and multinational corporations, or just companies doing business in the U.S. If you don't have leadership like that you can't win the hearts and minds and keep the hearts and minds of your people." This is particularly important in the insurance industry, where all aspects of State Farm interface with so many customers daily.
Mentoring and coaching the executive team
Eight years later, Jackson was promoted to general counsel. "I now had about three different roles," explains Jackson. "I was leading the law department itself and also working as counsel to senior executives and the board of directors, and I was representing part of the c-suite in front of our own employees."
Now as chief legal officer, Jackson's advisory role has continued to evolve. Today he advises State Farm's top executives in more than just business decisions involving innovation, research and development, but also in professional development mentoring and coaching. "For the last five or so years we've been taking annual trips to China," he says. "They're usually 12-day trips with our senior executives. It gives us the opportunity to visit with other insurance companies and explore how they do business and their company culture."
He says he was inspired by a book that changed his perspective on leadership and what it truly means to leave a legacy. "I ready 'Howard's Gift' by Eric Sinoway, an author who wrote about a retired Harvard business school professor who suffered a massive heart attack on campus one afternoon. By all factors, the professor should have been dead, but he survived. One of his students asked him if he felt like he had accomplished wanted he wanted in his life and career," says Jackson. "After reading this story I started thinking a lot about that question."
As Jackson approaches retirement after nearly three decades with State Farm, he now feels like he could answer that big-ticket question with an honest "Yes."
"I'm going to officially retire in February 2017," shares Jackson. He says he's looking forward to spending more time with his two daughters and his son, who have all gone on to successful professional careers. "We also hope to travel and follow other passions in cooking and wine pairings," says Jackson.
But he won't be giving up his business involvement anytime soon. "I plan to serve on a company board in my retirement," he says.
Having made close connections to the Chinese government after so many executive leadership trips, Jackson has also been invited to give his expert opinion in a series of talks. "I'm leaving for a presentation in Shanghai to give a speech on innovations in the U.S. insurance market," adds Jackson.
Until next February, Jackson is busy continuing to serve the legal and executive team at State Farm. Part of his mission and legacy at State Farm is promoting a strong company culture. "We're a really fun place to work," he says. "Having fun makes it exciting to come to the office every day. It is more of a holistic place to learn and grow. I would say there are other law departments that have just as good of an environment as ours, but some do not have the sense of culture that we do."
With strong legal and business leadership in place due in large part to Jeff Jackson's 28 years of service, State Farm can better support its policyholders with the good neighbor approach that's made the business more than just insurance.
Showcase your feature on your website with a custom "As Featured in Vanguard" badge that links directly to your article!
Copy and paste this script into your page coding (ideally right before the closing