Jeffrey Gautsche – MTX Group Inc.
It's go time for MTX Group
Jeffrey Gautsche jokes that his greatest challenge at MTX Group Inc. is keeping pace with founder Das Nobel's vision for expansion.
The Albany, New York-based salesforce and staffing company is expanding in pockets around the world, making good on its goals of achieving significant growth by 2025.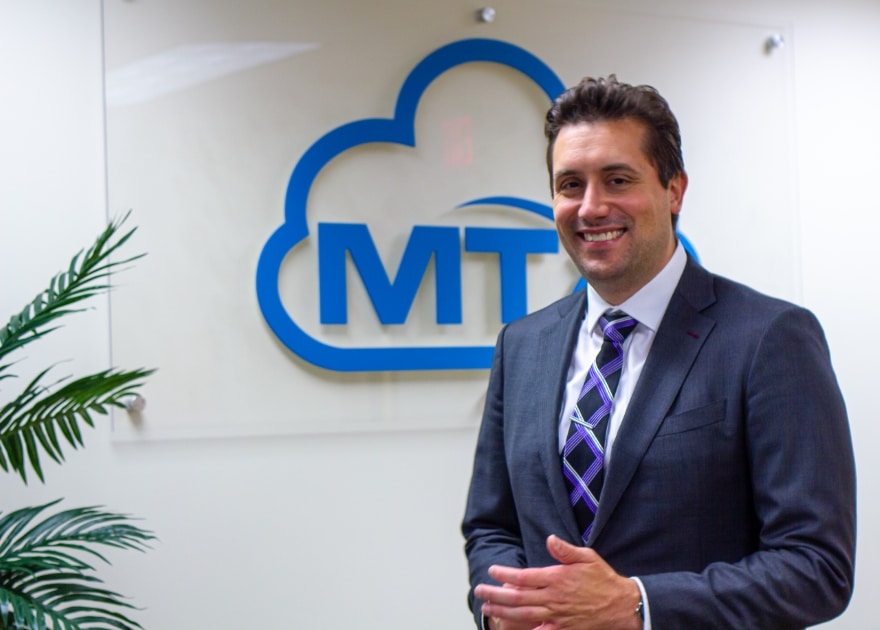 That means plenty to do for Gautsche, who joined the team as general counsel in 2017 and is keeping a close eye on a number of regulatory matters.
It's Nobel's business concept, however—to enable organizations to become well-run enterprises through process optimization and strategy—that is attracting big clients like the Port Authority of New York and New Jersey and the New York City Police Department. Those successes are only adding to Gautsche's docket this year as he preps the fast-growing company—which has thus far been self-funded—to be ready for outside investors. Poised to go after a billion dollars in revenue by 2025, Gautsche says it's "game on" for the team.
"It's exciting to be a part of a growing company, knowing my work is instrumental to its growth, and seeing the numbers go up everywhere with all the new faces," Gautsche says. "It's great to come from a company that no one's ever heard of, to having people say, 'Wow you work at that company!'"
Fired up, ready to go
It was in 2015, during his post-graduate fellowship in Albany with the New York State Energy Research & Development Authority (NYSERDA) that Gautsche first met Nobel and MTX. It was a fortuitous meeting, one that paved the way for Gautsche to land a position as the company's first general counsel in 2017.
Right from the start, Gautsche says MTX saw tremendous growth—jfrom three employees to a fully staffed organization spanning from coast to coast across the U.S.
Added to that is a second headquarters in Texas, an office in Los Angeles and a new office opening soon in the Big Apple. In addition, Gautsche has been working with a team in Toronto to potentially expand MTX into Canada. To facilitate this growth, Gautsche has handled all the contracts, company restructuring initiatives, regulatory hurdles and immigration issues.
"There's been a lot of business challenges crossing state lines and moving internationally," he says, commenting he's adding a second lawyer soon. "The days are very hectic and the hours long, but it's been a wild ride and I love it."
Serving up software
MTX specializes in customizing its customer relationship management (CRM) platform for its clients by creating tailored user experiences, offering advanced applications and optimizing operations. By using and developing a proprietary artificial intelligence platform, MTX helps companies become more efficient with everything from calendar alerts to the status of visas for the workforce.
MTX's customers are 80 percent public and 20 percent private entities from the greater metropolitan New York area, New Hampshire, Boston, Texas and California, and perhaps even Canada in the future.
"Our explosive growth is hot on the tech side, with all the rapidly growing advancements in technology," Gautsche says, noting that business at MTX is being bolstered by working with strategic software partners to expand opportunities.
Stock options
Later this summer, Gautsche plans to make a presentation to secure series-C external funding for MTX for the first time. Filling out forms, buttoning up details, laying out financials and stock options—Gautsche handles them all.
It's an exciting prospect, he says, for the employees who are feverishly working to one day cash in on stock options. At some point, too, Gautsche says, MTX wants to enter the European Union and further expand its global business.
"It's important to get to that place that will allow us to focus on preventative measures and strategies to help us grow, as opposed to reacting to what comes at you defensively," he says. "Everyone here wants to keep growing. Our journey so far has been incredible, and even a year from now or less, we could be in a different place."
Fortuitous friendship
After graduating from the University at Albany, SUNY with a bachelor's degree in English in 2005, Gautsche took a break and picked up bartending on Long Island to help his family. He found his way back to law school at age 28, and went on earn a law degree from Touro College Jacob D. Fuchsberg Law Center in 2015, graduating at the top of his class.
Gautsche filled out his educational experience by working as a clerk at the Law Office of Elliot S. Schlissel between 2014 and 2015; as a legal intern at the Family Law Clinic, Touro Law Center in 2015 and; as a fellow at NYSERDA from 2015 to 2017. He became general counsel at MTX Group Inc. after befriending the founder.
"My favorite thing is being part of this growing family, and to help lead the pack here. I'm in a leadership position, playing an instrumental part in the growth of the company, instead of being in the middle of the pack doing paperwork someplace else and not having a voice. That would not be good at all," Gautsche says. "It's actually a great feeling to help people."
Showcase your feature on your website with a custom "As Featured in Vanguard" badge that links directly to your article!
Copy and paste this script into your page coding (ideally right before the closing