Jessica Swartz – Western Michigan University
Deputy GC talks policies and protected rights at WMU
At Western Michigan University, there wasn't always a written policy outlining accommodations for students with disabilities.
"A lot of professors and supervisors were making decisions on their own and trying to do the right thing, but it caused a lot of issues," says Jessica Swartz, WMU's deputy general counsel.
In October 2020, a reasonable accommodation policy was adopted to change this. Now students' and employees' requests go through a comprehensive review and approval process so their accommodations are formalized and consistent in all their classes or in housing.
Located in Kalamazoo, Western Michigan University has 22,000 students. The university has spent the past five years taking a comprehensive look at its policies to determine which need to be updated or rewritten. Swartz leads the committee responsible for this—so far, it's worked on 75 policies, some of which were existing and some that are newly written.
"With structure and framework, the process is more understandable now," she says of the reasonable accommodation policy. "We've made it much more equitable for students and staff who require these services."
Policy overhaul
Having stronger policies also helps maintain the university's accreditation status, which is evaluated every 10 years. In 2010, accreditors had recommended updating and creating policies, and in 2020 said they were impressed with the changes, Swartz says.
The  committee was formed by a work group that also created a "policy on policies ," which standardizes how policies are created, revised and enforced. Once the committee was formed, it categorized and reviewed existing policies. This involved updating language in some of them and establishing an appeals process, but Swartz says it also revealed where the gaps were and what policies needed to be created. In addition to the reasonable accommodation policy, the committee created policies regarding minors on campus, conflicts of interest for employees and trustees, public events and more.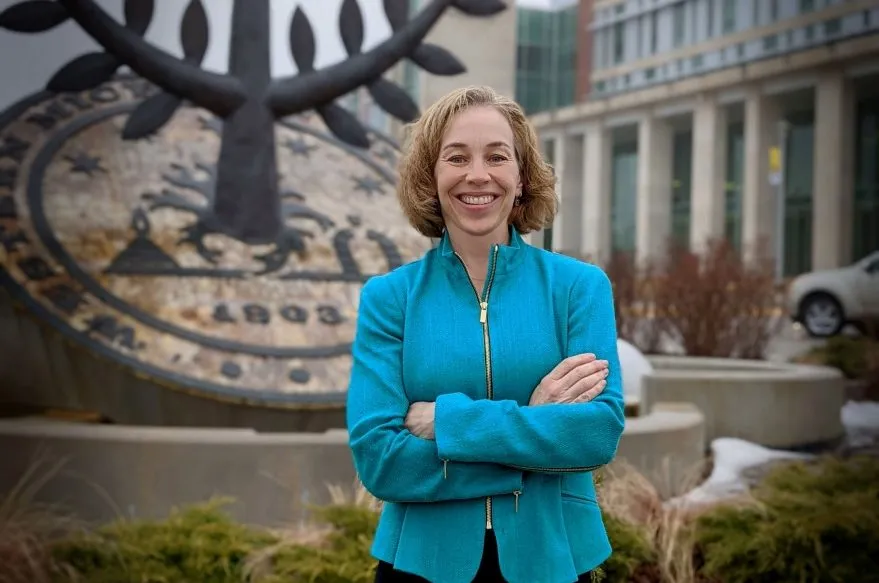 Creating a policy takes a minimum of four months depending on how much research and review is required, she says. The time also depends on how many offices are involved. For example, the reasonable accommodation policy took a year to write and get approved by the Board of Trustees. Swartz wrote  it with input from the departments of disability services; human resources; diversity, equity and inclusion; and housing and residential life, as well as the office of institutional equity for employees and the dean of students.
Student input is also very important, Swartz says, with some policies having been created at student request. Two student-led policies currently in the works include one on personal pronouns and one on flying the Pride flag on campus.
Talking through the issues
Protecting personal expression is important to Swartz, with freedom of speech being a particular passion of hers. She teaches a first-year class on it and leads presentations and trainings on campus, responsibilities coordinated with the vice president of government affairs.
"Free speech is something I've been dedicated to since I was a kid, so to do this in a professional capacity is very rewarding," she says. "It's a primary underlying value of our country."
Also, Swartz often serves as a moderator for WeTalk, a series of monthly roundtable discussions the university hosts. The discussions focus on free speech and how to have conversations about politics, race, gender, religion, the climate and more. The events are open to the public and are also recorded and distributed online.
"I love that I get to educate the WMU community on a topic that's so important to me," Swartz says. "I especially like teaching the first-year class because I get to interact with students and hear their thoughts and ideas. In my office, we don't have much student interaction, so it's rewarding."
Mission driven work
Swartz started working at WMU in 2017 as assistant general counsel before being promoted to the associate level and then deputy in 2020.
After earning her J.D. from American University, Washington College of Law, she started her career as a legal associate at Epstein, Becker & Green in Washington, D.C. She then spent over nine years with the U.S. Department of Veteran Affairs where she did appellate litigation, advised on rules of government ethics and advised on issues at the Battle Creek Medical Center, including regulations and litigation.
Swartz says her time at the Department of Veteran Affairs, most of which was spent as a senior appellate attorney, has informed her work on WMU's policy committee.
"They have a very centralized method of layered organization, so I brought in the parts that work for the university and discarded the rest," she says.
In addition to, and concurrent with, her legal roles, Swartz has also worked as an assistant varsity rowing coach at Bethesda Chevy Chase High School in Maryland. An avid rower herself, as well as a runner, she says her role was fun and rewarding.
Working with young people is fulfilling, she says, because of how curious they are. She says she's glad to have found a way to do this in her capacity as a lawyer.
"I love being on campus and working for a mission driven organization," Swartz says. "There's so much positive energy here compared to the typical office environment."
View this feature in the Vanguard Spring II 2022 Edition here.
Showcase your feature on your website with a custom "As Featured in Vanguard" badge that links directly to your article!
Copy and paste this script into your page coding (ideally right before the closing