Kevin Dineen – LasikPlus
Envisioning continued growth
There was a time when Kevin Dineen plied his legal and business skills for an enterprise that provided eyeglasses. Stylish and quality specs too, Luxottica Group's extensive offerings including Ray-Ban, Oakley, Versace, Chanel, Giorgio Armani and around a score more.
Since 2017, however, Dineen can joke that he's changed sides, opting for a company that lessens one's need to see through glasses and contact lenses.
It's not as if he's a turncoat. On the contrary, years before Dineen joined the Luxottica legal staff in 2011, he had already undergone LASIK surgery at a LasikPlus clinic.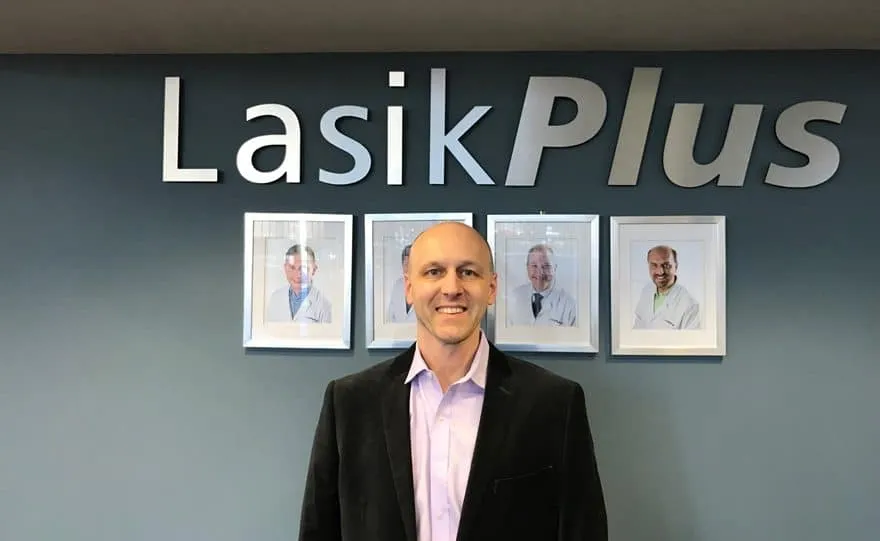 "A life-changing experience," Dineen tells Vanguard late last year from LasikPlus headquarters in Cincinnati. "That was 13 years ago and I haven't had to wear eyeglasses since, and my vision remains 20/20. I can vouch for the procedure's effectiveness from the patient's side."
He can also enable LasikPlus' growth from his role as general counsel. And growing is what the company has been doing, LasikPlus being one of just two national companies—the other being Vision Group Holdings—to capitalize on the popular elective procedure.
Looking to the Northwest
LasikPlus recently expanded into the Pacific Northwest, with Dineen streamlining the acquisition of two practices in Washington and one in Idaho, giving it a presence of 60 clinics in 29 states.
The only in-house lawyer, Dineen oversees a lean staff of five paralegals and contract managers while maintaining relations with a growing number of outside counsel. His background heavy in mergers and acquisitions, he takes special pride in fast-tracking contractual matters, entrusting those under his supervision for initial review.
"We measure our legal department's efficiency against a number of metrics, including a seven-day turnaround on contract reviews," he says. "I've done a lot of training to ensure they're qualified and know what key elements to look for. That way, my final review takes significantly less time."
That frees Dineen up for his many other responsibilities in a unique and challenging business environment, LasikPlus being both a health care and retail operation.
At last count 40 surgeons were in the company fold, providing laser vision surgery to correct nearsightedness, farsightedness and astigmatism to patients across the United States.
Though these surgeons are among the most accomplished in a very specialized field, they're performing LASIK at vision centers located in strip malls or lifestyle centers instead of hospitals. The nontraditional venues are still subject to the rigorous standards of various regulatory bodies, with Dineen ensuring compliance on many fronts.
"It's a very interesting dynamic for a general counsel," Dineen says. "Always a lot for my department to have to navigate. We are expected to be business enablers while effectively managing risk."
The Washington and Idaho entries are proving good fits, Dineen goes on to say. The Boise acquisition is especially exciting, the Idaho capital being a dynamic locale, and a ground-up build recently completed.
After the acquisition
Dineen's task doesn't end with the acquiring; it's also about integrating how the parent company manages its operations to the incoming surgeons and staff. Most often the process is seamless, LasikPlus growing and the acquired practice benefiting from additional resources.
What more can a general counsel want, Dineen asks rhetorically. A 2005 University of Cincinnati College of Law grad who in 2017 earned a mini-MBA from Miami University, he honed his skills as an M&A and corporate attorney for almost seven years at a Cincinnati law firm, but knew an in-house role would be more to his liking.
"Sometimes the firm lifestyle can get a bit taxing, depending on what your goals might be," Dineen says. "It comes down to, do you want to have a lot of different clients or do you want to be part of a company's management team, fully integrated into the business."
The latter is where Dineen felt most comfortable when he joined Luxottica in 2011. In that role he'd lead a team of lawyers and paralegals in transaction and litigation management, and legal operations strategy and execution—and assemble a resume that would be much to LasikPlus' interest when its previous general counsel departed.
"My bailiwick is I can serve the company as a true business partner rather than simply a lawyer," he says. "Commercial transactions and contracts are areas I'm very comfortable in. The bigger learning curve was on the human resources side. I didn't have much experience in that area and had to drink from the firehose."
Actually what Dineen did was hone his HR skills and obtain a SHRM-SCP certification with the international nonprofit Society for Human Resource Management, whose motto is "Better workplaces, better world." SHRM too has a passionate general counsel in James Banks Jr., who's quick to remind that a company must take responsibility for the well-being of its employees.
"Create a good work environment and your employees won't just be good employees—they'll be better husbands, fathers, wives, mothers, sisters, brothers. If you make work miserable for them, they'll carry their misery around with them."
The mood at LasikPlus is anything but miserable, Dineen assures, and it could get even better as the company continues to grow. But its workforce having ballooned to around 600, HR issues will inevitably arise.
"You can never just be a lawyer when you're in-house," he says. "Legal expertise is expected. It's business acumen that really makes you effective, and I like to think that sets me apart."
Now 42, he shares his life with his wife of 12 years, Susan, and their two children, 10-year-old McKenzie and 7-year-old Joshua. While the heartland makes for a comfy home, the family enjoys camping and hiking in the mountainous West.
Not only does it keep them close to nature, it keeps Dineen close to his prior employer. He may never need Luxottica's products to hike, camp or drive, but that company does sell some high-quality sunglasses.
Showcase your feature on your website with a custom "As Featured in Vanguard" badge that links directly to your article!
Copy and paste this script into your page coding (ideally right before the closing