Krishna Walker – CareVet
CareVet GC makes diversity part of expansion
They're among the last bastion of independent businesses in the U.S., providing care for four-legged, furry family members in cities, towns and regions large and small.
The American Veterinary Medical Association estimated in a 2017 report that of the 28,000 to 32,000 veterinary practices in the U.S., about 3,500 are owned by larger companies. However, owning an independent veterinary practice or hospital often entails handling tasks that have little or nothing to do with providing medical care.
That's where CareVet can help, notes General Counsel Krishna Walker. The St. Louis-based company covers the details needed to run a successful practice.
"Our point of view is, we like the business you built, why mess with that?" she says. "When working with veterinary hospitals who are considering becoming part of CareVet, we recognize that the team at the practice has the connection with customers, patients and clients, and the veterinarians have built those connections up with blood, sweat and tears. Because of that, each deal is a personal transaction as much as a business transaction."
Caring for details
Founded in 2018 by Dr. Kent Thornberry and Greg Siwak and CareVet is headquartered in St. Louis. While the company works with veterinarians who may want to sell a practice, it's not in the business of taking over the practice.
CareVet can do everything from working with the practice to identify relief veterinarians during vacations to creating and administering employee benefit packages, including insurance and retirement plans, Walker explains. It also helps with HR and legal matters, marketing, accounting, sourcing and procurement.
As of the end of 2020, CareVet supported veterinary practices in almost half of the states in the U.S., Walker says.
Its growth has occurred largely through word-of-mouth referrals in a tight network of veterinary practices, and is so well-sustained that Thornberry, Siwak and the executive team saw the need for a legal department to help guide growth and manage risk.
"We recognize that for many of the veterinarians considering becoming part of CareVet, this is the biggest transaction of their lives," Siwak says. "We wanted to ensure that the lawyer on the CareVet side of the transactions could provide top-notch legal advice in a way that reflects CareVet's values and deep respect for the veterinarians who become part of CareVet."
Walker can assess and advise on risk management, although the COVID-19 pandemic has severely limited travel and in-person visits to veterinary practices or hospitals that typically don't even allow pet owners inside.
To help organize the legal department and its work with other CareVet business units, her first major project was bringing legal entity compliance in-house, using CSC's online platform and registered agent services. She also implemented PandaDoc contract management software and other tools for the company's IT infrastructure after seeking requests for proposals from vendors.
The ease of use was a crucial factor in choosing products and vendors, Walker says.
"What I told people who sent RFPs was, 'If you can't explain it in 30 minutes, it's probably not for us,'" she adds.
All in on inclusion
Building a legal department was a lure for Walker to join CareVet, but its commitment to create a diverse and inclusive company from the top down also played an important role in her decision.
"It wasn't like I had to initiate something; it was already there when I was researching the company," she says.
The selection and onboarding process for veterinary practices involves the company's financial, business development, operations and legal teams at all levels of seniority. Walker notes that the process ensures the points of view that headquarters employees have from their diverse professional and personal experiences will influence the way decisions are made and business is conducted.
Walker's leadership in organizations promoting diversity and inclusion outside CareVet has also been endorsed by Siwak and Thornberry, she says.
She has served as the general counsel for the historic women's service organization, Zeta Phi Beta Sorority Inc. She's the current international trends and services facet chair and former strategic planning chair for the St. Louis chapter of The Links Inc., a nonprofit "committed to enriching, sustaining and ensuring the culture and economic survival of African Americans and other persons of African ancestry," according to its LinkedIn page.
Walker adds while she believes there's not one set path to achieve diversity and inclusion in a workplace, it does not happen without a clear commitment from executives and employees.
"My point of view is this isn't a hard issue," she says. "Where I've struggled is when a company cares about something and they want to do it, they do it. If they have a business objective, they achieve it. But just because you achieve it, you don't stop working on it."
Walker values the commitment to diversity and inclusion in her legal partnerships, too, noting the woman-led company Cobra Legal Solutions, based in Austin, Texas.
"CEO Candice Hunter Corby is impressive and her personal touch made a difference in my selecting Cobra Legal to assist with a number of projects," Walker says.
With women making up 80 percent of its employees, including almost every leadership position, as well as a workforce that's 99 percent diverse, Cobra Legal is a ready ally, Corby says.
"Cobra loves to work with partners like Krishna Walker and her team at CareVet because their core values reflect our own: commitment to fostering a culture which promotes transparency, collaboration, diversity, and inclusion," she says. "Like Krishna, we've found that these core values produce better outcomes for all."
Innate approach
Walker grew up in South Bend, Indiana, home to Notre Dame University, but when it came time for college, she headed south and east to study at Ball State University in Muncie.
While studying for the English degree she earned in 1997, Walker also served as a student trustee on the university's board, a leadership experience she says opened her eyes to the power of higher education because of a mentoring relationship with University President John Worthen.
That, in turn, brought her back to South Bend to study law at Notre Dame, but not before she'd earned a master's in higher education administration from Columbia in 1998 and served as assistant director of admissions at Barnard College, the school founded in 1889 in response to Columbia's refusal to admit women.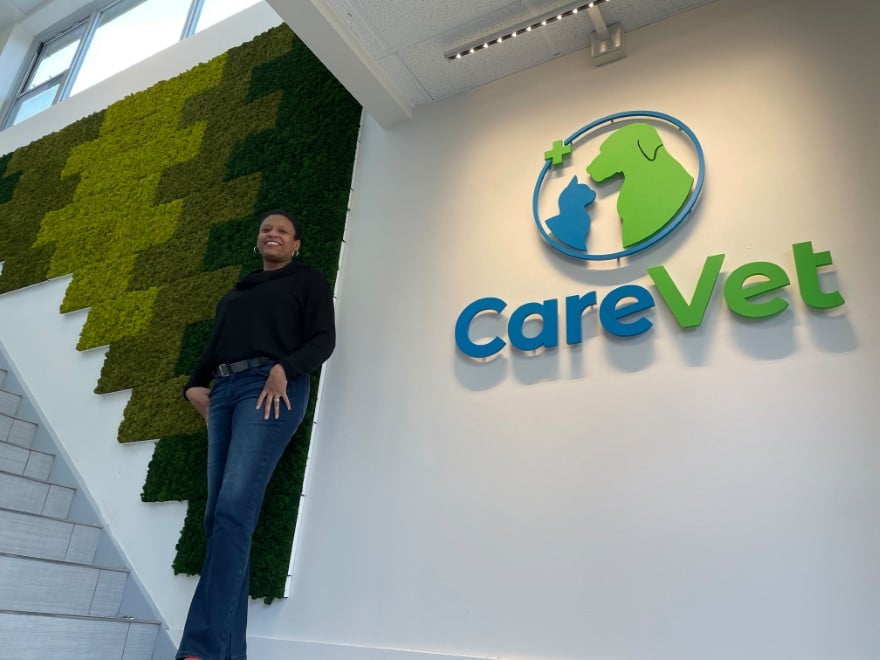 In December 2000, Walker joined Bank of America as assistant vice president of HR, recruiting college students seeking jobs. Eventually, she shifted to the bank's Charlotte, North Carolina, headquarters and as she learned more about business and finance, her interest in a law degree grew. She enrolled at Notre Dame Law School in 2005, taking advantage of being close to her family as she studied, and earned her JD in 2008.
After graduation, Walker joined the St. Louis office of Bryan Cave LLP, focusing on debt financing transactions while serving as outside counsel for nonprofits and advising their boards and executives on legal matters.
Her legal and financial acumen and leadership skills drew the interest of Rabo AgriFinance, a North American subsidiary of the Dutch multinational banking and financial services company. Walker joined them in August 2016 as a managing director and closing manager, and in January 2019 she became the senior vice president, as well as corporate and board secretary for its parent company, Rabobank North America.
While at Rabobank, Walker was named a Zhi-Xing Fellow, part of the Eisenhower Fellowships, and spent four weeks in China traveling and studying throughout the country.
At CareVet, she says she's found a new way to apply her skills while still striving for the values most important to her.
"Finance and banking are prescribed and highly regulated. Now I look at compliance through trust and partnership versus strict regulation. I help people focus on doing the right thing innately," Walker says. "And one of the most important things about being a general counsel is you get an opportunity to support your company in a way that furthers diversity in the legal profession."
Showcase your feature on your website with a custom "As Featured in Vanguard" badge that links directly to your article!
Copy and paste this script into your page coding (ideally right before the closing