Lesley Bolger – Thryv
On a mission to help small businesses thrive
It's the 1960s. You're a teenager hanging out with friends on a stoop in an Italian neighborhood in Queens. Your father tells you he's going to the hardware store to pick up some new tools. Or he's going to buy the family's first color TV. Did he go to Home Depot, Lowe's or Best Buy? Walmart or Target?
No, he went to a local small business—the kind of business that served as the backbone of the American economy for decades.
Now, e-commerce giants like Amazon, along with big-box stores like the ones mentioned, drive the country's commerce. But small- and medium-sized businesses still exist and play an important part in the success of our country. And, says one attorney, they need help, particularly if they can't afford enterprise software or don't have the bandwidth for the many apps not needed.
"Thryv gives small businesses a chance to increase their return on investment from the type of software they use, bring in new customers and earn repeat business," says Lesley Bolger, the company's vice president-corporate counsel, chief compliance officer and secretary. "We can help a new small- or medium-sized business (SMB) get organized or help an established business modernize."
Aiding its own business, and others, during COVID
For most of this year, Bolger has been helping Thryv—and its more than 360,000 SMBs across America—deal with the COVID-19 pandemic.
The first step, though, says Bolger, was moving Thryv's own employees to a remote-first environment, giving them the right to essentially work from anywhere. The IT team did a great job transitioning the company to this new modality, she notes.
"We're not dealing with day-to-day concerns like social distancing, contact tracing or positive cases in the office because the entire company, for the most part, is working remotely," Bolger says.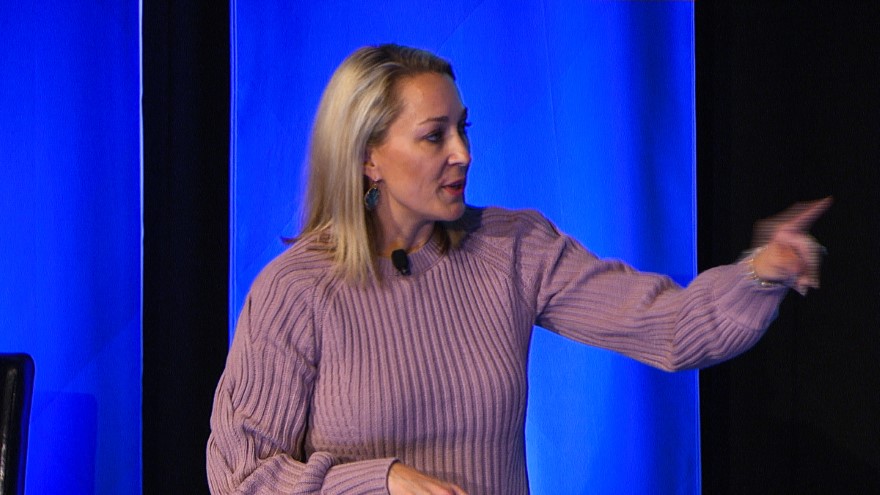 Still, from a legal standpoint, there are challenges.
Right now, she's working on a new retention policy, because there's no longer any space to store the thousands of company documents.
To stay informed on legal issues related to COVID-19, Bolger has worked with her outside counsel teams, participated in roundtables, read articles and blogs, and viewed videos and webinars. She's also consulted with business peers on how other companies are handling pandemic-related challenges.
For its clients, the Thryv Foundation—where Bolger sits on the board—raised money quickly from the community, board members, executives and employees. Bolger says the Foundation's work surely saved some businesses that would've gone under because of the pandemic.
The company also launched Thryv Adapt, an initiative that shows small businesses how Thryv's software as a service can help sustain—or grow—business during the pandemic.
"A lot of businesses find it scary to start spending on something new, especially during a crisis, so we offered small businesses a chance to try a 'pay what you can' version of the product," Bolger says.
A hand in everything
When she's not helping the business, Bolger works to reduce expenses across the company, especially throughout her legal department. In the 18 months before COVID-19, Bolger's team worked closely with all business units helping to reduce costs by millions and litigation by 44 percent.
Thanks to the implementation of a new contract management system (led by a team of three), in addition to collaborating with business partners who made "tough decisions around vendor relationships," Thryv approximately $11.4 million.
In addition to keeping costs down, Bolger is involved in maintaining the beloved Thryv culture and says the company's new employee recognition program, headed by a culture team, is doing exactly that.
"We've found that when working remote, maintaining our workplace culture and connectedness was more important and more vital," Bolger says.
The program recognizes top performers and helps drive pride throughout the company with monetary awards, shout-outs and visits from the well-known Thryv Guy (a little orange, square mascot with a happy disposition that brings a smile to employees' faces).
"Keeping our employees engaged and feeling appreciated is crucial to keeping productivity where it needs to be," Bolger says.
In business from the beginning
At a young age, Bolger had an affinity for business. A Red Raider through-and-through, she received her bachelor's degree in finance from Texas Tech University before earning her MBA and law degree from the Lubbock, Texas school.
Before working at Thryv, Bolger had a great job, she says, but the pace wasn't fast enough. She wanted to enhance her career without limiting her options, and she wanted to combine her love of business and the law.
Bolger's company tenure began as an associate general counsel in 2005 at SuperMedia, which merged with Dex One to become Dex Media Inc. in 2013. She moved to senior counsel in 2006 and became an associate vice president-corporate counsel with rebranded Thryv in June 2019. Bolger was elevated to her current role in March 2020.
"I think going in-house right away allowed me to have exposure to all parts of business and different areas of the law," she says. "It's been great working with so many different kinds of transforming companies within the same company."
When Thryv software was started several years ago, Bolger says the transformation didn't happen overnight. Everyone had to be adaptable to new ideas and new concepts. Patience and being willing to stay on the ride when many people would give up, was crucial, she adds.
"I work for a great company," Bolger says. "And I hope to be working with the same group of people on the same mission we work toward today: helping small business in America succeed."
Showcase your feature on your website with a custom "As Featured in Vanguard" badge that links directly to your article!
Copy and paste this script into your page coding (ideally right before the closing