Mahrukh Hussain – McDonald's
Where diversity's always on the menu
Since joining McDonald's as a real estate lawyer in late 2000, Mahrukh Hussain has accomplished much, most recently serving as interim general counsel and corporate secretary for six months following the resignation of Jerome Krulewitch last fall for health reasons. During her time with the company, she also served for two years as European general counsel, based in Geneva, Switzerland, and as USA general counsel for over seven years.
"I've learned and grown at every stage, dealt with new challenges and worked on many complex issues," the personable Hussain tells Vanguard in July from Chicago headquarters. "I have advised senior leadership on matters including franchising, real estate, marketing, supply chain, labor and employments, litigation, anti-trust and data privacy."
She's also led teams of up to 85 people, either based primarily in the Chicago area or, in her European role, dispersed throughout the continent. As interim general counsel, she was responsible for all aspects of a global team of over 330 people.
She's been among the leaders of McDonald's diversity, equity and inclusion efforts since before the term DEI was coined. Whatever her new title, those efforts will continue, Hussain and the executive team committed to the ideal that DEI complements the modern business model.
Leading by example
Last year Hussain was at the forefront as McDonald's legal department implemented the so-called Mansfield Rule to boost the percentage of diverse lawyers not only in-house but among outside counsel.
Under this approach, the legal department requires that at least half of the in-house and outside lawyer candidate pools be diverse. That's defined as including women, racial and ethnic minorities, the LGBTQ community and lawyers with disabilities.
Earlier this year, McDonald's recognized two outside legal partners, Proskauer Rose LLP and FordHarrison LLP, for commitment to DEI with the company's first EMPOWER award. Most recently, under a companywide effort, the legal department recruited additional outside partners to sign on to such actions as implementing an overall DEI strategy, increasing underrepresented talent in leadership, investing in innovation designed to make a difference and creating metrics to track progress. Outside legal partners include Baker McKenzie, FordHarrison LLP and Greenberg Traurig LLP.
McDonald's is also one of just a few dozen corporations whose legal department has supported the Move the Needle Fund, according to Hussain. A virtual lab has been created in which inclusionary approaches are incubated as a model for transformation in the legal profession and beyond.
In March, McDonald's announced that it was incorporating quantitative metrics related to human capital management into annual incentive compensation for its CEO and executive vice presidents. In addition to financial performance, executives will be measured on their ability to champion McDonald's core values, improve representation within leadership roles for women and historically underrepresented groups, and create a stronger inclusionary culture.
"We're working on dismantling barriers and providing economic opportunity to historically underrepresented and disadvantaged groups," she says. "We're passionate about those causes."
And it hasn't come at the expense of business, she adds, reminding that McDonald's remains the world's largest restaurant chain.
A lay of the land
Hussain can take her share of credit. Early on, as counsel for real estate, she helped implement a new approach to land acquisition, under which the legal department entered at the inception of the deal rather than late when it was harder to modify details. In other capacities, she's been instrumental in setting and executing business strategy, identifying and mitigating risk for the business, and defending the company against litigation and brand attacks.
"Mahrukh's superpower is how she leads and brings out the best in others," says Jarrett Arp, a partner at Davis Polk & Wardwell and long-time antitrust counsel to McDonald's. "She's an unusual combination of legal and business savvy, joined with a strong character and thoughtful manner that creates trust and results in highly effective collaboration."
Arp has seen those qualities up close, having joined Hussain for meetings with government authorities over the years. "Super-smart, clear-headed with a calm, focused maturity and impeccable judgement," he goes on to say about her.
Some of the accomplishments Hussain is most proud of while serving in Europe include rolling out a strategy to comply with the then-current EU data protection directive, resolving disputes with developmental licensees in Macedonia and Bulgaria, and leading the company through a potential multi-continent Happy Meal toy recall.
As USA general counsel, she took pride of her effort designing a complex, multi-faceted agreement with franchisees which served as the basis for the Bigger, Bolder Vision 2020 plan to expedite modernization of American restaurants. More recently she and the legal staff took a leading role in the COVID-19 response, monitoring and interpreting regulations, deciding whether restaurants should stay open, devising safety protocols for workers and customers, and defending against pandemic-related litigation.
Safety of workers and customers came first, she says, and with that north star, the company than focused on drive-thru and mobile ordering while simplifying the menu for high-volume items. Such has been the secret sauce to crisis management.
New role coming
Hussain recently stepped down as interim general counsel in place of Desiree Ralls-Morrison filling that role. Hussain's helping onboard the new legal boss and working with Ralls-Morrison to develop a new role for herself.
For now, she still plays a role in managing litigation, developing strategies for efficiencies and helping to lead the governance of ESG, specifically with respect to food, climate, jobs, community.
Whether it's reducing greenhouse gases, sourcing sustainable packaging and food, or expanding economic opportunity, the legal department has a role. The Securities and Exchange Commission is expected to issue regulations requiring disclosures on climate issues, which could factor in investors' decisions.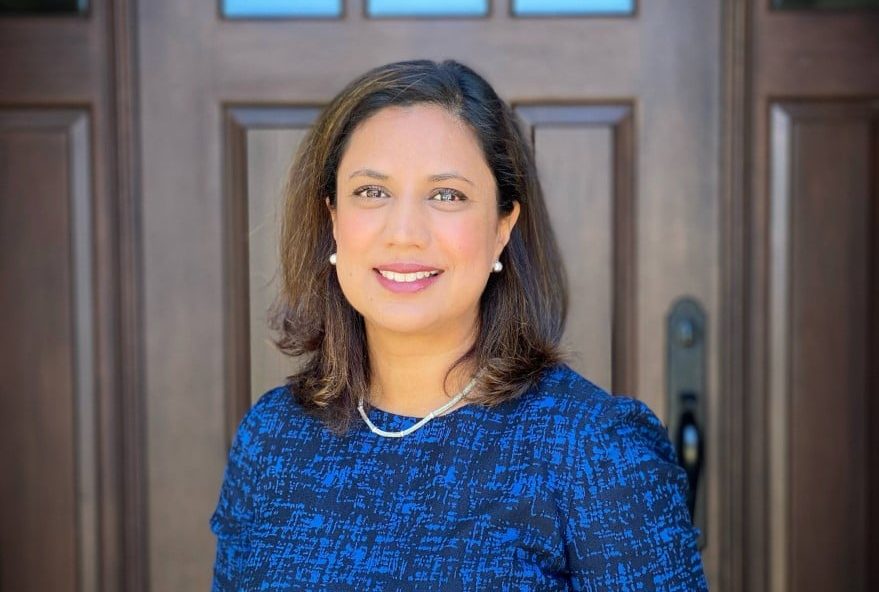 "It's an exciting time to be able to influence what my new role will look like and continue to grow and develop in new areas," Hussain says.
But she's certain that going in-house with McDonald's was one of her best decisions. Born in India, Hussain came to the Chicago area with her parents when she was 2 years old. Acclimation came quickly to the precocious little girl who went on to excel as a University of Chicago undergrad and then at University of Illinois College of Law, where she graduated in 1996.
Hussain was a commercial real estate associate from 1996 to 2000 at Schwarz, Cooper, Greenberger & Kraus, and clerked for one year at Illinois Appellate Court during that period.  She wasn't looking to leave the firm when advised of an opening in McDonald's real estate practice group.
"My first instinct was to pass as I was happy at the firm," says the married mother of boys 13 and 19. "But it didn't take much more than a second thought to realize that this could be a great opportunity to be part of an iconic global brand and contribute to its growth and development."
View this feature in the Vanguard Fall III 2021 Edition here.
Showcase your feature on your website with a custom "As Featured in Vanguard" badge that links directly to your article!
Copy and paste this script into your page coding (ideally right before the closing