Mandy Petrillo – Boston Red Sox
Petrillo comes through in the clutch
Wait 'til next year. For decades, those words marked a rite of autumn at Fenway Park, though recent times—except for last year—have been kinder to the Boston Red Sox or, as they're so affectionally known, the Olde Towne Team.
Still, it would have been understandable if those words crossed Mandy Petrillo's lips in 2020 as, through no fault of her own, so much of what she did went for naught or had to be revised.
COVID-19 was just too formidable a foe, reducing the baseball schedule to 60 games, and quashing plans for a lively Fenway Park concert schedule. Also canceled was the first-ever Fenway Bowl, a planned postseason college football game, that would have matched teams from the American Athletic Conference and Atlantic Coast Conference.
Petrillo, a member of the Red Sox legal team for 13 years and senior club counsel since early 2020, had done much of the heavy lifting for what would have been Fenway Park's answer to Yankee Stadium's Pinstripe Bowl.
The club's sister sports marketing arm, Fenway Sports Management, had partnered with ESPN for the inaugural college bowl game at Fenway Park and linked up commercial sponsorships. Heavily involved in the branding side, Petrillo had trademarked the event's name and logo. Merchandising would have seemed a cinch and, as an all-around sports fan, she would have been in the stands, snow or sleet notwithstanding.
"It all was a lot of fun to work on until it was canceled," she tells Vanguard in February. "Then, other duties infringed."
Those included amending hundreds of sponsorships that had been agreed upon with the belief that the Red Sox would be playing in front of crowds instead of cardboard cutouts.
Team comes first
"Thankfully, I work with an organization that's incredibly partner-oriented," she notes. "We want good relationships for the long term and most of our sponsors have been our partners for a long time and value their association with us highly."
While lawyers in other industries were dusting off the so-called force majeure card that cites unforeseeable circumstances as obstacles to contractual fulfillment, Petrillo opted for compromise. It's a two-edged sword, she says about force majeure, one that should not be hastily unsheathed or wielded to convey an unfair advantage to either side, even during a pandemic. Besides, as a transactional lawyer, Petrillo says she's collaborative rather than confrontational, and wants to make the club's partners feel valued and respected.
Her empathy extends to the Fenway faithful, fans who have supported the Red Sox through thick and the recent thin. For season ticket holders, Petrillo worked with the ticketing team to incorporate a payment plan to soften the blow in a down economy.
Fenway Park again being allowed just limited ticket sales for 2021, she's helped ensure continued safety protocols. To quote from "Casey at the Bat," hope does spring eternal for a return to normalcy, but until it does, Petrillo—like a prudent bench boss—will make the best of whatever circumstances she's afforded.
"We are trying to recreate the wheel in a lot of ways that are flexible and beneficial to everyone," she explains. "But if things go as hoped, we'll have lots of people back in the ballpark this summer for games and concerts."
Shows must go on
Enabling the concerts has become a favorite task of hers, which seems only appropriate, given how John Updike famously described Fenway as "a lyric little bandbox of a ballpark," in his homage to Ted Williams.
That was in 1960, long before such rock 'n roll royalty as the Rolling Stones, Bruce Springsteen, Paul McCartney, Billy Joel and Aerosmith had the joint rockin'. This summer, Aerosmith and Joel are scheduled to return with other notable acts including Lady Gaga, Guns N' Roses, Motley Crue and Def Leppard.
With Petrillo overseeing the details, Fenway is rented to Live Nation Entertainment Inc., which assembles the stage, sells tickets and secures the artists. The Red Sox take more of an operational role, providing ushers and staffing.
There's always some matter weighing on Petrillo's mind as these non-baseball events are planned. She recalls how Fenway Sports Management partnered with U.S. Ski and Sports to host the Polartec Big Air at Fenway in February 2016. A snowboarding and ski-jumping fest, the event called for construction of a 140-foot-high jump with contestants having to clear a 70-foot gap between takeoff and landing.
"As a lawyer, all this exercised my brain and gave me sleepless nights," says Petrillo, a fair skier and snowboarder in her own right, but nowhere near big air caliber. "Just watching the ramp being built was scary, but the right parameters were set, the event was a huge success and we moved forward with a 'sky's the limit' mindset of what was possible at Fenway. At the end of the day, I think I am a problem-solver and we find appropriate ways to put on events that our creative businesspeople think up. I embrace a 'find a way to yes' mentality."
Which is how Fenway events typically go, and Petrillo relishes minding the details. Sports law, after all, is a competitive field to crack, and those who do so tend to be fans as well as enterprising types.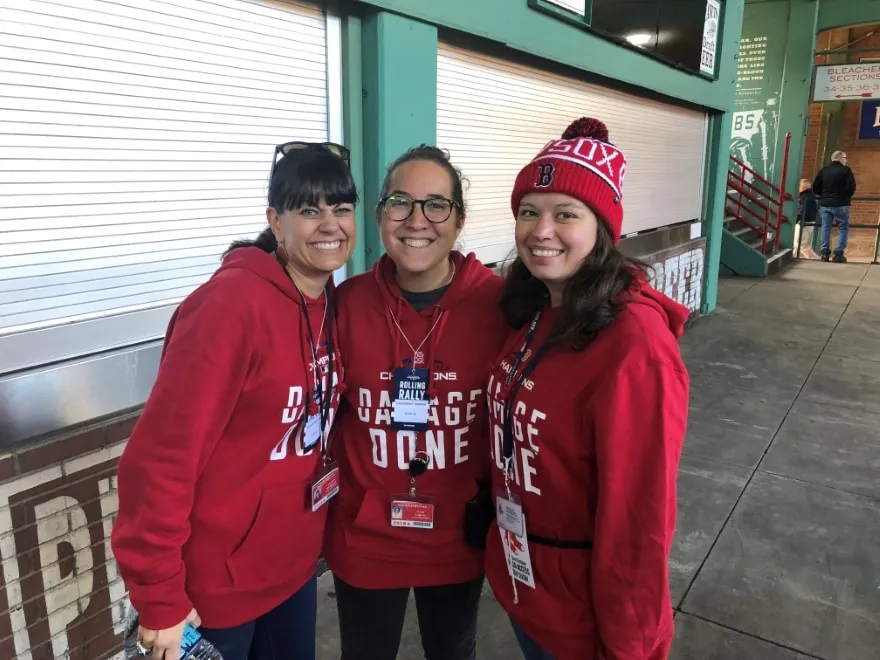 Petrillo is both, she and her sister and two brothers raised in Foxboro and the TV tuned to Red Sox, Patriots, Bruins and Celtics. Even before the Patriots became a dynasty, Petrillo volunteered at the old Foxboro Stadium just so she could get in for free.
A 1999 Arizona State University graduate, she worked in San Diego for a few years, mulling how to get into the sports business and taking a cue from two former Red Sox executives, Larry Lucchino and Theo Epstein, each of whom had law degrees.
Petrillo returned East, enrolled at Suffolk University Law School in 2003 and graduated three years later. Like a minor leaguer working toward getting to The Show, she paid her dues, interning with Major League Lacrosse and K Sports & Entertainment, the latter a firm owned by Kristen Kuliga, Petrillo's sports law professor who became the first female agent to represent a pro football player, Doug Flutie.
She got a foot in the Fenway door in 2008, commencing with a three-year stint as a paralegal before she became senior manager of legal operations. Two promotions later, Petrillo's letterhead changed to senior club counsel in early 2020.
"It's nice to be recognized as a senior member of the team," says the 43-year-old married mother of a 6-year-old girl and 4-year-old boy.
It's also nice, she says, to share her insight, which she does as an adjunct professor of sports law at Suffolk. Also gratifying are the World Series rings she was presented in 2013 and 2018.
But no time to dwell on that, Petrillo tells Vanguard in March. With spring training underway in Fort Myers, Florida, she is looking forward to getting back to her Fenway office after a year of mostly remote work.
Next year has arrived.
Showcase your feature on your website with a custom "As Featured in Vanguard" badge that links directly to your article!
Copy and paste this script into your page coding (ideally right before the closing