Markus Green – Pfizer Inc.
A message for the marginalized
There was good news to report the July morning when Markus Green spoke with Vanguard. The Centers for Disease Control and Prevention had announced that those fully vaccinated by Pfizer Inc. were 88 percent protected against severe cases of the COVID-19 Delta variant. The pharmaceutical giant and its partner, BioNTech, also were examining data for a potential booster shot.
Now, if only the message could be communicated to two seemingly divergent constituencies, with so much unfounded skepticism—even cynicism and fear—about the vaccinations.
So mused Green, who's logged over 15 years with Pfizer, and was promoted in January 2021 to vice president and assistant general counsel. His activism on this front and others transcends the usual responsibilities of an in-house lawyer. He is at the forefront of urging everybody and every organization to protect themselves against the ongoing pandemic.
"The irony is we have two extremes falling for so much misinformation," Green laments from Pfizer's New York City headquarters. "Blacks in urban areas and extremist whites in rural places. We need to incentivize them, not just educate them. Connecting at the ground level is very important to save lives."
A Black man who grew up on the poor side of Old Bridge, New Jersey, Green empathizes with the sentiments of some in his community. They've read and been told of the 1930s era Tuskegee, Alabama, syphilis experiment in which hundreds of poor Black men were never informed of their diagnoses and thus, went untreated and died. And, more recently, some white fringe groups have perceived the COVID-19 vaccinations as government overreach or even conspiracy.
That's not the type of common ground that Green intends to further.
"The portion of the job I love most is dispelling myths with facts," he says.
Facts must prevail
There's much opportunity to do so, with Green positioning himself as a Pfizer ambassador—someone who can "get past the myth-makers." He admits that it takes some doing to inform naysayers and persuade them to respond positively to science and information. Then again, Green admonishes, so many people deride lawyers until they need them.
"The overall mission of our company is extremely noble," he says. "It is to cure disease, ease pain and suffering, and hopefully, make people's lives better and extend life. At the same time, while Pfizer is a for-profit entity, it is a company that understands and empathizes with its key role in the ecosystem of humanity."
It's a sermon he's preached to at-risk communities as well as to public officials. If it takes gift cards, food vouchers, gas coupons or whatever to close the gap between the vaccinated and unvaccinated, Green's all for it.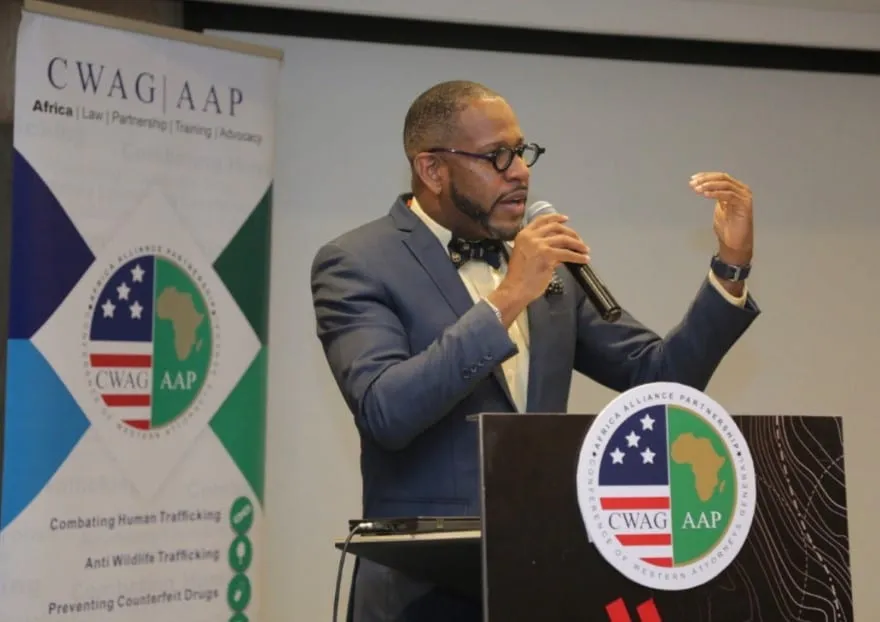 Green's found public officials to be more receptive, partially because he's been one and understands the challenges that elected officials face. He served as an assistant district attorney in the Manhattan District Attorney's Office under Robert M. Morgenthau and as executive assistant attorney general for the State of New Jersey and then as chief of staff under Attorney General Peter Harvey.
These experiences have propelled him toward fostering productive relationships with law enforcement authorities since joining the Pfizer legal team in 2006. He has appeared with New York Attorney General Letitia James as well as her counterparts from other states in meeting with lawmakers, clergy or whomever else will lend an ear.
He regularly responds to a range of questions, with answers that run the gamut—for example, that Pfizer's research-and-development team is multicultural and that one cannot contract the COVID-19 virus from an injection.
"Our industry has literally saved the world from a pandemic that's killed millions," he emphasizes. "When there's a next pandemic—and there will be a next pandemic—you can be comforted by the Pfizers of the world. I hope that people will think about the pharmaceutical industry differently."
Collaboration over conflict
While Green can't go into detail about litigation and specific cases, he describes how in one state last year, a plaintiff's lawyer was encouraging the attorney general to sue Pfizer over "baseless allegations" about a product. So Green flew to the state, met with its legal boss as well as the plaintiff's lawyer, walking them through the product's history.
"It became clear to the AG that that lawyer had not done his homework," Green says. "The charge was ridiculous and before I even returned to the airport, the AG called to say there would be no investigation into Pfizer. We reached such a fair resolution because I met with them, explained our case, and answered all questions directly."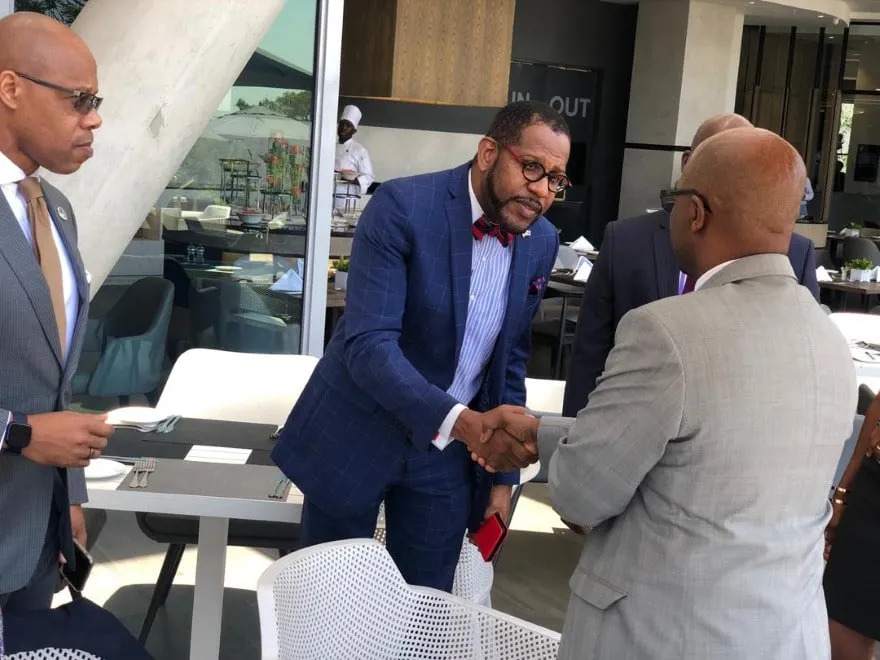 Being straightforward—providing information and responding quickly—is the best way to handle a potentially messy case, Green says, what with litigation being so acrimonious, expensive and time-consuming. Besides, he notes, industry and government do have mutual interests, and he's helped bring the sides together, sometimes through projects with far-reaching effects.
Perhaps the foremost example is the Attorney General Alliance Africa, of which Green became a Board Member in 2016 (and Pfizer the primary corporate sponsor). Noting that the United States owes a moral debt to Africa, Green says AGA Africa sets an example by harnessing the collective expertise of attorneys general, prosecutors, law enforcement officers and scholars to share expertise, best practices, and strategies to combat transnational crime.
The partnership helps confront such crimes as human trafficking, sale of counterfeit drugs, money laundering, poaching and online hacking.
"It's not about profit and the bottom line," he says. "We're doing it because it's the right thing to do."
Ever service-minded
That mindset has long marked Green's life. He graduated from John Jay College of Criminal Justice in 1995 and enrolled at Rutgers Law School with the idea of becoming an FBI agent. "I wanted to be a voice for the voiceless," he says. "The person who turned victims into survivors."
He did so from 1998 to 2002 with the New York County District Attorney's Office, followed by five years with the New Jersey Attorney General's Office. Then, with the move to Pfizer where he was not only allowed, but encouraged to pursue goodwill projects, he joined the company as a corporate counsel and has earned three promotions. Civic-minded, Green serves on the Trenton, New Jersey, Planning Board and encourages other members of minority communities to get involved.
He also is a regular speaker in an education program sponsored by Pfizer at John Jay College of Criminal Justice, where the focus is on educating about the role of state attorneys general and encouraging careers in the public practice of law or in related fields.
"I'm a proponent of urban revitalization and making sure Black and brown voices are heard in their communities," he says. "These communities must be our homes, not places to escape from. Some neighborhoods appear hopeless, but someone has to show what can be possible."
His own father was just that kind of person, Green goes on to say about the late Rev. Willie C. Green. Though neither educated nor wealthy, and subjected to racism while growing up in Georgia, the senior Green encouraged his eight children to better themselves.
"He was the force in my household," the younger Green says. "We lived on the only Black street in town.  It was a challenging environment, but we had two loving parents who instilled sound values in us."
Green tries to do the same whether it's from using the Pfizer pulpit or just on his own time.
"Find something that motivates you and weave it into your life," he advises. "Maybe it's advocating for victims of domestic violence, or for orphans, immigrants, the disabled, gay rights, etc. Who you are and the difference you make is more important than what you do for a living." This is the career advice I often give and want to share."
View this feature in the Vanguard Fall III 2021 Edition here.
Showcase your feature on your website with a custom "As Featured in Vanguard" badge that links directly to your article!
Copy and paste this script into your page coding (ideally right before the closing