Marty Collins – QuinStreet
Hung up on compliance
He says it like someone who's spoken these words over and over again: "Who wants unwanted phone calls? No one. But sometimes they'll happen, even with the best, most compliant network, like QuinStreet's," says Marty Collins.
Collins, QuinStreet's senior vice president for legal, compliance and corporate development, says he's not a fan of unwanted sales calls. But he also knows that sales calls are sometimes necessary.
Often enough, they're requested.
Considered comparisons
Imagine you're looking to make what he calls "a significant financial decision," such as taking out a mortgage or obtaining life insurance.
You'll probably start by searching your options online, and if you do that, you'll likely end up on websites that have comparison platforms—meaning, you input personal information, like your age and location. The platform, in turn, will present you with third-party offers.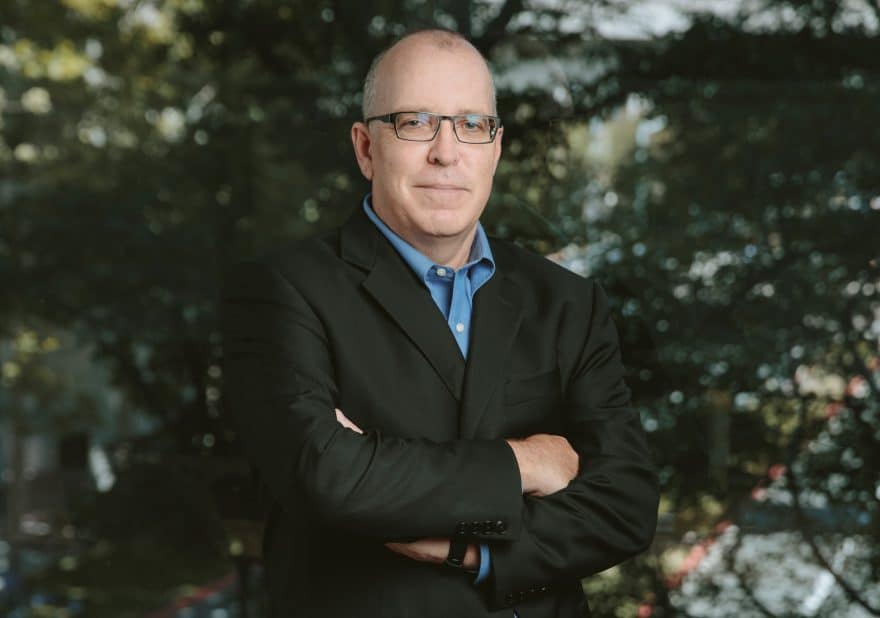 Whether consumers complete their purchase online based on these offers varies by product type, cost and other factors, Collins says.
Most people will buy plane tickets online, for instance. But life insurance? Not so much. (QuinStreet operates one of the few comparison platforms where consumers can buy insurance wholly online). As a result, many consumers, he says, request to speak with someone by phone before making one of these larger—or, more accurately, "considered"—purchases.
And that's where the trouble can start.
Call it what you like—consumer grumpiness, forgetfulness—but it's a common enough occurrence that consumers forget they requested a phone call. Or they don't recall who will be contacting them, Collins explains. In each case the result can be an unwanted call and an unhappy consumer.
"We've seen cases where one person in a household asks for a call, and then the other spouse picks up and says, 'I didn't ask about X,'" Collins says. "The spouse is technically correct. But someone in the household provided that number. And it probably was not the dog."
Reducing consumer grumpiness
The Telephone Consumer Protection Act was enacted in 1991 to deal with this phenomenon.
Known as the TCPA, the act provides that consumers can receive $500 per unwanted phone call or text, and as much as $1,500 if a judge determined no attempt was made to assess whether the consumer wanted to be called. Unwanted calls to mobile phones were viewed as particularly problematic, as back in those days the call recipient often paid by the minute.
"While well-intended, the TCPA has subsequently been interpreted in ways that are sometimes unworkable," says the Georgetown University Law School graduate.
The anonymity of the internet, for instance, makes it impossible to know if the consumer requesting the phone call is the legal subscriber to that number. "As the saying goes, on the internet no one knows if you are a dog," he says. "But the TCPA effectively requires QuinStreet to perform a real-time assessment of whether you're a dog [when someone is filling out a call request form]."
"And some people, knowing that's impossible, are trying to profit from that," he adds.
Lawyers, dogs and money
Painting the picture: Imagine someone buys 20 disposable cell phones, fills out hundreds of online forms and then dares the advertisers to "prove" she filled in those forms. Imagine law firms that have the same plaintiff in 30 different cases. Those are the cases Collins increasingly sees, ones in which "plaintiff's firms use the TCPA's statutory damages and class action possibilities to burden advertisers with strike suits."
On the flip side, advertisers apparently feel pressured to settle weak claims quickly to avoid legal and headline risk. Business, he says, is so good that law firms troll for prospective clients on late-night TV—one reason Collins says TCPA lawsuits doubled in the last two years.
QuinStreet uses Lauri Mazzuchetti and her team at Kelley Drye, who are well-known for beating false TCPA claims. But Collins says his team would rather avoid problems than solve them—meaning, his group of compliance, legal and business process experts employ many tactics to ensure consumers do not receive unwanted calls in the first place.
QuinStreet recently introduced the QuinStreet Media Platform (QMP) in part to mitigate the risk of noncompliant lead generation and unwanted phone calls. Using QMP, advertisers can specify which consumers they want to reach, what disclosures they want the consumers to see and how publishers should track compliance. QuinStreet can also manage all or any portion of this activity on the client's behalf.
According to Collins, this compliance engine dramatically reduces the odds that a "real" consumer receives an unwanted or unexpected call from an advertiser.
But don't expect that to mean less TCPA litigation, he warns: QMP has also shined a spotlight on how many TCPA related complaints and lawsuits are brought by, as he puts it, "dogs."
To the nines
Collins notes also that no network—whether for electricity or marketing compliance—is perfect.
Like engineers do, he expresses the degrees of effectiveness—or "availability"—as a percentage, typically as a string of nines. One nine means 90 percent availability; "two nines" means 99 percent; three is 99.9 percent; and so on.
Collins notes that for an always-on network like the internet, 99 percent compliance would mean almost nine hours a year of non-compliance, inevitably resulting in some unwanted calls.
"It's just math," he says.
Collins has spent the past two years explaining that math to advertisers and regulators. "We believe all advertisers need something that is like QMP or achieves the same objectives," Collins says. "But when I told our previous outside counsel we needed to be honest about the fact that 100 percent compliance is impossible, they went nuts. I just told them we have to start with the facts—and that even in today's world, most people believe in math."
"We're willing to be advocates for our advertisers, our publishers and our company," Collins concluded. "But as performance marketers we start with data. We don't think we're the only answer for compliant performance marketing. But anyone who doesn't have something that looks like QMP, or who tells you they're 100 percent compliant, is trying to sell you a pony."
Or they're a dog.
Showcase your feature on your website with a custom "As Featured in Vanguard" badge that links directly to your article!
Copy and paste this script into your page coding (ideally right before the closing