Match Group
It's a legal matter, baby
Few people may realize it, but the dating websites Match.com, OkCupid, Tinder and PlentyOfFish are all owned by the same parent company, Match Group. In all, Match Group owns some 45 online dating brands, each catering to a slightly different market.
"They all focus on something unique, even though they're in the same space," says general counsel Jared Sine, who is tasked with overseeing the legal operations for every brand.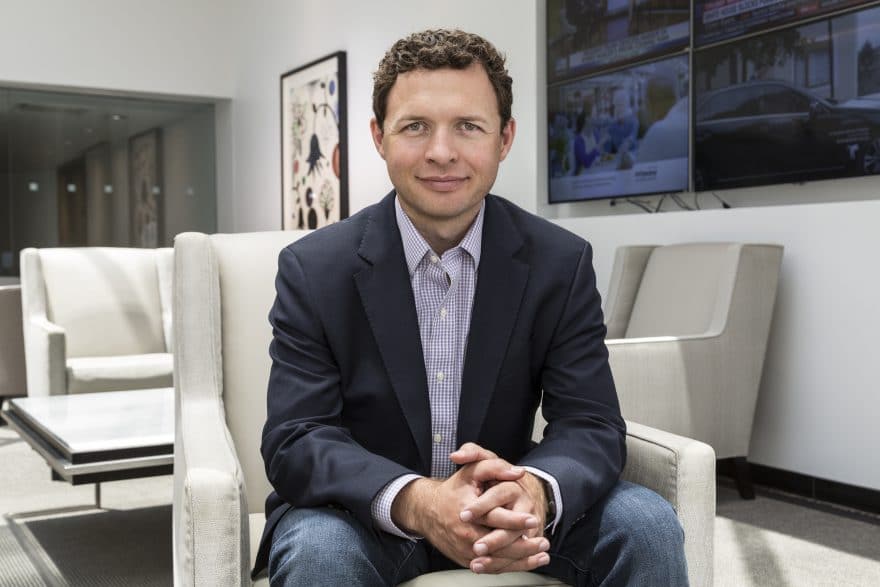 Because these sites and apps deal with a lot of personal data—including, in some cases, geographic location information—it's essential that the legal and business sides of the company work together on every new product and feature development.
"From a legal perspective, someone comes to us with an idea and we say, 'Here are the rules of the road. We're going to put the guideposts out there, and as long as you stay within these guideposts, you can go as fast as you want,'" Sine explains.
Not to be missed
It seems every product, service and app nowadays comes with a legal agreement that users must sign. These are usually long, extremely technical and simply skimmed or skipped by customers eager to cut through the red tape and get to the action. (We're looking at you, iTunes users.)
Match Group's disclosures can't work this way.
"There are a myriad of legal issues that come up in the context of connecting two people," Sine says.
For instance, on the Match.com brand, a location-based feature called "Missed Connections" was launched in early 2017. It allows members to see other users they have crossed paths with in real life in order to show the potential for a match at, say, a local coffee shop, bar or public park.
With this feature, the legal team has implemented disclosures and notices to ensure that users understand what location information is going to be accessible to both Match and its members. These notices need to be clearly stated, contain language that is legally compliant and be user friendly.
Sine's department also focuses on "making sure people have opted in at the appropriate time and making sure they can opt out … and doing all of that in a way that doesn't take away from the stickiness and the engagement of the feature."
Partners helping (potential) partners
The relationship between the business and legal sides of Match Group is a two-way street, as both need one another to survive.
"It doesn't matter how good our legal advice is if, at the end of the day, there isn't a business left to operate," Sine says.
On the other hand, "if a feature comes out and the legal restrictions and legal jargon make it too cumbersome to use the product, people just won't use it," whether it's related to Match's Missed Connections or Tinder Gold's new "Likes You" feature, which allows members to see who has already liked them without any swiping. (It's the latest paid service of Tinder, launched this past summer.)
To avoid roadblocks, the two sides meet during the development phase of any feature, so the legal team can understand what the company wants to achieve, and the development team understands the legal guidelines.
"The main objective of our job is to help a person find meaning and purpose in other people and in life … and that's a fantastic thing to be a part of," he says, adding that friends, family members and total strangers tell him "all the time" how the services have positively affected their lives. "I have been amazed by the number of lives we have impacted."
Keep 'em separated
With all the different brands under one umbrella, keeping track of what each site or app does can get confusing. But Match has no immediate plans to combine or eliminate any sites, as they each serve a different purpose.
Match.com has a seemingly endless number of profiles to sift through in a traditional format that involves videos and events. Tinder, which relies on a bit of tech savviness, appeals to millennials. OkCupid attracts an intellectual crowd. PlentyOfFish focuses on and encourages conversations.
Match Group also owns brands that cater to interracial, baby boomer and single parent couples, among many others.
"It really allows us to address the market in a way that allows everyone to have a brand or style of brand that they can have an affinity toward," Sine explains. "Building a legal department that mirrors this is not only necessary, but it can be a huge benefit to the organization."
He says it's important that his team understands each brand in order to deliver targeted legal advice, which is why lawyers are specifically designated to each one, instead of one group of attorneys that works on everything.
"This way we can help guide deals, structure privacy policies and do all those things in a way that caters to and accentuates the strengths of that particular business," Sine adds.
The general counsel previously served in a similar role for Expedia Inc., which owns Orbitz, Travelocity, CheapTickets, Hotels.com, Hotwire, trivago and VRBO.com.
Although he meets with each of the key business leaders at least once a month, Sine says he also familiarizes himself with the ins and outs of each brand—even though he's not actually connecting with any other members.
"My wife might not be super thrilled about it, but I've got Tinder, Match, OkCupid and Plenty of Fish all on my phone," he says with a laugh. "That said, I never swipe right."
Showcase your feature on your website with a custom "As Featured in Vanguard" badge that links directly to your article!
Copy and paste this script into your page coding (ideally right before the closing