Melissa Bert – U.S. Coast Guard
Knowing her true compass
Melissa Bert's new role requires leadership and perseverance through stormy seas—two values that have been fine-tuned throughout her career.
As a U.S. Coast Guard rear admiral whose past posts include southeast Alaska, Miami and Washington, D.C., Bert has earned her sea legs. Even so, upon assuming her duties as judge advocate general and chief counsel, she felt trepidation as two perfect storms were raging.
"Race and COVID—a couple of lightning rod issues," the personable Bert recalls during a midsummer interview with Vanguard from the Washington, D.C. home she shares with her physician husband and their daughter. "While the Coast Guard often deals with complexity in the maritime environment, these issues were impacting our organization's culture and needed to be addressed. My style has always been to get difficult matters on the table to work through them."
The need to confront racial issues was all too apparent, on and off the job, with minority members feeling isolated; protests occurring across the country; and actions of law enforcement under heightened review. One evening, Bert came home to find a sign on her door: "With white privilege comes the obligation to help others without."
"That really made me think, as I've benefited from white privilege but did not consider myself to be a recipient. I've always supported diversity," she says. "But this experience was a wakeup call that standing on the sidelines was not enough."
The next morning, she sent those reflections to members of Coast Guard legal and elicited an open dialogue, an opportunity to listen and hear from individuals about what they were experiencing and wanted from leadership.
"It was clear that it was time for a frank discussion on what might be the most polarizing issue of our time," she says, adding that responses were invariably positive from civilian and military members.
With over 500 attorneys and legal professionals across the nation, specializing in various fields, the Coast Guard legal program contains unique insight and diverse experiences; the perfect setting for increased dialogue. Bert was thrilled when personnel at Coast Guard headquarters took the initiative to establish a Leadership Diversity Advisory Council (LDAC) to forge a sustainable path forward. The LDAC has quickly gained momentum, with members of the legal community showing significant interest.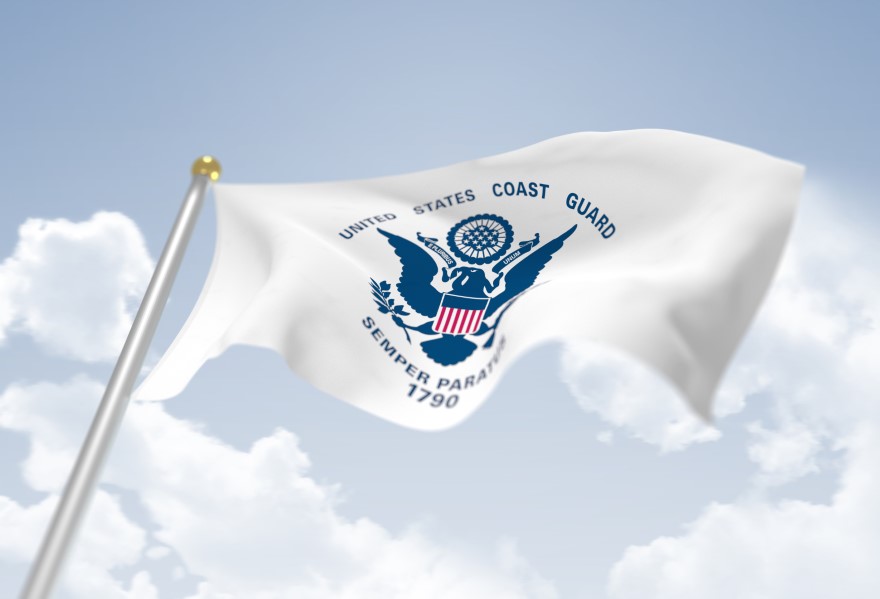 On the COVID-19 front, Bert has been just as proactive, ensuring her team works with Coast Guard operators and policy makers on maritime industry concerns—everything from licensing extensions for mariners, inspection delays for ships, and the need to disembark both passengers and mariners safely from cruise ships to their homes here in the U.S. and overseas.
Within the Coast Guard, she has been attuned to the building pressure of child care demands without school, the logistics of teleworking, and the need for individualized approaches to getting work done. While the pandemic is a moving target, she is confident the Coast Guard is keeping pace and ensuring members are safe.
Sea's the opportunity
Reflecting on her career path, Bert says there is never a dull moment—and always an opportunity to make a positive difference. This is how she knows she chose wisely, opting for the U.S. Coast Guard Academy in the 1980s and remaining with the service branch after graduating from George Washington University Law School in 1994.
Credentialed in maritime and international law, as well as criminal litigation, Bert believed the Coast Guard would provide her with opportunities to apply those skills and contribute as an officer in the full array of missions. The private sector might be more rewarding financially, she acknowledges, but with the Coast Guard comes invaluable intangibles that better suit Bert's personality.
Especially in her new position.
"We're part of a process that transcends so many areas," says Bert, "and the Coast Guard culture is a bias for action, not waiting for somebody to tell you."
Bert advises Coast Guard leadership and works with colleagues from across the military and the federal government. She fronts a mega-team that includes over 500 attorneys and legal professionals, advising on multifaceted issues ranging from law enforcement, search and rescue operations and shipping safety and security to capital acquisition and procurement, criminal law and military justice.
It is a position Bert has merited over the course of 33 years since graduating the USCG Academy. She is proud of the Coast Guard and her support of the next generation of young women in the service.
Indeed, that is another area in which Bert has been proactive.
No more glass ceiling
Given that the USCG Academy is the only military academy that has boasted over one-third women for more than 20 years, Bert, while serving as alumni association vice president, questioned why this noteworthy population of women was generally not very active post-graduation.
"While I was never a torchbearer, it occurred to me that women didn't feel as important to the Coast Guard as their male colleagues, were not as connected to the organization, and probably weren't realizing their potential," Bert explains. "I talked to friends and peers, and they too saw a void. We needed to inspire women to believe in themselves and their futures as leaders of the Coast Guard and beyond."
In 2012, Bert founded the Coast Guard Women's Leadership Initiative to help women be successful and confident. Now a recognized affinity military group approaching a $1 million endowment to fund scholarships and ancillary programs, it is part of every Coast Guard conversation today. There are dozens of chapters nationwide, mentoring young women and connecting them with their maritime industry counterparts, like the Women's International Shipping & Trading Association (WISTA).
Father and mother knew best
As to what started Bert on her path, she credits her 93-year-old father, himself a former Coast Guardsman turned civil rights lawyer, and her mother, a teacher. Both encouraged her to step outside of the comfort zones imposed by society. Her father was especially proud that his daughter vied to be one of the academy's 300 incoming cadets in 1984.
"I saw a picture of a Coast Guard woman cadet sailing on the cover of a Smithsonian magazine; there was something about it," she recalls with a light laugh. "Here I was, someone who had never been aboard a sailboat, and then I was in a position to see the world. I plunged into it."
She's since spent her career on or near water, serving aboard cutters and directing ashore operations during disasters, including 9/11 and Deepwater Horizon.
"It's not like any law firm," she says. "It's meeting with operational commanders to expand the aperture of possibilities. The Coast Guard has made me a better attorney and a better leader."
And Bert hopes she can pay it forward to the next generation of women, instilling in them leadership and perseverance through stormy seas.
Showcase your feature on your website with a custom "As Featured in Vanguard" badge that links directly to your article!
Copy and paste this script into your page coding (ideally right before the closing