Mike Watters – Essentia Health
When taking one for the team supports a dream
As a student at the University of Michigan and before beginning a professional baseball career, Mike Watters remembers learning to manage stress as a second baseman.
That ability to keep a cool head when runners were circling the bases and be a team member served Watters in life—well beyond his accolades as a player who won two Big Ten titles and All-American honors. After his career in minor league baseball playing for the Dodgers and Mariners, he dutifully made good on a pledge to his wife Deb—namely to ensure he could earn a living for the family of seven children by entering law school.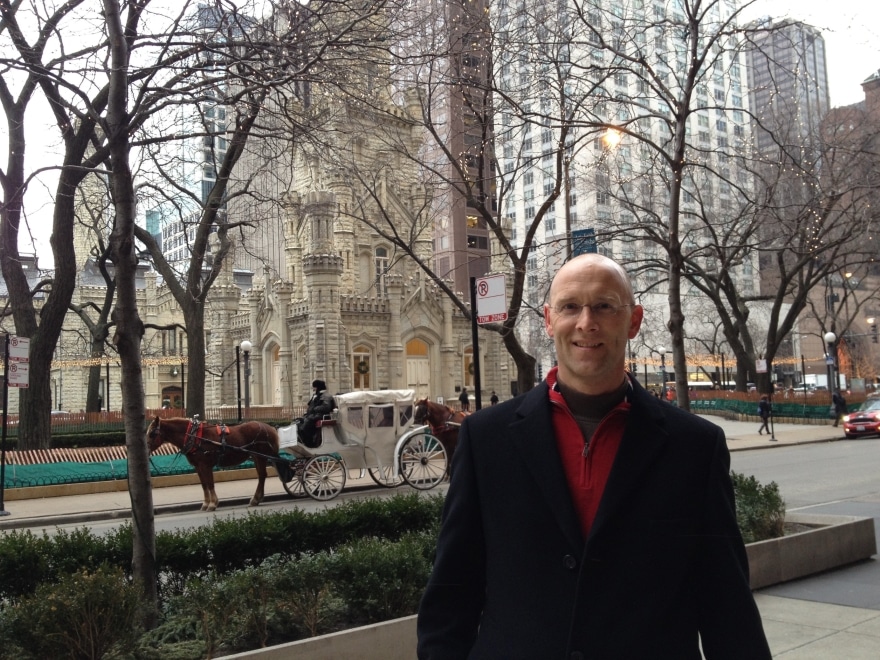 After 26 years as a corporate counsel, Watters joined Essentia Health in August 2019—almost like a top draft pick for the healthcare organization with its connection to multiple Catholic facilities. The goal was to help Essentia expand its footprint to the upper Midwest.
At the time of his interview with Vanguard in January, Watters and his new team were orchestrating the largest acquisition Minnesota-based Essentia Health has made—that of his former employer Catholic Health Initiatives (now CommonSpirit Heath)—a $30 billion company which could add 14 hospitals to the organization.
"It's a company 15 times our size that could provide us with a significant lift," says Watters. "One of the reasons they brought me in was to help make those changes. I feel personally connected to the heritage of these Catholic hospitals."
Hitting it out of the park
Essentia Health was formed in 2004 as the parent company to a partnership between the Benedictine Health System and St. Mary's Duluth Clinic Health System.
With its first acquisition of Dakota Clinic/Innovis Health in January 2008, the organization blossomed to 13,800 employees and 2,100 physicians serving 14 hospitals and 71 clinics in Minnesota, Wisconsin and North Dakota. In total, the organization also included six long-term care facilities, three assisted living facilities, three independent living facilities, five ambulance services and one research institute.
"Essentia is striving to be a consolidator, providing high quality care and reducing the cost of healthcare services," he says. "We would like to have control over our future and become a bigger player to help more people."
When joining the group almost two years ago, one of Watters' goals was enhancing technology—specifically upgrading contract management software to track, manage and store contracts which could be useful as the company expands.
"We were looking to make the system more efficient in thinking about our future needs," Watters says. "As the 'front door' to our system our goal was to make the portal user-friendly to help us achieve our goals and that of our clients."
While Essentia had rolled out telemedicine options prior to COVID-19, it's remained one of many areas keeping him busy. He and the team are sorting out payments, licensing and operational protocols in the telehealth network, which is still in process.
"We had a leg up on what we wanted to do, but it's still a challenging area for the company to navigate: some far-flung regions are not conveniently linked to technology, and some rural populations are wary of change," says Watters.
As he explains, many folks seek to have a familiar traditional doctor-patient relationship; finding the balance between old ways of doing things and new technologies can be daunting. During the COVID-19 pandemic, however, remotely serving patients has become essential.
To that end he's expanded the scope of the work entrusted to those under his wing—which created some initial anxiety. Employees were trained and given more autonomy and responsibility in their duties.
"We've worked to educate ourselves on new processes and expanded our capacity by allowing people to get involved with things they historically weren't involved in," Watters says. "Now they're more engaged and [hopefully] happier."
Home sweet home
To be honest, Watters says it wasn't just the job that brought him back to Minnesota, where he spent a significant portion of his career and raised his children. It was also his grandchildren.
As Watters explains, after baseball and graduating from Indiana University School of Law in 1993, this father of seven dedicated seven years in private practice at Baker & Daniels before going in-house in 2000 for nearly 20 years at Catholic Health Initiatives. The job took him and his family away from their beloved Minneapolis for a while—where he remembers fishing with the kids—to a post as vice president and regional general counsel in its Iowa and Nebraska divisions.
With his oldest children back in Minnesota—and with grandchildren in the mix—the opportunity to take the position at Essentia was a nice fit, once again offering Watters an opportunity to join a great team.
"I love being part of good group especially one dedicated toward improving the quality of the healthcare for the people who needed it most," Watters says. "Given the way we do it, everyone solves a piece of the puzzle, which makes it a great experience—especially knowing God's in charge."
Showcase your feature on your website with a custom "As Featured in Vanguard" badge that links directly to your article!
Copy and paste this script into your page coding (ideally right before the closing