Richard Mosher – Wind River
The art of developing software for systems that cannot fail
Whether its software is powering the Mars rover or directing a self-driving car, you'll find Wind River.
It's one of the reasons why leading global companies across multiple industries seek out the Alameda, California-based company. Its pioneering technologies accelerate the digital transformation of systems with the highest standards for security, reliability and safety, says Chief Legal Officer and General Counsel Richard Mosher.
At the intersection of digital transformation—where advanced technologies like 5G, artificial intelligence and data analytics converge—is the company's software, which runs the computing systems of the most important modern infrastructure, including manufacturing plants, medical devices, aircraft, railway, automobiles and communications networks.
Facilitating the legal side of this game-changing technology is Mosher, who joined the team in 2019. His strategy for the company: to treat it like a startup by elevating development of new products and redefining business operations.
With more than $2 trillion being invested globally in digital transformation (according to the Gartner Group), the environment is ripe for development. The COVID-19 pandemic also became a trigger for enterprises to accelerate their digital efforts, according to a recent company report.
"Wind River's sweet spot is developing software for systems that cannot fail," Mosher says. "I'm here to help guide the company through our transition and anticipate and plan for what might be around the corners."
A new twist
Industries such as aerospace, defense, automotive, industrial and telecommunications have been specialties of Wind River since 1981. In this new era of autonomy and connectivity there's a new focus on autonomous vehicles, robotics and cloud technologies.
The company, which went public in 1993, already had an established track record supporting the needs of customers like Boeing, GE Healthcare, Ford and Siemens—not to mention powering the Mars rover. Now the company is looking to expand into new areas of growth as it transitions to an intelligent systems platform company, spurred by the hiring of CEO and President Kevin Dallas in February.
As Mosher explains, Dallas brings 24 years of experience from his time at Microsoft, along with a keen knowledge of cloud technologies and the motivation to usher in a new era of digital transformation with AI and 5G.
"For nearly four decades, Wind River has helped the world's leading technology companies power generations of the safest, most secure devices in the world," Mosher says. "We're now taking this DNA to accelerate the digital transformation of our customers in a data-driven, AI-first world."
Injecting new life
As the company staked out this new and exciting terrain, Mosher kept busy supporting the legal side of the equation—anticipating responses to laws that have yet to be created.
Drafting legal agreements to support the company's business model evolution; identifying and mitigating risks; leading corporate development efforts; and advising the board of directors and executive leadership team are just a few of Mosher's duties.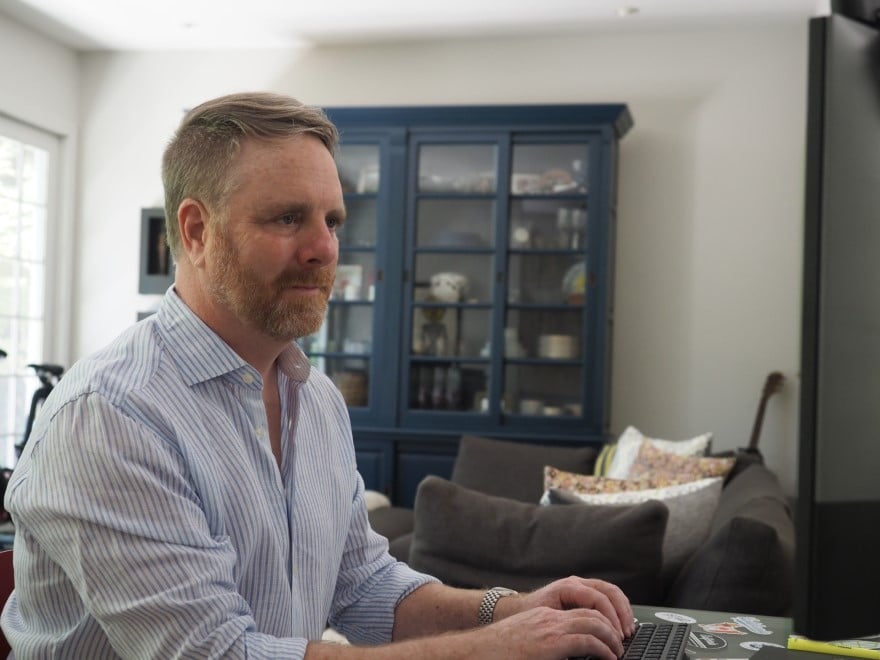 The goal, he says, is to help the company foster a growth mindset—one in which challenges are viewed as opportunities to learn, grow and improve. He also wants the legal department to serve as a strategic partner for departments across the organization.
As Mosher sees it, his job is to make the company aware of the legal issues in this developing space, and how to avoid difficult situations in bringing products to market by developing innovative approaches to solving problems.
Second nature
Turns out, that type of work—helping right the organizational ship and taking on whatever role is required—has always been right up Mosher's alley.
A 1991 graduate of the University of California, San Diego, where he studied English and political science, Mosher earned his J.D. from the University of the Pacific – McGeorge School of Law in 1995.
After law school, he worked as an associate, doing mostly litigation and transactional work, at two local law firms: first at McGlynn, McLorg & Ritchie, before moving to Ropers, Majeski, Kohn & Bentley in 1998.
In 2000, he joined PumaTech/Intellisync (now part of Nokia). The company had gone public in 1995 and was the top-performing stock on the NASDAQ in 1999—with a multibillion-dollar market cap. When the tech bubble popped, the company's market cap fell all the way to $10 million and the employee base of over 500 was shrunk to 87.
Earning a "battle-time promotion," Mosher was elevated to become the company's general counsel. Through a series of acquisitions and shift in the company's go-to market strategy, Mosher helped the company rebound which ultimately led to its successful sale to Nokia.
Since then, his specialty—and experience—has centered around helping organizations transition from private to public entities. He got plenty of practice by working with a variety of companies from San Jose to San Francisco, handling legal functions including SEC reporting; M&A and technology licensing; IP strategy and sales; and marketing support.
"Being able to guide each company and help it become more relevant in the market laid the foundation for what I'm doing," Mosher says.
Now on his latest mission to help another organization grow by supporting its vision, Mosher says the technology is some of the most exciting he's ever worked with.
"The people really make the job enjoyable—especially when everyone has so much experience in solving complex issues," Mosher says. "AI will help enable organizations and societies to solve the world's hardest problems, and Wind River will play a critical role in the AI-first world. It has been great to have the opportunity to be a part of this exciting journey and next phase of growth for the company."
Showcase your feature on your website with a custom "As Featured in Vanguard" badge that links directly to your article!
Copy and paste this script into your page coding (ideally right before the closing