Roberto Federici – Fundação Renova
Getting disaster remediation across the finish line
A marathon runner and all-around athlete in his personal time, Roberto Federici says he's all about going the distance.
"If I have to wake at 3:30 to run 16 miles because I have an 8 a.m. meeting, I'll do it," he tells Vanguard in March, a month or so before he leaves his Rio de Janeiro home to run another Boston Marathon.
A midcareer lawyer who's immersed in some of Latin America's biggest infrastructural projects for the past quarter-century, Federici's been in a new role since last September, having been lured from the private sector into being general counsel of Fundação Renova.
The sooner that nonprofit foundation can be retired, the better, for it will mean a very sensitive mission has been accomplished. On Nov. 5, 2015, a large part of southeast Brazil was staggered by the collapse of a mining company's mud dam. Billions of dollars have been spent on reparations for loss of life and livelihoods, and for remediation of massive environmental damage. But there's still much to do, and Federici now oversees the legal end.
"This time I'm dealing with people's lives, not with shareholders and dividends," says the lawyer whose previous career highlights were the development of two major power plants. "It's a once-in-a-lifetime opportunity."
Lost villages
Nineteen Brazilians are known to have died when the Samarco dam breached, unleashing an artificial lake of toxic byproducts from an iron mine into waterways and destroying two villages downstream. Hundreds of survivors were displaced after losing homes, farms and businesses, and communities along a 400-mile stretch of the Doce River. Millions of Brazilians endured lengthy water shortages.
The cause of the disaster remains unclear but the mining company— Samarco Mineração and its shareholders, the Brazilian-based Vale and the English-Australian company BHP Billiton—acknowledge general liability. In early 2016 Samarco reached agreement with federal and regional authorities for a $4.8 billion settlement (U.S. dollars) exclusive of billions more in reparations and compensation to affected parties. Those amounts would be determined by the new Fundação Renova, an entity made up of thousands of technicians and specialists with insight in disaster remediation.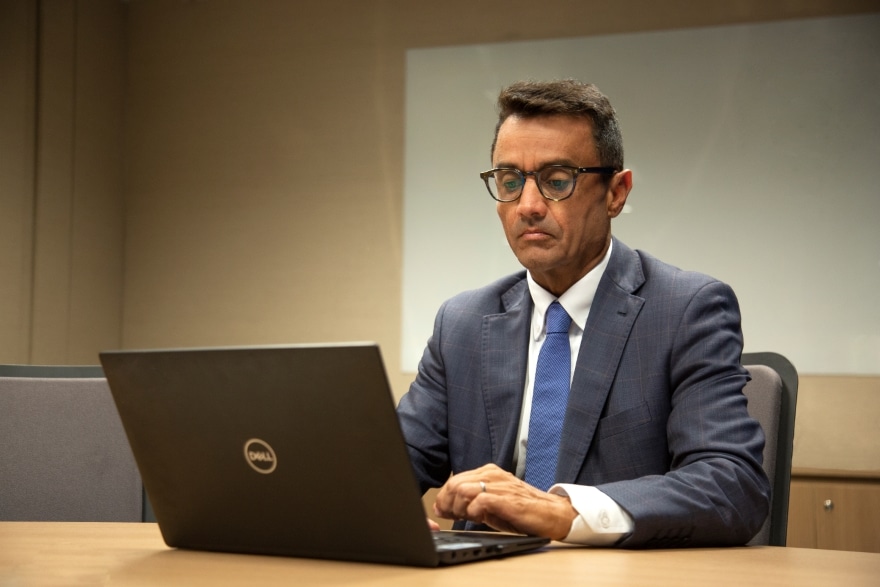 A very specialized lawyer needed to oversee a legal team of 20, Federici was head-hunted into leaving his position since 2018 as general counsel of Gás Natural Açu GNA in Rio de Janeiro. While much of the environmental remediation has been done and billions in reparations already paid, he's entrusted with expediting the rest and knows it's a sensitive task. Though deep, the Samarco pot is not bottomless and has many claimants.
"Generations of people will be affected and that's why we are very serious and committed about doing the right things," he says. "If you pay the wrong people, there's less money for the deserving people. Our main words here at Renova are commitment and responsibility."
For fair distribution
Toward those ends, the legal system has divided the beneficiaries into 13 "axels" that include environmental remediation and damages for people and municipalities. As for Federici's role, much is negotiating with the many affected groups and forging agreements that stand up in court. Judges have already set parameters for some of the damages, and it's up to the Fundação Renova legal team to ensure compliance.
"A lot of X, Y and Z's," Federici says. "Whether it's a family with children or a single person. Whether it's someone fishing for his job or for fun. Whether it's someone who's lost a business or worked for one."
Aside from the personal damages to be determined, there's also the fast-tracking of replacement villages. Many people who lost homes are still dwelling in shelters. Though COVID-19 slowed reconstruction, Federici is encouraged that for the most part it's resumed. There being much for the legal department to oversee. "I'm also lucky to manage an outstanding team of people."
As for how long his services will be needed, he can't say but reckons a few more years of full-time responsibility. Now 49, he expects to have many productive years left whenever this matter is settled and might pursue another general counselship.
"Sports keeps me young and calm," says this triathlete and Ironman competitor.
Those traits have served him well in prior pursuits. A Universidade Cândido Mendes graduate with an MBA in corporate law from Fundação Getulio Vargas and a master's in public law and competition from Coimbra Law School, he's got business degrees from Ibmec, Fundação Dom Cabral and an MBA at the Northwestern University-Kellogg School of Management. Business was his first choice, but the competitiveness of law proved more to his Type A personality. All the better than he could combine the two.
His early career being a mix of private law and in-house telecommunications roles, Federici joined the energy industry in 2007, beginning a seven-year stretch with Neoenergia. Afterward came stints of a few years each as general counsel of Estácio Participações, Countour Global, Norte Energia and, finally, Gás Natural Açu GNA.
Along the way he had a hand in massive projects in South America and worldwide. Brazil's second largest hydroelectric project, the Belo Monte Dam on the Xingu River, was commissioned shortly after he left Norte Energia.
"I reached a level where I had done everything, but something was still missing from my professional life," he says. "A project where you deal with people who had been impacted by a disaster. A project that restores life as the people knew it. That was the cherry that had been missing on the ice cream of my life."
View this feature in the Vanguard Spring IV 2022 Edition here.
Showcase your feature on your website with a custom "As Featured in Vanguard" badge that links directly to your article!
Copy and paste this script into your page coding (ideally right before the closing