Ronnie Mitra – Ingerman
General counsel lays legal groundwork for affordable homes
As far as Ronnie Mitra is concerned, affordable housing shouldn't look any different from newly built, market-rate housing. And Ingerman's properties prove his point.
Take, for example, The Willows at Flemington Junction South, a three-story New Jersey housing community built of brown and grey stone and featuring white, slate and cobalt-painted wood. Or The Willows at Carriage Works, a converted red brick factory building in Pennsylvania with high ceilings, a workout room and a lobby that evokes an artist's loft.
Both are overseen by Ingerman Management Company, the property management arm of New Jersey-based developer Ingerman, which has built more than 100 communities across the Atlantic Seaboard; it currently manages 84 of them. And laying the legal groundwork for all this is Mitra, who explains that concerns about affordable housing blighting the surrounding community are misplaced.
"They're beautiful communities," he says. "And the idea of being able to build and manage communities like this for hard-working low-income residents is a really important and noble endeavor, and I'm proud to be a part of that."
Mitra's objective is to close transactions, which is typically the conclusion of a complex, multi-year process. He says this helps to grow the business through land acquisition and the subsequent development of Ingerman's communities on those parcels.
"I've been Ingerman's general counsel for seven years now," Mitra says. "Previously, I didn't have experience doing affordable housing work, but in these seven years, I've quickly realized some of the pluses and minuses of working in the industry."
Noting that governmental housing agencies are Ingerman's bread and butter, Mitra explains that the business depends on the state and local governments that fund affordable housing—which can present challenges as well as opportunities.
"Without their financing, Ingerman would not be able to build its communities," he says.
Driving the business forward
Recent times have brought a litany of new challenges, Mitra says. Inflation and rising interest rates have killed or delayed some of Ingerman's deals—over the past year, he's seen budgets swell by millions beyond what was projected, forcing Ingerman to halt projects that had become financially untenable.
Mitra has also seen the impact of supply chain issues over the past 18 months. He says subcontractors now have greater leverage and often ask for increases in contracted sums because their costs have risen.
"This creates a very challenging situation, because the options are either to terminate the contract or agree to pay the higher price," Mitra says.
But when the multi-year process plays out as planned, it begins with Ingerman's developer identifying a parcel of land, usually a vacant lot, that he thinks the company should develop. Mitra then prepares a purchase contract and negotiates and finalizes it with the seller's legal counsel. He also goes through more technical legal steps, like setting up legal entities and reviewing architecture, engineering and other third-party proposals.
As they draw nearer to closing, Mitra reviews loan documents (affordable housing transactions can have as many as seven different financing sources) and coordinates the title and survey review. He also reviews agreements with Ingerman's investor—the bank or institution that bought Ingerman's affordable housing tax credits for the project, which are awarded by the state—and prepares corporate documents and a legal opinion.
"Closing transactions is really the primary thing that I'm doing to drive the business forward," Mitra says. "When we close on our acquisition and construction financing, that's when things really start to happen, because at that point we can finally start building the community which the team spent so long planning."
Closing on Brittany Woods
One transaction Mitra recently closed was an exception to the rule: the Brittany Woods community in Gloucester Township, New Jersey. Brittany Woods was a pre-existing community, not a vacant lot, that Ingerman's developer identified and the company then acquired.
"We are in the process of doing a substantial rehabilitation," Mitra says. "We are making it a better place to live—more up to date, with more modern features."
The housing development, which has 29 units, is now in the hands of Ingerman's construction team and will be completed by the summer of 2024. Of course, working on occupied buildings is very different from building an uninhabited structure from the ground up; they've had the added challenge of temporarily shifting tenants to vacant units as rehabbing work begins.
As with other successful transactions, Mitra supported the Brittany Woods project from the purchase contract through the recent closing, which took nearly two-and-a-half years.
"The Brittany Woods closing was an exciting one," he says. "We had several last-minute issues that needed to be addressed in the financing documents, which finally came together at the last moment, allowing us to get that transaction wrapped up just before Christmas. It's going to be a great project, and I think the residents will be really happy with the upgrades."
An opportunity worth exploring
Mitra graduated from Bucknell University in 1999 with a degree in philosophy and then earned his J.D. from Villanova University's Widger School of Law in 2002.
In 2003, he started his legal career at DeCotiis, Fitzpatrick & Cole. In 2006, he signed on with Reed Smith, where he spent a decade working on real estate and corporate finance transactions. He became general counsel at Ingerman in 2016.
"When I made the move, I wasn't looking for a new opportunity," Mitra says. "I was working at a big law firm, I was very challenged there and the work was exciting, but when this opportunity came up, I said to myself, 'Okay, maybe this is something worth exploring.'"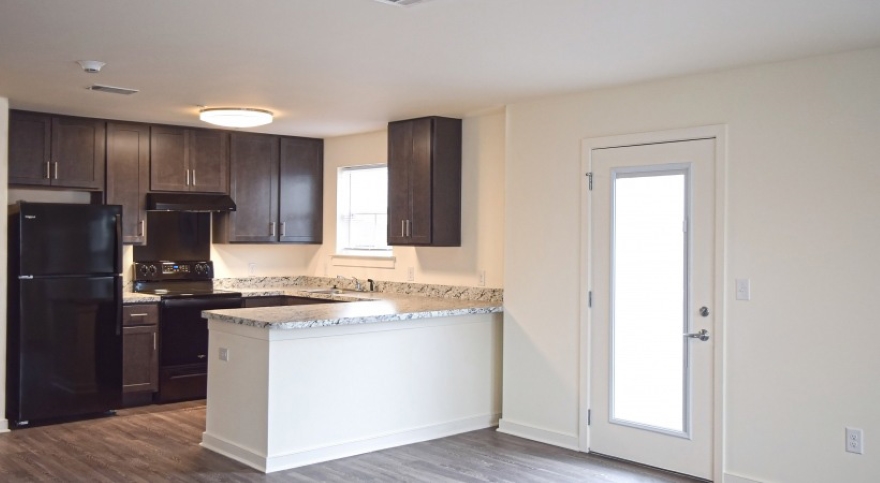 In this transition, he was also switching perspectives, going from lender's side to borrower's side, a change which kept him on his toes.
"It was a challenge because it is a different way to look at things," Mitra says. "It was a bit of an adjustment at first."
Now happily ensconced in his position, he says it's gratifying to see his deals become homes to people who need them.
"As a transactional attorney, sometimes you get bogged down scrutinizing every word of a loan agreement to make sure it is fair to your client," Mitra says. "However, the really cool thing is to see the fruits of the team's efforts when these communities are up and running. It's really satisfying to have a hand in something so important which genuinely improves so many people's lives."
View this feature in the Vanguard Spring III 2023 Edition here.
Showcase your feature on your website with a custom "As Featured in Vanguard" badge that links directly to your article!
Copy and paste this script into your page coding (ideally right before the closing