Steve Forsythe – RoundPoint Mortgage Servicing Corporation
Strategic growth in mortgage services
No doubt, the mortgage industry has undergone dramatic changes since the onset of the Great Recession in 2008.
And while there has been significant roll up, consolidation and closure of many companies, RoundPoint Mortgage Servicing Corporation has grown rapidly and, as Steve Forsythe puts it, "in the right way."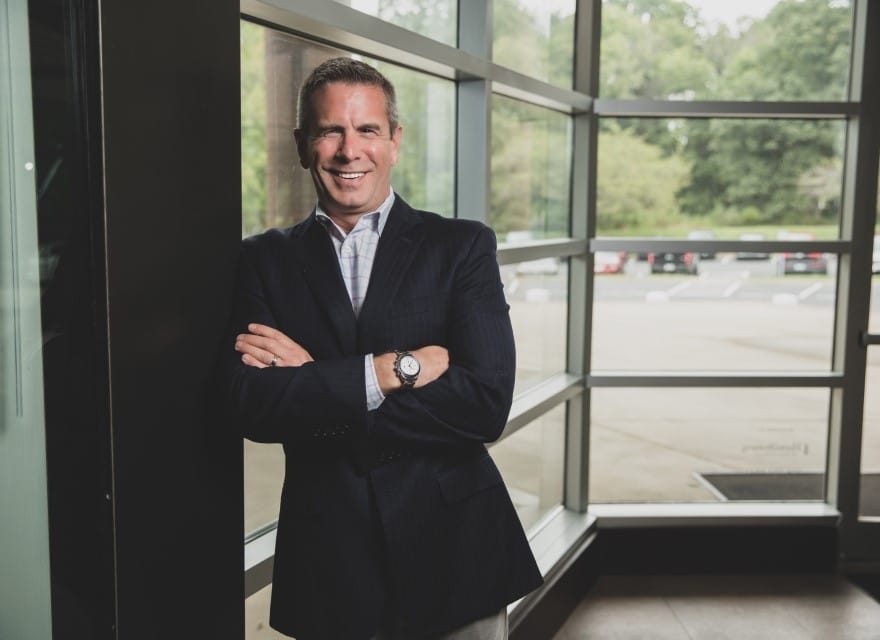 That is: The company is emphasizing the borrower experience while dedicating itself to establishing a firm foothold in compliance. As general counsel, Forsythe has been instrumental in supporting this growth while navigating the industry's "complex web" of regulations, consumer protection and data privacy laws. Not to mention the daily assaults on precious personal information.
"I am attracted to what the in-house counsel does as far as being integral in steering the company with respect to its goals and initiatives," says Forsythe, who initially established himself as a structured finance attorney.
Mastering compliance, achieving growth
Headquartered in Fort Mill, South Carolina, RoundPoint is a top ten non-bank integrated mortgage company. Its portfolio has grown by more than 10 times in just six years—today it services $90 billion in mortgage loans, compared to $8.5 billion when Forsythe joined in 2013.
As he explains, much of that growth has come from the aggressive expansion of its program to acquire mortgage servicing rights (MSR)— contractual agreements with lenders to service existing mortgages. The goal is to continue growing that area while building out the company's loan origination business in a "consumer-oriented way."
To aid in that, RoundPoint offered preferred stock for the first time in 2018—selling off about 20 percent of voting rights—and also entered into a senior secured term loan nearly double the size of its existing loan to be used primarily for the future purchase of MSRs.
Forsythe and his internal team of four lawyers and three support staff have worked on all facets of these transactions. With the stock offering in particular, after the structuring and sale of the securities the biggest challenge was governance logistics: RoundPoint now has third party investors and established a pseudo-public company governance regime. Forsythe spearheaded that undertaking, establishing a new board structure and committees.
"That addition [of outside investors] required a change in the corporate governance regime," he says. And although there are no current plans to do so, "the idea was to get the company in shape for a public offering so that the change to the governance requirements of a publicly traded company wouldn't be too great a shock to the system."
Dealing with constant scrutiny
Among all the recent changes, Forsythe also negotiated the terms of a 12-year build-to-suit lease for a new 150,000-square-foot headquarters in Fort Mill, South Carolina, (moving from RoundPoint's previous home base in Charlotte, North Carolina). About 600 employees are being relocated to that new space, "with room to grow," he says.
Meanwhile, his team has a regular rotation of subservicing contracts to draft and revise, as well as ongoing negotiations to facilitate relationships with vendors and purchase and sale relationships with MSR seller counterparties (RoundPoint has about 30 sellers that it purchases MSRs from).
Throughout all of this work is a constant focus on compliance in a dynamic regulatory climate. RoundPoint services mortgage loans in all 50 states, Washington, D.C. and the Virgin Islands, and originates loans in 39 states. As Forsythe explains, each of those entities have developed or are in the midst of developing or revising consumer protection laws. Those, in turn, are overlaid with federal mortgage industry regulations, as well as governance around consumer information, fair reporting, origination procedures, lending thresholds and various mortgage terms, definitions and guidelines.
RoundPoint is subject to routine state audits at any time. All of this while dealing with regularly fluctuating interest rates and the constant threats to breach borrowers' data. It is an environment that requires you to be adaptable, in constant learning mode, and ever on your toes, he says.
"There's a lot of scrutiny—you don't want to be out of compliance," Forsythe says. "Even if a company has one little foot fault, it could end up being quite costly."
A "natural progression"
Earning his JD from the University of Illinois College of Law, Forsythe spent several years as a structured finance attorney during which he became embedded in the mortgaging capital industry. He made the shift in-house with Homeward Residential Inc. in 2009. He calls it a natural progression because of his experience in the mortgage industry and expertise with capital markets and compliance issues.
"I was attracted to what the in-house counsel does as far as being close to the goals and initiatives of a company," he says, "and being integral in steering the company with respect to those goals."
He joined RoundPoint in 2013, citing the draw of a small, growth-oriented company with a dedication to compliance.
"RoundPoint has a high focus on compliance," he says. "The company is very good at it. Everyone has the same objective: We all want to do the best for our clients. There really is a strong team spirit."
Indeed, RoundPoint was named one of 2019's Best Mortgage Companies to Work for by National Mortgage News, and CEO Kevin Brungardt was recognized by the Charlotte Business Journal as one of the Most Admired CEOs in the Charlotte region.
Forsythe says he has enjoyed being part of a strong executive team dedicated to growing the business and honing its focus. And that financial success funnels down to benefit the company's more than 700 employees, he adds.
"What I really enjoy is building a strong company that creates opportunities for people I work with every day," Forsythe says. "I truly take satisfaction in RoundPoint's success."
Showcase your feature on your website with a custom "As Featured in Vanguard" badge that links directly to your article!
Copy and paste this script into your page coding (ideally right before the closing