Sameer Gulamani – Bayview Group
Capitalizing on development potential in Greater Ottawa
It's uncommon for a builder to surrender part of a choice parcel to a municipality, but that's what Bayview Group did when developing a lot on the outskirts of the Canadian capital of Ottawa, Ontario.
"Not because of arm-twisting," says Sameer Gulamani, the firm's gregarious managing director and general counsel. "We did it to serve everybody's interests."
A Toronto-based heavyweight for hospitality and multifamily residential properties, Bayview had bought a city-owned nine-acre site in the Kanata district, about 12 miles outside downtown and Parliament Hill. The city was keen on this real estate being developed in an urban-type manner in what's essentially a suburban setting.
Bayview's proposed project seemed to meet the city's desire, promising a mixed-use development with nearly 800 dwelling units in urban stacked townhouses fronting arterial Campeau Drive as well as three 10-story structures at the back of the site. The first phase also includes more than 4,600 square feet of ground-floor commercial space and underground parking.
But issues arose over the development's integration with abutting Bill Teron Park. Bayview couldn't sacrifice residential density without jeopardizing its economic model, so Gulamani took an ambassadorial approach as well as his usual legal and business one. He engaged with community stakeholders, city staff and the ward councilor, oversaw a complex permitting process and helped finalize the financing for a planned 2025 opening that'll include the compromise of taller buildings but more green space.
"We came forward with the revised design after talking with community groups and having the input of the city's urban-design review panel," he tells Vanguard in July as the project known as 6301 Campeau Dr., takes shape. "We were pleased with how the community engagement resulted in a better design and a win-win situation."
Bayview business as usual
It's Bayview's preferred modus operandi, Gulamani goes onto say, and he's taking the same approach to other projects. All the better if the company and a municipality can work out their differences without going to court and with Bayview usually owning and operating what it builds, he emphasizes how the company's values correspond with community.
"Planning and approval processes can be contentious," Gulamani says with a good-natured laugh. "Our intention is not to fight the city but to work with it. Much of my role is building relationships with the stakeholders and also in understanding planning law."
And while Bayview made its mark on the Toronto skyline, it's got much planned in this part of Ontario where the National Hockey League team, the Ottawa Senators, wants to leave Kanata's Canadian Tire Center for what's called the LeBreton Flats property closer to the downtown. Should that come to being, there'll be much development and redevelopment in both areas, with Gulamani keeping tabs.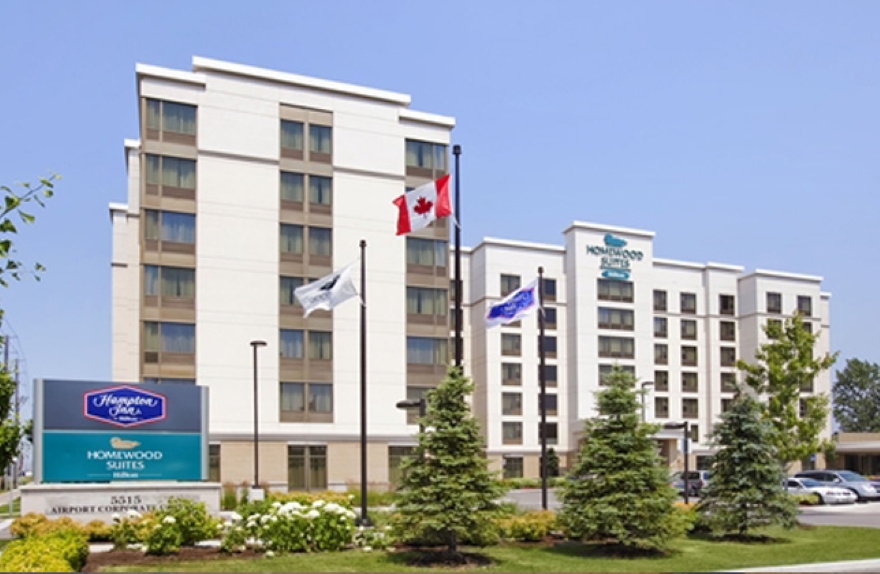 But whatever happens on that front, Bayview's keeping plenty busy here with projects that include what would be the highest residential towers in the Ottawa suburb of Orleans. There, on the blueprints are towers of 40, 35 and 30 stories, two of them all residential and the other mixed-use. Site plan approval's still pending and while higher interest rates can muddle financing, Gulamani says he's confident this project too will go forth, though he can't say when.
According to him and his colleagues, Ottawa and its outlying environs have become somewhat of a promised land for development, the economy here thriving post-pandemic and there being much need for more housing.
As the only in-house lawyer as well as the one who handles much of the financing, he'll be sure to keep busy at the company founded by his enterprising father, Alnoor Gulamani. But the younger Gulamani is far more than the boss' son as on any given day he's certain to be dealing with a mishmash of personnel matters, corporate and contractual deals, land acquisition, permitting and oversight of finished projects. It's all part of what he says has been a most fulfilling position since graduating York University-Osgoode Hall Law School in 2015.
Father still knows best
However stretched he might feel, Gulamani says he only has to look at his father for inspiration.
"He's a genuine rags-to-riches story," the son says.
The elder Gulamani of Indian ethnicity and Tanzanian-born, he won a rare scholarship to Leeds University Business School in the United Kingdom and opted to pursue his post graduate studies and career in Canada. His academic credentials notwithstanding, he couldn't find work in a Toronto bank, but according to his son, that just deepened his resolve to succeed. Having worked on sales commission and merchant trading, he made and saved enough money to buy a motel in Cornwall in 1987.
He kept on buying property and then took to building, completing in 2005 a Mississauga hotel that became Canada's first Homewood Suites by Hilton. That year also marked Bayview's emergence in the Canadian extended-stay hospitality market. Bayview has completed seven more ground-up developments including four Homewood Suites by Hilton hotels since then, winning several development awards from Hilton in the process.
Though Alnoor Gulamani didn't expect his three children to follow him into the business, he's proud they did. Sameer Gulamani, of course, oversees legal while his older brother, Imran, manages construction and his younger sister, Alisha, will soon resume a design and operations role following her maternity leave.
It'll be quite a legacy to sustain once their father retires, Sameer Gulamani acknowledges, but assuring that everyone's up for their respective role. He's sure enjoying his, detail-intense as it might be.
"It's not enough to know the law," he says. "You must know the nuts and bolts and obsess over every detail that touches your customer. As a family business, we don't leave to others what we should do."
This being a unique family, it probably shouldn't surprise that Gulamani and wife Fariya have made one of their own, having had two little girls in the same year who are often mistaken as twins. This happy couple is feeling doubly blessed. Maybe more so for Gulamani, as his role grows in a company that, at last count, possessed 21 properties and more than 500 employees who are somewhat of an extended family.
"This is hands-down the differentiator that makes Bayview stand out," he says. "People come to work here because they feel like they belong to a team that cares about each other."
Showcase your feature on your website with a custom "As Featured in Vanguard" badge that links directly to your article!
Copy and paste this script into your page coding (ideally right before the closing