Sunjay Mathews – DAZN
A winning attitude from networking and embracing being uncomfortable
Get comfortable with being uncomfortable. Don't shy from changing on the fly.
So sums up the modus operandi of Sunjay Mathews, the head of legal for the North American division of DAZN, a burgeoning sports-streaming network that threatens to disrupt the viewing status quo around the world.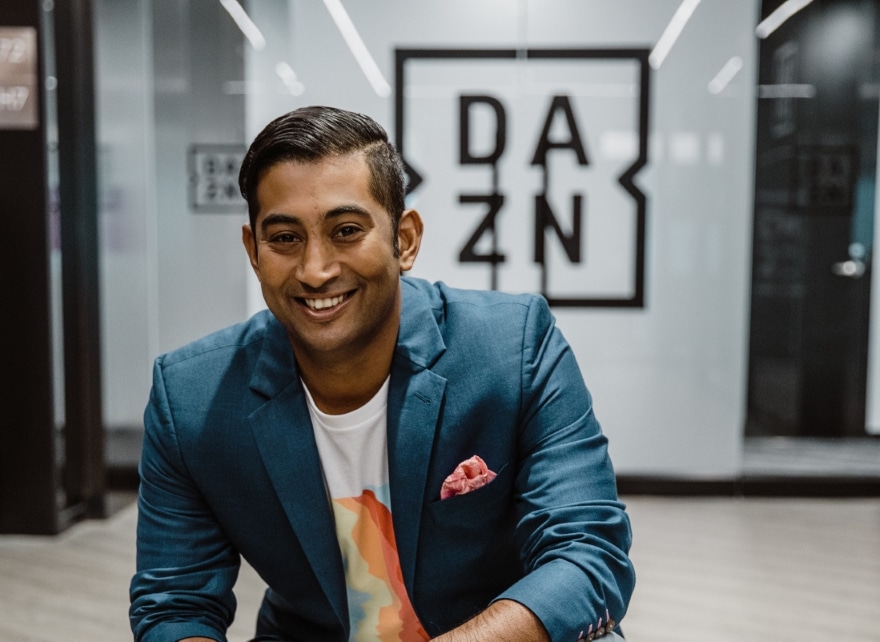 "Don't be afraid to cut the cord," he beckons those watching traditional cable channels on linear television. "Moving outside your comfort zone isn't easy, but it can be life-changing."
It has been for the millions of people streaming content on Netflix, he points out. It also can be for DAZN's U.S. subscribers who may enjoy boxing, mixed martial arts and Major League Baseball on various platforms with an annual pass of $99.95—just over $8 a month—or a no-strings-attached monthly cost of $19.95.
Consummate teammate
As much fan and businessman as he is in-house lawyer, the 34-year-old Mathews has been responsible for all matters legal for DAZN's U.S. and Canadian interests since the streamer's U.S. launch in September 2018.
That's DAZN as in "Da Zone," the name reflective of the young demographic targeted, and Mathews advises it's a whole new ballgame. The younger set being tethered to smartphones and other connected devices rather than linear television and pricy cable packages, he says DAZN has the extra jump on meeting the new demand.
"Like a good [baseball] manager, we're able to make a pitching change quickly and at the right moment, and we have a commitment to base such decisions on data," Mathews says. "Larger organizations entrenched with processes and red tape can't move as nimbly, resulting in reactive as opposed to proactive responses. They make the pitching change after the starting pitcher gives up a bases-loaded double."
Not your parents' TV
A Yankees fan, Mathews bemoans how when tuning in to a cable broadcast, he gets the same product as a viewer elsewhere. DAZN is changing that, he says, aiming to tailor content to specific markets of consumers and advertisers.
Mathews advanced DAZN along this very base path last year, negotiating a rights deal with the MLB front office that resulted in DAZN's new "ChangeUp" nightly broadcast that brings viewers all the big plays as well as live look-ins to games in progress and recaps. It's an idea inspired by the NFL Network's decade-long series "NFL RedZone."
In conjunction, he negotiated individual sponsorship deals with five teams: Mets, Angels, Nationals, Athletics and Rangers. Logos for DAZN and "ChangeUp" began appearing around their stadiums this season, and ties will tighten as other agreements get sorted out.
Among the reasons for that first lineup, Mathews explains, was that those teams' markets are noted for boxing and mixed martial arts enthusiasm, and DAZN's early U.S. growth has largely come from deals with top boxing and MMA promotions such as Golden Boy Promotions, Matchroom Boxing USA, GGG Promotions and Bellator MMA. There's also data suggesting an overlap of baseball and pugilism interest.
"It would be foolhardy to rush and enter deals with all 30 teams," he says. "This is a good trial run to see what works as far as advancing our brand awareness and attracting subscribers, and based on learnings and data, we will explore expanding the original lineup of MLB partnerships."
A true expansion team
Founded just four years ago in London, DAZN operates in the United States, Canada, Austria, Germany, Japan, Switzerland, Italy, Spain and Brazil—the last two countries brought into the fold earlier this year. Come late 2020, DAZN anticipates being in 20 global markets.
That kind of growth is certain to open up all kinds of legal and business matters everywhere, which is OK with Mathews who sees it as the kind of discomfort in which he and DAZN can thrive.
"Old industries have familiar problems, but when you work in a blooming industry you can never be prepared for every problem that crosses your plate," he says. "We have issues of first impression."
Thus every day presents challenges ranging not just from business to legal to common sense, but to technological.
As is the case with all media lawyers, he'd better be well-versed about distribution technologies and how to best protect DAZN's copyrighted content. Broadcast rights being expensive, there's always a high-tech pirate scheming somewhere.
However, Mathews acknowledges that the best way to combat piracy is not only by continually reviewing and improving technology and processes, including watermarking content and cease-and-desist letters, but to also go on offense, providing such a strong value proposition and user experience that the risks and drawbacks of pirating content are no longer worth the hassle.
"Piracy is a serious threat that DAZN takes seriously, not only in North America, but globally," said Mathews.  "In fact, we are looking at new and creative solutions to a problem that's damaging to sport and the sports business."
The key is to be a two-way player, and not simply invest more financial resources to past measures that have been unsuccessful. To this, Mathews cites Einstein's quote: "The definition of insanity is doing the same thing over and over again, but expecting different results."
Then there's the business side of his responsibilities that served him so well in negotiating with DAZN rights holders and will further be tested as advertising formats adapt to streaming. And cable competitors aren't forfeiting anything to DAZN; they're ramping up their games in an already crowded U.S. sports streaming market.
But Mathews believes competition brings out the best in the DAZN team skippered by the aptly named John Skipper, the former ESPN president who became executive chairman in May 2018, about the same time Mathews came aboard.
A first-generation American of Asian Indian ancestry, the New Jersey-born and Brooklyn-resident Mathews always wanted to be in sports law, but knowing the long odds, started his career in more traditional roles.
He'd graduate magna cum laude from Fordham University School of Law in 2010, spending a summer studying human rights law at South Korea's Sungkyunkwan University. He'd clerk in the Appellate Division of New Jersey Superior Court, represent low-income clients for Legal Aid and spend over five years as a corporate associate with two prestigious New York firms—Skadden, Arps, Slate, Meagher & Flom LLP and Davis & Gilbert LLP.
However, the 2013 birth of his son was the inspiration he needed to finally chase his sports dream. Despite quite a diverse legal background, and training with top law firms, it wasn't until he committed to networking and building relationships in the sports industry that he earned his first legal role in sports.
"It goes back to me being comfortable with being uncomfortable," he says. "I'd go to any sports conference, grab coffee with people and build relationships.  I never got discouraged from the rejections, of which there were quite a few. All you need is one 'yes.'"
And he got one of those yes's when he landed a position at FanDuel as  corporate counsel.  There he played a key role in negotiating the FanDuel/DraftKings merger that ultimately fell through due to antitrust concerns. But that didn't discourage him.  You can't win them all, but you must get back in the game.
His two years at FanDuel allowed Mathews to build a reputation in sports law and business that led to a recruiter reaching out to him, dangling the opportunity to help launch DAZN in the United States.
"My biggest regret is not chasing my dream sooner, not networking sooner to make my dream a reality," he says, seemingly accusing himself of delay of game. "I've only been in sports law for a little over three years and I've loved every second. It's up to me to find a creative—not combative—solution to so many issues, and that's what makes it so enjoyable."
Enjoyable, that is. But not too comfortable. For that wouldn't bring out the best in his game.
Showcase your feature on your website with a custom "As Featured in Vanguard" badge that links directly to your article!
Copy and paste this script into your page coding (ideally right before the closing