Thank you for your interest in exploring what a feature story in Vanguard can do to enhance not only your online profile, but also that of your organization and your strategic partners.
So, why should you be featured Vanguard?
Here's feedback from one of our recent features…
"The piece highlighting my company has been an asset to our business. Everyone was great to work with and extremely professional. They produced a high-quality product and have provided expert assistance and guidance post-production of the article." – Wade Poulson, General Counsel, Bob Baker Enterprises Inc.
"As promised in advance, my feature in Vanguard has increased my visibility within the profession and prompted more than a few people I have not communicated with recently to reconnect. One of the Italian law firms I have used in the past is now in the process of interviewing me for an article on their website and tweeting out the feature story. Activity and the number of people connecting with me on LinkedIn has soared, which is great. The Vanguard writers and editorial staff were great to work with—highly professional and made the effort to make the experience both fun and rewarding (they were also respectful of the time pressures and demands all lawyers face). I was very pleased with the experience and the final outcome. Needless to say, I have been very pleased. All in all working with Vanguard has been a very positive experience which generated good publicity for both Shawcor and myself. My sincere thanks." – Tim Hutzul, Vice President Legal, Shawcor Ltd.
---
About Us
Vanguard reaches in-house counsel, law professionals, and executives of the world's most innovative and forward thinking businesses, corporations and law firms. These individuals make decisions that impact their companies each day and are influential leaders in their field. Our pages are comprised of stories and spotlights on companies just like yours that have a significant impact on the global economy, be it a start-up or a multi-billion dollar corporation.
In short, Vanguard puts your story in front of those who matter.
192,000 pageviews quarterly
1,000 potential impressions within 24 hrs. of posting Vanguard Feature on LinkedIn
International Reach: Vanguard covers the globe. Anyone with a device has access to your story.
Weber Shandwick research indicates employees of socially supportive employers are 72% more likely to help increase sales. This drops to 48% where employer support is absent.
Benefit: Improving your personal brand while improving the bottom line.
Featuring a diverse array of businesses from Fortune 500's to startups. Nonprofit to for profit.
Our features include:

Jared Signe – Match Group (Tinder)
Shannon Dwyer – Providence St. Joseph Health
Mark Smolik – DHL Supply Chain Americas
Kelly Slavitt – Reckitt Benckiser
Frank Kenniasty – Motorola Solutions Inc.
Take a moment to browse your colleague's articles, here.
---
What You Get
Online Article & SEO: Your article and partner advertisements are permanently hosted on our website on your own unique web page. By creating a unique page for your article, we are able to provide enhanced search engine optimization (SEO) which ensures that when people search your name online, they will see your article, helping you manage your online reputation and showcase your work and partnerships. You can share the article link via social media and email, and even link it on your website. The more you share and distribute the article, the better it will perform in search results.
Partner Ads: Partner ads are permanently showcased on the article page and in the digital journal. The article ads are also hyperlinked, sending potential clients and customers straight to the advertiser's website.
Hands on Assistance: Our expert media team can assist you in spreading the word about your feature on your website, social media pages and through email campaigns.
Journal: A compilation of forward-thinking ideas, companies and executive profiles, the Vanguard journal is digitally distributed to our readership –sharing your story with the industry's leading minds.
Additional Exposure Opportunity: Prior to publication you will have the opportunity to discuss upgrading your story to a cover position for additional exposure.  This is not a requirement.
---
Creating Your Article
Initial Interview / Conversation with one of Vanguard's Content Coordinators to gather background information and to explore possible story angles.
Post Interview:
Story Abstract / Direction: Comprised of approximately 100 words serving as an example of our writing style and general guide for the writer.  Seen as a trailer, like with a movie.
List of Strategic Partners: These partners will be invited, via an email, to collaborate with the story in the form of a paid ad.  They will be contacted by a Vanguard team member who will check for interest and then provide ad options. Each ad will be showcased alongside your article as a co-branding opportunity that also offsets our production costs.
One ad commitment is needed in order to proceed with drafting story.
Writer Introduction and Story Draft, Review and Completion:
Introduction to writer who will set up a time for a few clarifying questions
Story draft created for your timely review, final approval and preparation for publishing
Request for Photos: You will be asked to provide 5 to 10, high definition, photos to be used in the article and digital journal.
Cover Spot Options: We will contact you with more information on how to upgrade your article to a cover piece, or how to gain a more prominent position in the journal. This is optional. 
Story Optimization: Upon publishing we will apply SEO optimization on your feature article link page to drive search results and enhance your exposure. You will also receive instructions as to how your team can assist in optimizing the story.
---
Examples of Our Work
Online Article, featuring Young Lee, General Counsel of MacKay Shields: https://goo.gl/rt4dVr
Journal: Click Here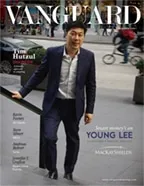 SEO, increased exposure and enhanced personal online profile: