Augusto Martínez – Eli Lilly and Company
Lilly's Latam legal manager prescribes growth
An in-house attorney who's doing their job well knows they're a voice for the company's growth. It's about saying "yes" as much as possible—while making sure what they advise also complies with legal and ethical standards.
Saying yes in the face of a global pandemic has presented unprecedented challenges to Augusto Martínez, the Latin American regional legal manager for Eli Lilly and Co.
Throughout the region he serves, including Colombia, Peru, Ecuador and nations in Central America and the Caribbean, he's not only worked through myriad legal requirements needed to keep Lilly's Latam operations going, he's helped patch together the network ensuring its sales staff can continue to serve healthcare professionals.
"Our sales force remains remote even though some countries may have eased restrictions," Martinez explains. "The company has not allowed them to get out because of concern for staff, but we still need to deliver therapies and medicines."
Change comes quickly
Founded in 1876 in Indianapolis, Eli Lilly's global footprint includes manufacturing plants in eight countries and clinical research conducted in 55 countries by 7,900 employees. Its products are sold in 120 countries and the company employs about 34,000 people.
The arrival of COVID-19 in the spring not only presented Martinez with new sets of rules and guidelines varying from nation to nation—those rules frequently changed from day to day.
At times it's a matter of procedure. In Mexico, he had to document operating protocols with the government to gain approval to operate. In Peru and Ecuador, Lilly employees needed to certify, if asked, that they were part of an essential business, Martínez says.
One saving grace: The company already had many of the digital tools in place to ensure it could hold virtual meetings and staff could work remotely when needed.
However, with some of those formats used more frequently for personal gatherings (rather than business meetings), Martínez and the regional IT team needed to be sure that the proper security was in place to protect data and personal information. They also had to boost bandwidth and server capacities to accommodate the new demand for online meetings.
A resident of Mexico City, Martínez typically visited the offices in his region three or four times annually. This year, he made one trip in January, and isn't certain when the next one will be.
"Right now, we are working for a safe return to work," he says. "The most important thing is to keep our sales and administrative force safe and protected so when the authorities in each country approve the reopening, we'll be ready to go."
Supplying the need
The coronavirus pandemic has also put telemedicine into play, and some nations are now allowing e-signatures on documents—changes Martínez welcomes.
A major change comes in the way Lilly's sales staff works with its customers to provide them with pharmaceutical samples they can use to begin a patient care regimen.
Pre-COVID-19, these were face-to-face consultations, Martínez explains, with sales reps visiting offices.
But the time-tested process was itself tested when sales staff began working remotely and physicians began reducing in-person visits, while government regulations prohibited couriers from delivering pharmaceutical samples.
Martínez was not alone in the industry in lobbying for changes to allow samples to get distributed. At the same time, Lilly must be certain whoever is handling sample deliveries is doing so securely, he adds.
In most nations, Lilly is working with its distributors to deliver samples, but even then, those distributors don't always have the staff on hand to make deliveries and are as concerned for the safety of their employees as Lilly.
Changing how samples are delivered, as some privacy and consulting rules are also changed to enable doctors to practice remotely, has some benefits, Martínez adds.
"It's going to be the new way of working. Because of this pandemic, we've figured out new ways to do things," he says.
Helping at home
Martínez has more than helped Lilly work through COVID-19 in the regions where he oversees legal operations. He's also moved back home with his parents to help them get through the pandemic safely.
Both face health complications, making them vulnerable to the worst of COVID-19's effects. His brother and sister are also pitching in, doing things like buying and cleaning food.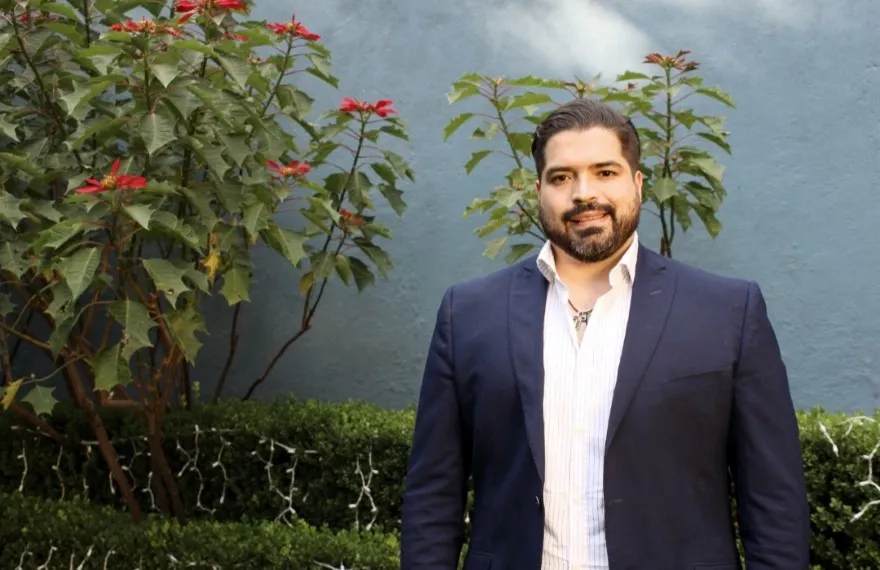 "It's a relief to be with my family in this pandemic," Martínez says. "I'm blessed I can do so, and I know a lot of people who don't have this opportunity."
Living with his parents also reconnects him with the greatest influence on his decision to pursue a legal career.
"My dad is a lawyer and dedicated his professional life to the pharmaceutical industry," Martínez says. "Before entering the university, I worked with my father and that confirmed my interest for this discipline."
Martínez earned his law degree from Universidad La Salle AC in 2012 and joined Johnson & Johnson as an external attorney handling contracts as well as the implementation and training for an automated contract preparation system.
In 2014, he became the regional legal, compliance and data privacy manager for Dräger, a German company that makes medical and safety technology, such as anesthesia workstations.
In April 2018, Martínez was hired as Lilly's Latin American regional legal manager.
Whether it's working to ensure the supply of therapies and medicines to physicians or keeping Lilly's employees safe through a pandemic, Martínez says he's found a purpose in his work.
"It's our responsibility to fight for justice in our job and we have the responsibility to teach younger lawyers about how to be responsible and ethical in their work," he says. "We have to support companies and the lives and families of the patients, families, doctors and nurses. If we help a patient to improve their health, we can help the people around the patient to improve their lives, too."
Showcase your feature on your website with a custom "As Featured in Vanguard" badge that links directly to your article!
Copy and paste this script into your page coding (ideally right before the closing