Emily Schlesinger – Microsoft Health & Life Sciences
Assistant general counsel transforms from litigator to product lawyer
Unlike many of her peers, Emily Schlesinger hasn't always wanted to be a lawyer. In fact, after spending years as a commercial litigator, she realized that defending big companies in court wasn't her cup of tea. 
But then Schlesinger began working with tech clients, delving into litigation around early internet regulation—including cases focused on Google's placement of tracking cookies that circumvented privacy settings, as well as allegations that the company gathered Wi-Fi data from millions though its "Street View" program. 
"At the time, privacy and data protection was an emerging area, but it wasn't something that was a primary practice, like it is today," Schlesinger recalls. "I began to develop an interest in how challenging that space was and understanding the importance of data issues in the context of these large companies."  
Now, as assistant general counsel for Microsoft Health & Life Sciences, part of Cloud + AI engineering, Schlesinger leads the team within the legal department that supports Microsoft's emerging healthcare products and services. Those include Azure Health Bot (which helps developers in healthcare organizations build and deploy chatbots), Text Analytics for Health (which extracts and labels medical information from doctor's notes, discharge summaries, clinical documents and electronic health records) and Azure Health Data Services (a suite of technologies that process protected health data in the cloud).  
Her responsibilities range from advising engineers on product development to negotiating contracts to coaching executives on IP and deal strategy. 
It's all the result of a mid-career transformation that saw Schlesinger join Microsoft after three years as a litigation associate at the Seattle office of Wilson Sonsini Goodrich & Rosati PC. Arriving at the company in 2014, she started out as a privacy attorney on the regulatory affairs team. Then, she became a product lawyer. 
"I wanted to pivot from being a subject matter expert to being in the room with the clients who are actually developing the products," she says.   
Jumping into healthcare 
In March of 2022, Microsoft closed its acquisition of artificial intelligence company Nuance Communications for $16 billion (or $19.6 billion including debt), expanding its reach into healthcare, where it had previously had only a modest presence. Nuance is best known for its speech recognition technology, including software used to help launch an early version of Siri, Apple's voice-activated assistant.  
Its flagship service is Nuance's Dragon Medical One, which physicians can use in place of jotting down notes. To use it, they speak into a hands-free device and see their words converted to text on-screen—easy for them and whoever's reading the notes. That service, along with others, is now under Microsoft's umbrella. 
Schlesinger has been helping to sew up the Nuance integration on several fronts, which has included aligning different approaches to product development and compliance. 
"I'm leading the group of lawyers and project managers from PwC defining workstreams of Microsoft and Nuance lawyers," Schlesinger says. "It's a combination of organizational governance as well as running the team that's doing the day-to-day integration work." 
Layering on new policies
As the company moves more squarely into the healthcare space, another recent project of Schlesinger's is right-sizing Microsoft's policies to comport with those of Nuance.  
Having long been a cloud provider for healthcare entities, Microsoft already had privacy and security standards. But offering healthcare products that process protected health information brings a bevy of legal and regulatory requirements—for example, employee training, access controls and significant documentation rules. 
"We're essentially adding another layer of health-specific policies and requirements on top of our existing robust requirements to ensure that we can better service our healthcare customers," she says. 
By now, Schlesinger says she's positioned to steer Microsoft into new privacy and security terrain. She's spent the latter half of her career building up expertise in the data and privacy issues surrounding technological advances like the ones Microsoft is currently wading into. 
Finding her niche 
A graduate of Brown University and Vanderbilt University Law School, Schlesinger launched her legal career clerking for a federal judge in the Southern District of Ohio. From there, in 2006, she went to the Chicago office of DLA Piper, working as a litigation associate on complex commercial litigation. 
After another brief clerking stint, this time on the Sixth Circuit Court of Appeals, Schlesinger joined the Ohio attorney general's office as a deputy solicitor in 2009, tackling both civil and criminal litigation on behalf of the state in the Ohio Supreme Court, the Sixth Circuit Court of Appeals and the U.S. Supreme Court. 
She spent nearly two years there before moving to Seattle to join Wilson Sonsini's litigation group in 2011. It was at this law firm that she found her professional niche.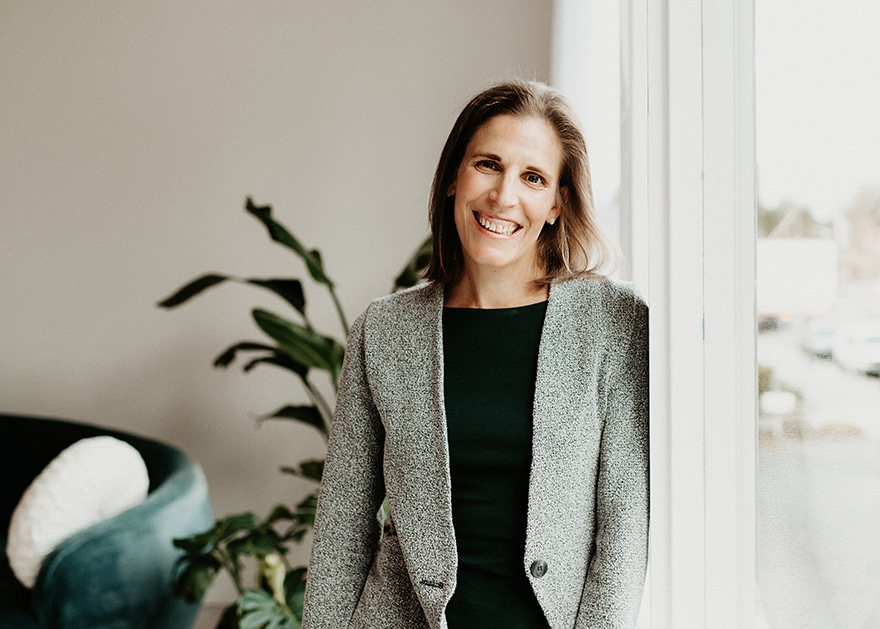 "When I was at Wilson Sonsini, that's really where my interest in privacy and data protection grew," Schlesinger says. "We were working with some large tech clients at the time, and I was dealing with litigation in the context of early Internet regulation." 
It was a major jump from commercial litigation to tech, Schlesinger says, owing mainly to the difference in approaches. She was supporting engineers and compliance professionals rather than spending time counseling in-house lawyers, and she had to simplify her communication. But determined to forge a new path, she underwent a professional rebranding, and found her way into the realm in which she operates today. 
Beyond her career, Schlesinger enjoys spending time with her husband, 5-year-old son and their dog; getting outside to enjoy the Pacific Northwest; and preparing for the arrival of her second son, who is due in March. And she's a proud advocate for her employer, which she believes always puts customers first. 
"Microsoft really has for the longest time considered customer trust to be paramount in the products and services that we offer," Schlesinger says. "And there's no difference between that principle whether you're talking about our general cloud computing technology or our healthcare services."  
View this feature in the Vanguard Winter III 2023 Edition here.
Showcase your feature on your website with a custom "As Featured in Vanguard" badge that links directly to your article!
Copy and paste this script into your page coding (ideally right before the closing