Lauren Lacey – The Hershey Co.
Home again at Hershey
She jokes it was a no-brainer to resume her legal career at The Hershey Co., where Lauren Lacey began her second go-around with the famous chocolatier in October 2019. After all, she tells Vanguard on the eve of that anniversary, fringe benefits include Reese's Peanut Butter Cups.
But it's been a sweet deal for all involved. Lacey's extensive business partnering background in litigation, regulatory, marketing, sales and geographic leadership is fully utilized in her new capacity as chief counsel to the U.S. commercial and growth businesses and leading global mergers and acquisitions.
There's much to do on those fronts – the candy maker having diversified since Lacey left in 2015 for a four-year stint at US Foods in Chicago. Since then, Hershey acquired three brands, partnered with D.G. Yuengling & Son to produce a limited release chocolate beer collaboration, and acquired Amplify Snack Brands.
Lacey had helped integrate Hershey's game-changing acquisition of Krave Pure Foods in 2015, just before her departure, and now would be tasked with selling it. Hershey was still a familiar organization and one whose transactions Lacey was well positioned to fine-tune while reporting to new general counsel, Damien Atkins.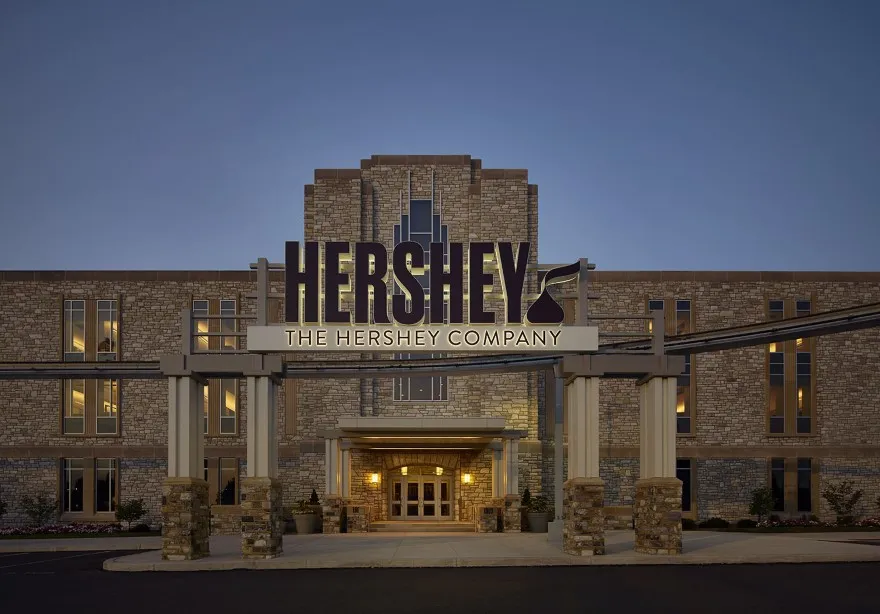 "Part of my role is to ensure integrations go smoothly by partnering with the business to develop solutions," Lacey says. "It's taken my role from leading support for the U.S. commercial business into a more growth focus of acquiring and integrating new snacking products and businesses."
Leveraging her operational understanding of the organization has been key to successful deals and integration.
Going beyond chocolate
The emphasis will likely always be chocolate, the iconic Hershey's Milk Chocolate bar—with or without almonds—being such a confectionery mainstay. The company, however, was well on its way to diversifying during Lacey's first tour of duty, a decade-long stretch that commenced in 2005 with her as an associate counsel for litigation and regulatory, then leading marketing and sales support and ultimately ascending to associate general counsel of the Americas managing attorneys in the U.S., Canada and Mexico.
It was late in that tenure when Lacey helped Hershey venture outside confectionery lines with its purchase of Krave, the company's first extension into savory snacking.
The push beyond chocolate continued while Lacey was away, and in 2017 Hershey acquired, for $1.6 billion, Amplify Snack Brands, the Texas-based maker of SkinnyPop popcorn and other snacks. Cheese puff maker Pirate Brands was welcomed into the Hershey fold one year later in an all-cash $420 million purchase from B&G Foods. Last year, just before Lacey rejoined, Hershey bought protein bar maker One Brands LLC for $397 million. These acquisitions were accretive to Hershey's top line.
But with the snacks and sweets industry always changing, last May Lacey teamed with Alexei J. Cowett, head of the growth companies practice at Washington, D.C.-based Venable LLP, in divesting Krave and some other lines.
"It's here where your relationships with internal clients and your law firm are critical," Lacey says, lauding Venable's business and legal savvy. "Being a strong business partner is knowing the business well but also recognizing how and when to engage the right people at the right levels who can drive the right actions at the right times."
And Lacey has developed some of that a long way from the community of Hershey, Pennsylvania. One project took her all the way to the Republic of Ghana and was among the incentives for her to return to Hershey, a company whose values are aligned with Lacey's.
Spreading goodwill
Before Lacey's departure in 2015, she led the legal transaction with Project Peanut Butter to bring a peanut-based, ready-to-use therapeutic food to malnourished children in Ghana, a country that provides so much of the world's cocoa. In Lacey's view, it was a moral imperative.
Lacey and a small Hershey delegation journeyed to Ghana in 2014 to develop Hershey's financial and technical investments in Project Peanut Butter's production facility in Kumasi, Ghana. Lacey being of Vietnamese and West African ancestry, became emotionally as well as professionally invested in the success of the operation.
"It grounded me in a new level of purpose," she says. "Just being among people who looked like me was a meaningful experience, but knowing I was helping the most needy was powerful. To me, this wasn't just career growth, it was personal growth."
And personal growth has been a Lacey hallmark, albeit with an assist from other benevolent people.
"The concept of diversity was instilled in me early," Lacey says, having grown up in a multi-racial family with siblings adopted from Vietnam, South Korea and New York. "My life has always been about working with people who don't look, think or act like me and finding ways to work together."
A college and law school track-and-field athlete, Lacey earned psychology and sociology degrees and a law degree from the University of Virginia. After clerking at Baltimore City's Circuit Court, she logged five years at the trial law firm, Goodell DeVries then commenced with her first decade at Hershey.
As others have aided her cause, Lacey does the same, always finding time to mentor both men and women across an organization. As co-lead of Hershey's African American Business Resource Group, Lacey has focused on influencing the company's engagement, inclusion and development of its employees. The legacy of investing in others was exemplified by her mentor, Juliette Pryor, now Albertson's general counsel who, in a prior role with US Foods, hired Lacey.
"I'm a person who enjoys learning from strong leaders," says Lacey, now a married mother of an 11-year-old girl who's showing indications of being just as precocious.
And there's someone else in her very distant path who nevertheless is integral to Lacey's purpose. "My approach is to honor my birth mother's adoption decision made at the end of the Vietnam war," Lacey says. "I want to live up to the expectations and dreams I know she had for me, and I do that by seizing opportunities to grow, leading with integrity and having a positive impact on others."
Showcase your feature on your website with a custom "As Featured in Vanguard" badge that links directly to your article!
Copy and paste this script into your page coding (ideally right before the closing