Maryann K. Aiello – Salerno Brokerage Corp.
She's got much of Long Island under good cover
Somewhere in New York State, there's a police chief who finally saw the light on harassment. Having learned his lesson the easy way, he should be counting his blessings. 
It seems he couldn't fathom the possibility of sexual harassment claims lodged by women against men, but before such shortsightedness got him into trouble, Salerno Brokerage Corp.—which arranges for his department's liability coverage—sponsored a training session and possibly precluded what could have been an out-of-work chief and lawsuits against the entity. 
"He walked away understanding a lot more due to hypothetical scenarios. He now keeps his eyes open and intervenes when something happens," says Maryann K. Aiello, the Salerno Brokerage general counsel who's ever proactive on the preemption front. Her employer being New York State's premier public entity brokerage, she's intent on cities, towns, counties and districts staying out of sticky situations, the possibilities of which may seem endless. 
Fire districts, for example, might need counseling on insuring their vehicles and Aiello warns against going by Kelly Blue Book value. There's a big difference, she explains, about a private citizen buying a $75,000 BMW and a fire district buying a $1 million hook-and-ladder truck. That BMW devalues around 25 percent upon leaving the dealership whereas the fire engine must retain its value for the long haul.  
Salerno being the independent go-to for insurance with more than 30 carriers, Aiello says it's certain to find a public entity an appropriate, replacement-value policy even if it's not the least expensive. 
"We won't place you with a carrier that's not a specialist," she tells Vanguard in July from Salerno Brokerage's office in the Long Island community of Syosset. 
Cheaper isn't better
Local water districts get similar counseling, much of their older piping being lead-lined and thus at risk for litigation. Such districts, Aiello emphasizes, mustn't be penny-wise and millions of dollars foolish by buying liability coverage with a lead exclusion. 
It's all part of Aiello's role overseeing Salerno Brokerage's legal interests since December 2010. The firm's interests intertwined with those of around 100 municipalities and water and fire districts, it interfaces between the accounts and carriers. She's on a first-name basis with the entities' own attorneys, always looking for ways to safeguard everyone but at a reasonable expense. 
Much has changed in her line of work, Aiello says. Cybersecurity's become a much more pressing concern, what with so many public entities having been held up for ransomware and part of the reason is they're behind the curve on infotech and training.  
Some of Salerno Brokerage's partnering carriers do have cyber coverage embedded in policies and Aiello says if such protection is lacking, the firm will find a way to place the public entity in a stand-alone policy.  
"The last 10 years we've been at the forefront of understanding cyber claims," she says. "Above all, you've got to look out for human error, and for that we provide communiques and cyber training." 
Long Island ought to be so aware, Aiello goes on to say. While Suffolk County isn't a Salerno Brokerage client, its being remiss on cybersecurity affected other municipalities. Between 2021 and 2022, personally identifiable information, including license information, was inadvertently released, affecting nearly 500,000 residents and amounting to about $15.5 million on recovery, identity protection and investigation, leading carriers to adjust rates or demand more accountability from clientele. Prior to then, season ticket payment information was inadvertently released instead of the New York Yankees' schedule being circulated. 
The public sector's risks can further be mitigated, Aiello explains, through Salerno Brokerage's relationship with Lexipol, a Texas firm that provides policy manuals, training bulletins and consulting services to first responders. Whatever the issue, she says there's likely to be a solution accessible through an app, and privacy ensured. 
Planning for unplanned
Asked how she can better serve Salerno Brokerage as well as its clientele, Aiello says much of it comes from experience. She had been on the job for less than a year when Hurricane Irene stretched from the tropics into New England in August 2011, damaging much property. Brutal as Superstorm Sandy was in November 2012, she says many public entities were better insured with much credit due to Salerno Brokerage's mentoring of clients. 
"We want everybody's account better prepared for the unplanned," she says. "Everything that happens in this world is linked. Through lessons learned from the storms, even COVID was made more bearable." 
So, Aiello says, there's always some baptism under fire, but it's part of what makes her job so exciting and—with risk is duly managed and damage contained—fulfilling. As the sole in-house lawyer, she says she can feel stretched with responsibilities extending into compliance and business and personnel issues, but it beats chasing billable hours in private practice. 
That never appealed to this graduate of Maurice A. Deane School of Law at Hofstra University who's fashioned an in-house career since early 2002, serving nearly nine years with GCG (acquired by Epiq) and since then at Salerno Brokerage. Initially a premed undergrad at SUNY Geneseo, she's glad she made the switch.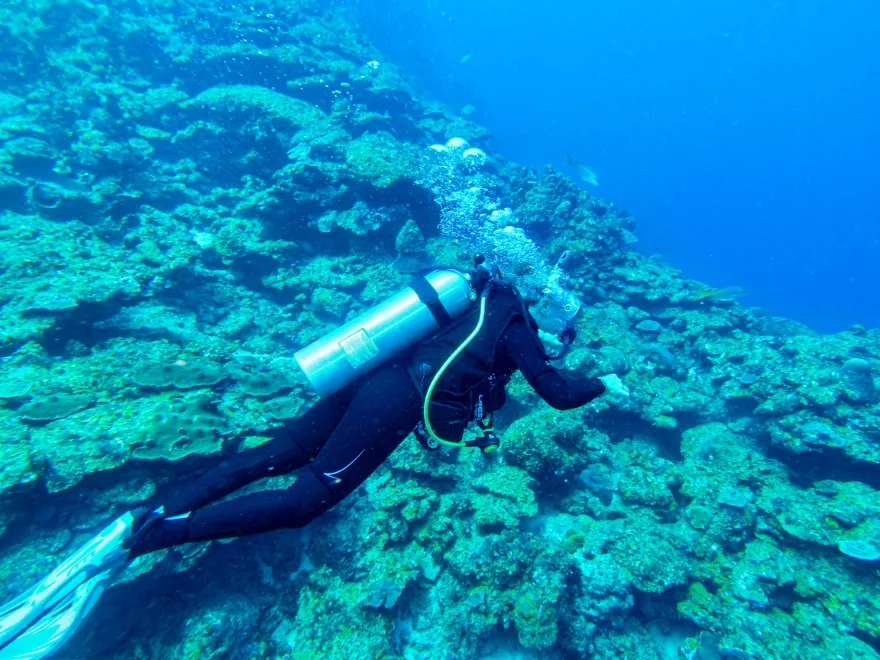 "In medical work, there's little chance to be on the business and operational side," Aiello says. "With legal, it's boundless." 
Eventually she figures to move into more of a consultancy role in the insurance industry, and for that Salerno Brokerage offers much opportunity to hone skill through immersion in so many subjects—and immersion is something Aiello literally enjoys.  
She recalls how while snorkeling with her partner, Steven, at one of Antigua's choppy reefs, she kept getting motion sickness. So, she reasoned, just do as she does on the job: Go deeper. 
"You can either choose not to snorkel or you could learn to scuba where you're below the rougher areas," she says. "I try to look at a problem that way and figure out where I'm trying to get to and what's the best solution." 
Aiello's immersing in other areas, including the rescue of cats and earning a Pilates certificate so she can teach her own class. Her mix of legal and business skills should aid that latter pursuit. 
"I want everyone to walk away with a positive experience," Aiello says. "And my waivers will be good."  
View this feature in the Vanguard Fall I 2023 Edition here.
Showcase your feature on your website with a custom "As Featured in Vanguard" badge that links directly to your article!
Copy and paste this script into your page coding (ideally right before the closing