Maureen Frangopoulos – Uber
With grit and resilience, Uber senior director drives DEI growth
When Maureen Frangopoulos graduated law school and moved to Chicago, it was mid-2009 and America had plunged into a recession. Legal jobs had dried up, so she was working at the River North hotspot Hub 51, carrying sushi rolls and blue-cheese burgers across the dimly lit wood-paneled restaurant. 
Still, Frangopoulos had a plan, albeit one that took some moxie: While waiting tables, she would network with the trendy restaurant's clientele, which included attorneys at local law firms. 
"Obviously, my primary job there was to dash from table to table and to serve people, so I couldn't dwell on it," Frangopoulos says. "But I would try to introduce little snippets into the conversation. 'Where are you from? Where do you work?' And then I just kind of crafted my own 30-second pitch." 
After 10 months of the restaurant grind, Frangopoulos finally found the right table to pitch. One person she waited on worked for Parrillo, Weiss & O'Halloran, a local trial firm which happened to be hiring. By July 2010, Frangopoulos was trying cases in Daley Center courtrooms. In her first year and a half there, she would litigate over 40 cases to verdict.  
Now global senior director of safety and insurance litigation at Uber, Frangopoulos credits those early experiences with preparing her to be an in-house counsel, a role that she says requires persuasion and storytelling. 
Driving DEI
Frangopoulos was one of the first lawyers Uber hired to handle its safety and insurance litigation. When she joined the Chicago office in August 2015, it had only four legal staffers. She's since built her team to 66 people in Chicago, San Francisco, New York, Miami, Brazil and the Netherlands. And as she's done so, Frangopoulos has made diversity, equity and inclusion her guiding principles.   
"Thinking about some of the challenges I've faced as a woman in Chicago's male-dominated tort system, it's definitely been a focus for me—promoting women, promoting underrepresented populations," Frangopoulos says.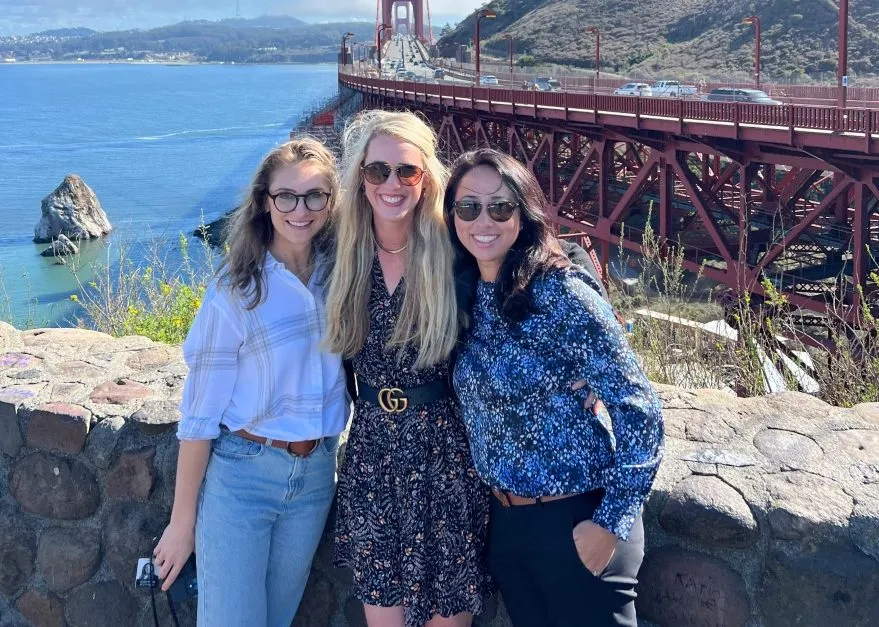 For instance, Frangopoulos has walked into courtrooms to comments on her appearance. She's also shown up for depositions and met the presumption that she was the court reporter, not an attorney. She's seen the barriers women face in their careers, and she says she feels passionately about improving outcomes for others.  
At Uber, Frangopoulos has sought to hire women, people of color and non-heterosexual talent. Then, once people are in the door, she has made it a point to promote from within: taking people from individual contributor roles and putting them into management. And she's worked on safety and inclusivity so that people from all backgrounds feel comfortable there. 
"Once we've hired individuals, we're making sure that we're focusing on the development pieces, that we're keeping people here and retaining them," Frangopoulos says. "The data is pretty clear that the more diverse the team, the better the business does." 
Finally, Frangopoulos has ensured that Uber's outside counsel meets DEI standards, running them through a DEI exercise and following up to make sure the team working on litigation is as diverse as the firm claims to be. 
Improving the platform
Frangopoulos has also made the business safer for riders and drivers, helping the rideshare platform identify changes based on her experience defending Uber in litigation. Safety, she says, is one of Uber's top corporate values.  
For example, Frangopoulos, working with the company's insurance team, championed Uber's efforts to route drivers away from left turns, which are more hazardous than right-hand turns.  
Having represented clients in commercial transportation, Frangopoulos knew that UPS and other trucking companies had implemented routing changes in their navigation to reduce left-turn risk. National Highway Traffic Safety Administration data show that 22 percent of accidents involve a vehicle making a left turn at an intersection.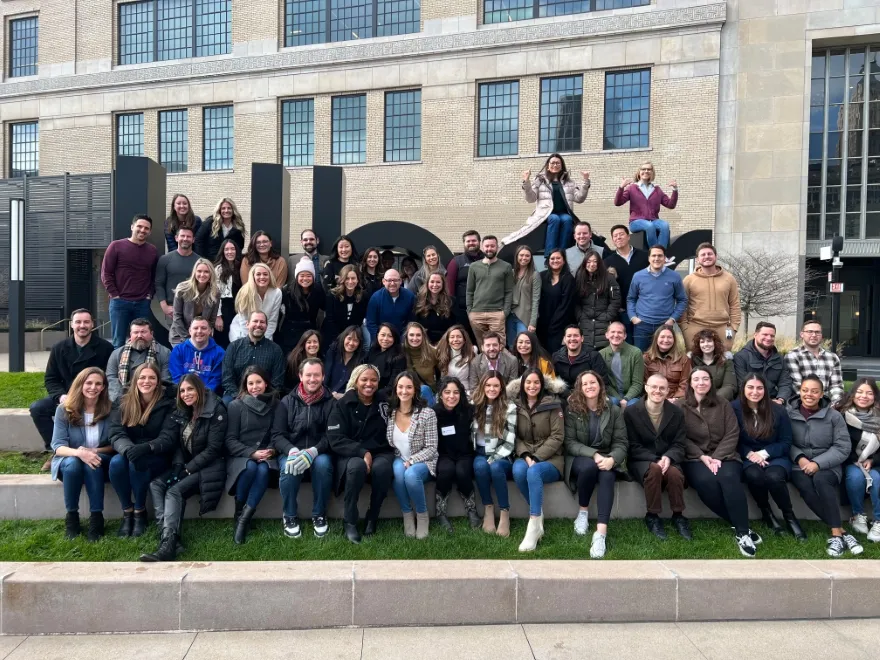 Frangopoulos and her colleagues collaborated with Uber's safety team on tweaks to the app's mapping software. By October of last year, Uber had rolled out an improved version of its in-app navigation, which suggests fewer left turns. 
"It's not getting rid of every left turn," Frangopoulos explains. "But it does try to optimize the experience and suggest potentially safer routes." 
Gaining empathy
A mother of two, Frangopoulos credits her family life with making her a more empathic leader. Her son, now 7, was born prematurely and spent almost two months in an intensive care unit, a scary experience. 
"I am your typical litigator: I'm type A, I like to have a sense of control. Kids take all of that, rip it up and throw it away," Frangopoulos says. "All my friends had relatively easy births, and I thought I'd fall right in line. It was a lesson that things don't always go as planned." 
A 2006 graduate of Miami University, Frangopoulos earned her J.D. from Ohio State University in 2009. She launched her legal career at Parrillo, Weiss, handling insurance defense cases involving auto accidents, before becoming an associate at SmithAmundsen (now Amundsen Davis), where she tackled larger commercial disputes involving the supply chain.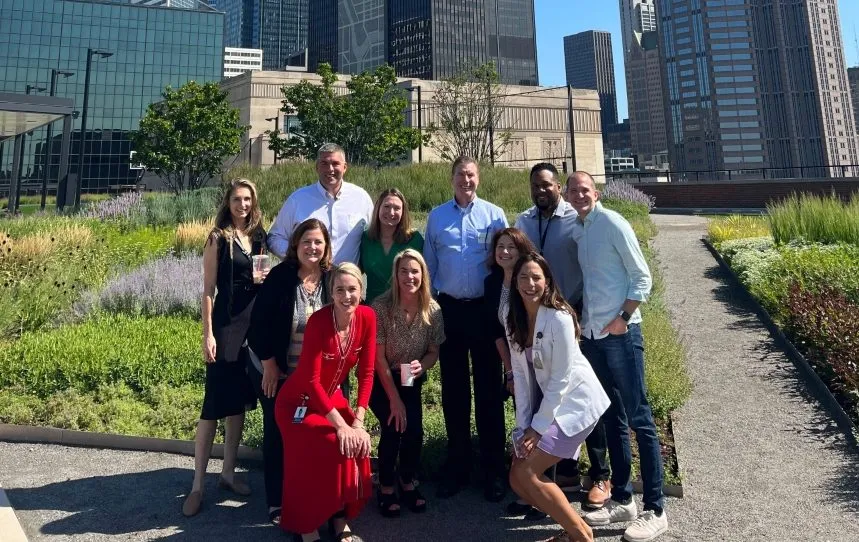 She thought if she became an in-house counsel, it would probably be in insurance, shipping or logistics. And yet the tech world had always beckoned. So much so that when Frangopoulos was in the hospital, having just delivered her son eight weeks early, she was still checking Uber job postings.  
"I found a Chicago job for an insurance legal position, and it just spoke to me," Frangopoulos recalls. "My husband and I looked at each other, and I was like, 'This is the company we've been following; I love Uber; is it worth attempting to apply here?' And my husband was like, 'Absolutely, what do you have to lose?'"   
One phone conversation, a written exercise and multiple panel interviews later, Frangopoulos had an offer. She's been with Uber ever since, although she and her husband moved back to Ohio in 2022 to raise their kids close to their large Irish and Greek families. 
Looking back, Frangopoulos attributes her success to resilience and grit. But looking forward, she says this part of the ride is even more fulfilling. 
"People ask me why I've stayed at Uber for as long as I have," Frangopoulos reflects, noting that job hopping is common in tech. "I always say that the company and mission brought me here, but the people, and especially my team, are why I stay."  
View this feature in the Vanguard Spring I 2023 Edition here.
Showcase your feature on your website with a custom "As Featured in Vanguard" badge that links directly to your article!
Copy and paste this script into your page coding (ideally right before the closing