Michael D'Alessandro – Building Hope
Supporting charter schools as educational equalizers
The learning experience that Building Hope creates isn't just for students. Michael D'Alessandro has learned so much during his nine years as general counsel of this Washington, D.C. non-profit foundation that provides financing and logistical support to help get charters school facilities up and running where they are most needed.
"I've gone from having little familiarity with charter school real estate and finance law to becoming extremely well-versed in it," he says. "These have been very enriching years in my professional growth."
Those years have been just as enriching for the children who now benefit from a charter school education in communities where traditional schools have often underperformed. Many, if not most, of these students are minorities and/or from low- or modest-income households. D'Alessandro lauds Building Hope's work as a force for equality.
"In general, little goes smoothly when you're starting a charter school," he tells Vanguard in February. "Lots of hurdles to overcome, some political and some logistical, but all manageable."
With a mission to increase educational opportunities for students nationwide, Building Hope pushes onward with schools in places like Paterson, New Jersey, and Baton Rouge, Louisiana. While the nation's capital is where it all started, Building Hope has expanded its footprint to 20 states.
That's impact
It's an innovative business model, fueled by effective financial management of grants and investments. Building Hope raises capital from impact investors and grant funders to build public charter schools.
When a school finds a prospective site to build a facility, D'Alessandro drafts a purchasing contract and negotiates with the seller, after completing due diligence that includes a title search and overview of the permitting process.
Financing is invariably complex. For instance, while Building Hope has funds, as a 501(c)(3) nonprofit, it's subject to rules and regulations that don't pertain to a private developer. Tax laws also vary by jurisdiction. Some allow charter schools to be exempt from real estate taxes as well as construction material levies, but only if they are structured properly.
"I've become adept at learning how to find these exemptions and how to structure a corporate entity, so it can own property and save on taxes," D'Alessandro says. "Sometimes we'll take on partners to help a school finance its school appropriately."
The financial complexities typically call for multiple lenders to commit before groundbreaking. Just as complex, charter school operators can lease a newly constructed or renovated building with an option to buy.
"A lot of non-attorneys don't realize leases are as complex as they are," he says. "It's a long process and it's worth the effort."
D'Alessandro explains that Building Hope gives charter schools the opportunity to lease their facility with zero down, and an option to purchase. It has proven to be so attractive that many charter schools have purchased their facilities even sooner than Building Hope anticipated.
More schools coming
A project in New Jersey looks like it'll be rewarding, D'Alessandro says. Building Hope and Philip's Academy Charter School of Paterson closed on a 1.85-acre parcel where a new school is projected to open by year's end. The new building will transform a once-vacant lot into a beautiful learning environment for students and a point of community pride
Since 2016, Philip's Academy has served around 435 children from kindergarten to fifth grade in two buildings. At last, the school can be consolidated, extend to eighth grade and serve an additional 200-plus children.
Down in Baton Rouge, the Kenilworth Science and Technology School expects to have a new facility on seven acres ready for September opening. The K-8 school will have a comprehensive computer science program as well as outdoor classrooms for aquaculture and agricultural curriculum.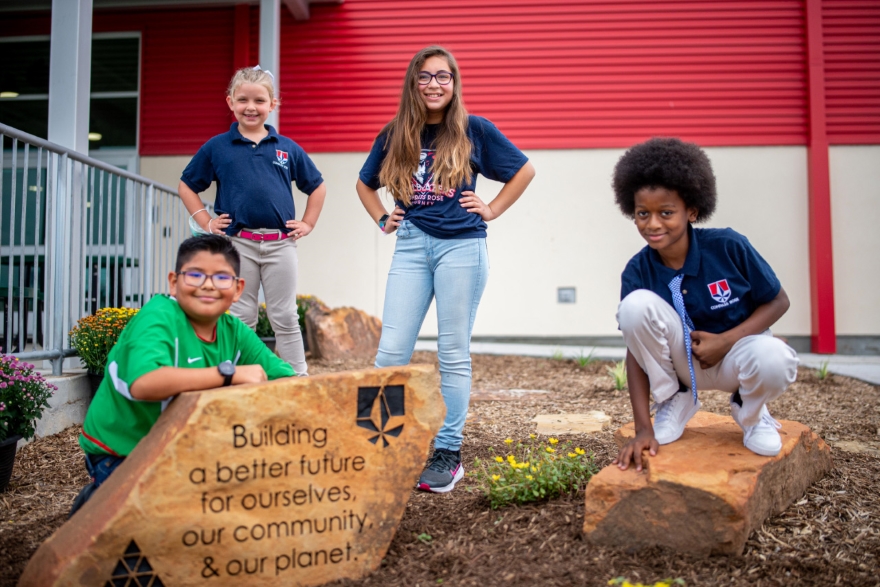 Many more projects are underway nationwide with a significant presence in New Jersey, Florida, Texas, Louisiana and Idaho. The nonprofit provides the funds, construction expertise, leasing options and back-office services like human resources and accounting. D'Alessandro says it essentially does everything for the schools except educate the students.
But it has certainly educated D'Alessandro on subjects not covered during his years as a Notre Dame undergrad and Duquesne University law student. His initial role at Building Hope was as a contract attorney, under the wing of the late Philip M. Battles III. A native New Englander who achieved partnership at the D.C. firm of Hunton & Williams, Battles became Building Hope's general counsel after retiring from private law and took a particular interest in the young D'Alessandro's development.
"How great it was to have him as my mentor," D'Alessandro says. "I learned so much from him about real estate and finance."
Beats debt-collecting
Fresh out of law school, D'Alessandro honed his legal skills at a debt-collection firm, so he had a strong grasp of the basics to build the rest of his skillset with Battles' mentorship. His part-time role at Building Hope became full-time in 2014, and painstaking as it might be to wade through the financial and regulatory complexities, he finds it much more rewarding than enforcing collection proceedings against people who defaulted on their loans.
Then there are the community projects that D'Alessandro delights in nurturing. Building Hope is in its second year of hosting the Building Hope IMPACT Awards with $20,000 and $10,000 grants for charter schools that excel in student empowerment, community engagement and educational innovation, as well as those that are models of best charter school practices. Here, D'Alessandro assumes an ambassadorial role that he says is among the most satisfying.
"Just meeting the school leaders and hearing of their impact on community is so rewarding," he says.
Life in general is rewarding for D'Alessandro, who lives in Rockville, Maryland. When not working, he enjoys playing drums with friends or teaching himself to play piano. But playtime of any sort can be at a premium.
"We need to create more awareness among impact investors, so we can build more schools and serve more students," he says. "We've got to keep on making a difference."
View this feature in the Vanguard Spring III 2023 Edition here.
Showcase your feature on your website with a custom "As Featured in Vanguard" badge that links directly to your article!
Copy and paste this script into your page coding (ideally right before the closing