Ben Strauss – Berkshire Bank
Seeing it through for Berkshire Bank's customer convenience 
Customer expectations have changed for many industries. To meet the needs of today's customers, Berkshire Bank strives to make banking available when, where and how customers want it. It calls this approach DigiTouchSM, aiming to link the human connection with technology to simplify the banking experience and deliver tailored solutions to its customers.
It's an approach and experience that's central to Berkshire's mission to empower the financial potential of all its stakeholders. Ben Strauss is Berkshire Bank's senior vice president and associate general counsel, and he provides advice and guidance to senior executives and management on a wide range of legal matters while helping to further the bank's vision to be a high-performing and socially responsible community bank in New England and beyond. 
It's all part of the role of a modern banking lawyer, says Strauss, who has taken his legal career through various industries since graduating from New York University School of Law in 2005.  
For example, Strauss has been the legal lead on numerous technology and customer experience transactions, including with Narmi, Inc., a fintech company that will provide a new online and mobile banking experience for consumers and small businesses. 
The goal, he says, is to provide a more flexible experience for individual consumers and small businesses than is available today by giving customers the tools they need to do banking how, when and where they want—and provide the platform necessary to deliver additional industry-leading solutions in the future. 
An ally and advocate
Strauss's legal role transcends the typical duties one would expect of a banking lawyer. A commitment to operating ethically, responsibly, equitably and sustainably is central to Berkshire's work and dates to its founding in 1846. Strauss is proud of that commitment but, more importantly, regularly rolls up his sleeves to further those goals. 
As associate general counsel, Strauss does his part to bring third-party social responsibility to the table when contracting with significant vendors, and he works hand in hand with the bank's policymakers to ensure that equity and inclusion remain a focal point.  
The bank's vendors agree, including the Boston law firm of Nutter McLennen & Fish LLP, which also advocates for diversity, equity and inclusion. 
"It's a rewarding experience to work with Ben," says Paul Ayoub, a partner at that firm. "He's an exceptionally talented attorney with a unique combination of intellectual strength, business acumen and the ability to synthesize even the most complex issues clearly and practically." 
"But what truly distinguishes Ben are his humanity and his lived values, and his commitment to make a meaningful and positive difference not only at Berkshire Bank, but in his community, and in the lives of others. This is evidenced among other things in his allyship and advocacy with respect to ESG and DEI at Berkshire Bank." 
Strauss is an ally member of the bank's PRIDE Employee Resource Group, which holds space for the LGBTQIA+ community, both inside and outside its doors, and helped organize a summit last October for all of Berkshire's employee resource groups and senior executives of the company. 
Allyship and advocacy entail many seemingly little details that add up. For example, Strauss includes his pronouns in all correspondence, hoping it furthers a sense of belonging for transgender and gender non-conforming individuals while opening the door to conversations about gender identity, in general, to help inch society away from cis normativity. Speaking fervently about the topic, Strauss says,  
"Everybody has the right to own their pronouns. It is not for the world to assume how a person identifies," he says.  
Strauss, who also sees himself as an ally to other marginalized or underserved communities, emphasizes that equity is about recognizing each person's uniqueness and giving every individual what they need to succeed. 
The dealmaker
Whether negotiating small statements of work, huge multi-year core system contracts, outsourcing or fintech agreements, Strauss attributes his successes to his past experiences, collaborative style, and willingness to engage in open dialogue to help parties align on critical business issues. 
Asked whether negotiating large transformative deals is daunting, Strauss says it's second nature to him. It's all about keeping in mind the customer experience, impacts on staff and the overall business—the cost, implementation, training, and change controls for the future—and the nuances of contract law that he's been working with for over 15 years.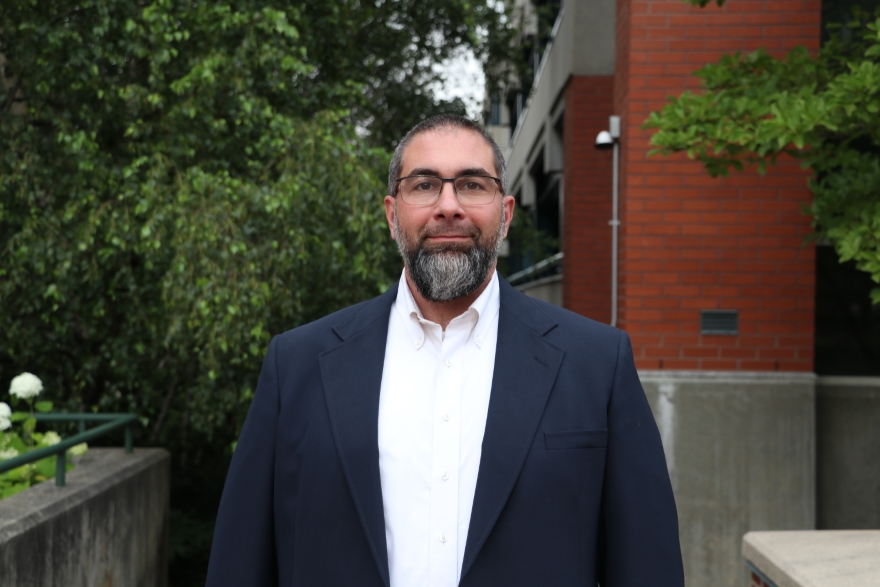 "I bring a business approach to the table, keep in mind all the stakeholders and don't just write an agreement," he says. "I collaborate to achieve optimal outcomes." 
He attributes his ability to see the big picture and handle a mix of large and small deals to his background. Before Berkshire Bank, he served as legal liaison to a global SAP implementation for Saudi Basic Industries Corporation (SABIC), a multibillion-dollar Saudi-owned petrochemical company, in 2015. He also led the charge for Sapient Corporation (now Publicis Groupe) when it was the single source integrator for the re-platforming of Target.com in 2009, and he conducted a request for proposal for the core system that ran all aspects of his family's small omnichannel retail business in 2001. 
Having versatility
Seeing himself as a people person, Strauss says he's most effective when he can facilitate discussions with his cohorts to mitigate legal and business risks and concerns. 
Strauss was hired by Berkshire Bank in 2016 when he was on a growth trajectory at SABIC but didn't want to follow the company when it relocated its offices to Texas, preferring to remain with his family in Massachusetts' scenic Berkshire County. 
"It was a match made in heaven," Strauss says. 
There'll be more deals for Strauss to seal at Berkshire Bank, a $12 billion institution with financial centers in Massachusetts, New York, Vermont, Connecticut and Rhode Island, and SBA lending offices headquartered in Pennsylvania. Besides vendor negotiation and strategic thinking, handling M&A, litigation, compliance, real estate and intellectual property matters are also part of his role. 
But just as important to him are DEI, nonprofit work and community service in general. Last year Strauss was appointed to the board at Central Berkshire Habitat for Humanity. The scenic Berkshire region being his community, Strauss counts his blessings. 
View this feature in the Vanguard Fall I 2023 Edition here.
Showcase your feature on your website with a custom "As Featured in Vanguard" badge that links directly to your article!
Copy and paste this script into your page coding (ideally right before the closing