Bryn L. Michaels – UGI Corporation
Converting perspectives and waste into renewable energy
In the corporate world, mergers and acquisitions can take anywhere from six months to several years. In 2019, Bryn Michaels and the rest of the legal and business development teams in UGI Corporation's natural gas sector had one month.
On the first day of July, the international energy and distribution services company announced it would be acquiring the TC Energy subsidiary, Columbia Midstream Group. The nearly $1.3 billion acquisition would allow UGI to expand further in the gas producing region of the Southwest Appalachian Basin.
"So, for a few weeks, all we did was live and breathe this CMG acquisition, putting our heads together on every single detail," Michaels tells Vanguard. "It was a lot of work and some crazy hours, sure, but also a lot of fun."
She recalls everyone having the same goal and how this made it easy to collaborate. According to her, everyone moved together and remained in constant communication, sometimes simultaneously in a video meeting or call while also sending texts and emails.
"Even on days when we were eating all three meals in the conference room while reviewing documents and conducting due diligence, no one complained because it was such an exciting deal," she says.
Apart from the billions involved, the acquisition would nearly double the size of UGI Energy Services' midstream footprint, through just one deal. The hard work paid off and, in just a few weeks, UGI finalized and closed the deal on Aug. 1, 2019.
"It was a really great experience, invigorating and reaffirming for the company," Michaels says. "We learned how quickly and confidently we could work, which then set us up for future fast-paced mergers or acquisitions."
When manure and landfills help run the world
During that acquisition, Michaels was the chief commercial counsel for UGI's natural gas sector and had already been with UGI for nearly half a decade. By January 2023, she'd received two promotions to her current title of vice president, law for business development and renewables.
She's been growing alongside the company headquartered in King of Prussia, Pennsylvania. UGI's growth has been primarily focused on the field of renewables. It has made a commitment to invest up to $1.25 billion in renewable natural gas generated from dairy farms, food waste and landfills as well as solar power and renewable dimethyl ether, a propane-like fuel gas.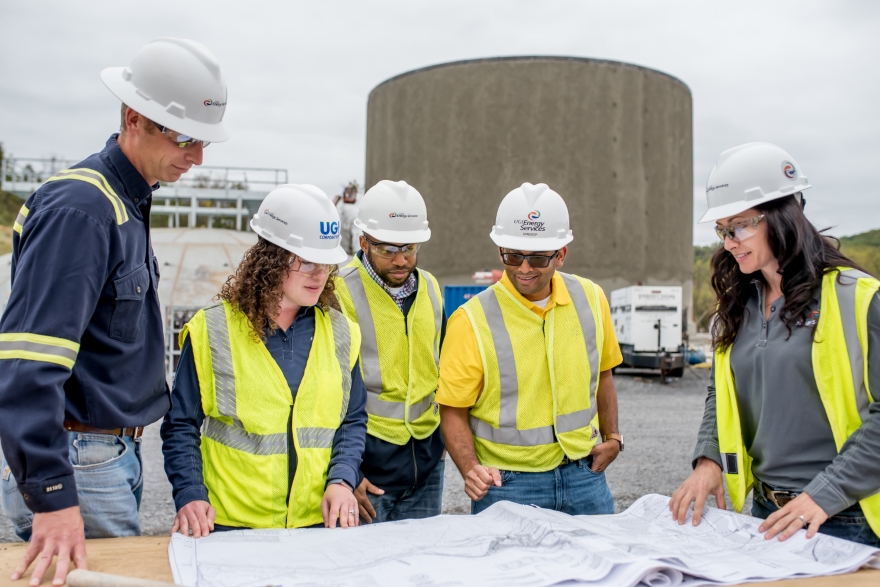 In January 2023, UGI invested $150 million in renewable natural gas energy projects in South Dakota that will be constructed over the next two years. In partnership with MBL Energy, this project involves developing clusters of dairy waste from farms and converting manure into biogas through anaerobic digestion, that will be piped to a gas upgrading facility before being delivered into a local natural gas distribution system.
Similarly, just a month later, UGI launched a joint venture, Aurum Renewables, with the BP subsidiary Archaea Energy to upgrade landfill gas into renewable natural gas. On the project, Michaels and her team conducted due diligence, and drafted and negotiated the deal alongside the business development team.
"We're doing a lot of exciting work and growing rapidly, especially in the realm of renewables," Michaels says. "We're changing the way the world views, obtains and uses energy."
Procuring talent and knowledge
This rapid growth and change have led to a restructuring of the UGI legal group, alongside the enhancement and expansion of the business development and renewables arm, from a local to global scale.
In 2020, UGI created a Global Procurement Group Center of Excellence. Shortly after, the procurement lawyers, who used to work separately in specific business lines, merged together into one legal group. Michaels used to be one of those business line lawyers before she was placed at the helm of this newly merged legal team, a responsibility that takes up about half her time.
She says many of them had never handled the full range of procurement contracts across the various business units. As such, she shares her knowledge and ensures the entire team, legal and the procurement groups, understand the complicated, procurement-specific language in contracts.
"In just a few months, I've already seen how this has helped them more effectively negotiate and understand contracts—and thus work confidently and as a more cohesive team," she says.
Apart from ensuring they have all the tools necessary to handle procurement legal matters, Michaels wants her team to collaborate with and support the business team, while fully engaging in UGI's performance culture. So, she's involved with business development meetings and also meets with her team for at least an hour a week; regarding the latter, she includes lawyers and paralegals from the global procurement, mergers and acquisitions, corporate governance and data privacy departments.
When the data privacy counsel mentioned his updated data privacy addendum, she asked him to lead a training to explain the risks if changes to the form are requested. She recently went through a purchase order and explained the language word-for-word for new lawyers and those on the business side.
"Sharing this knowledge doesn't just make the legal and business teams stronger, it helps them become more efficient, especially when a team member, for instance, can confidently reject a requested change on a contract while having a full understanding of the risks involved," Michaels says.
Taking a chance on law
Even after a legal career spanning two decades, Michaels has never forgotten the importance of education.
On a community service scholarship, she completed her bachelor's in journalism and government-politics from the University of Maryland in 1999. While there, she realized journalism and public relations work wasn't quite for her—but she did spend the spring semester before her senior year taking journalism courses at the University of London through Maryland's study abroad program.
While there, she met a man who offhandedly mentioned women shouldn't become lawyers. The two entered into a lively debate—and it made her realize a legal profession may be the perfect fit for her. So, when she was able to obtain admission and a partial scholarship to University of Pennsylvania's Carey Law School, she took a chance.
By 2002, she'd graduated cum laude and put her journalism expertise to use as the articles and associate editor for UPenn's Journal of International Economic Law.
"I still use my journalism knowledge, writing contracts clearly and concisely instead of getting bogged down in legalese," she says with a laugh.
Twelve years and several jobs later, she found her home at UGI.
"I love the people and culture here," Michaels says. "UGI brought me on to handle midstream tasks, but leadership saw my interests and skills and encouraged me. Now, that's what I try to do for everyone I work with, so they too can reach their full potentials."
View this feature in the Vanguard Fall I 2023 Edition here.
Showcase your feature on your website with a custom "As Featured in Vanguard" badge that links directly to your article!
Copy and paste this script into your page coding (ideally right before the closing