Carlo Cotrone – Baker Hughes
A search for impact
With 19 years' combined experience in private and corporate law practice, Carlo Cotrone is no stranger to legal, technological and business complexity. An intellectual property counselor, strategist and manager, he relishes collaborating with clients, colleagues and external parties to navigate challenging issues.
"I always strive to see the bigger picture," Cotrone tells Vanguard in July. "If you let yourself become distracted by complexities, you may overlook opportunities to have the greatest impact. My mantra is, 'let's focus precious bandwidth on what really matters.'"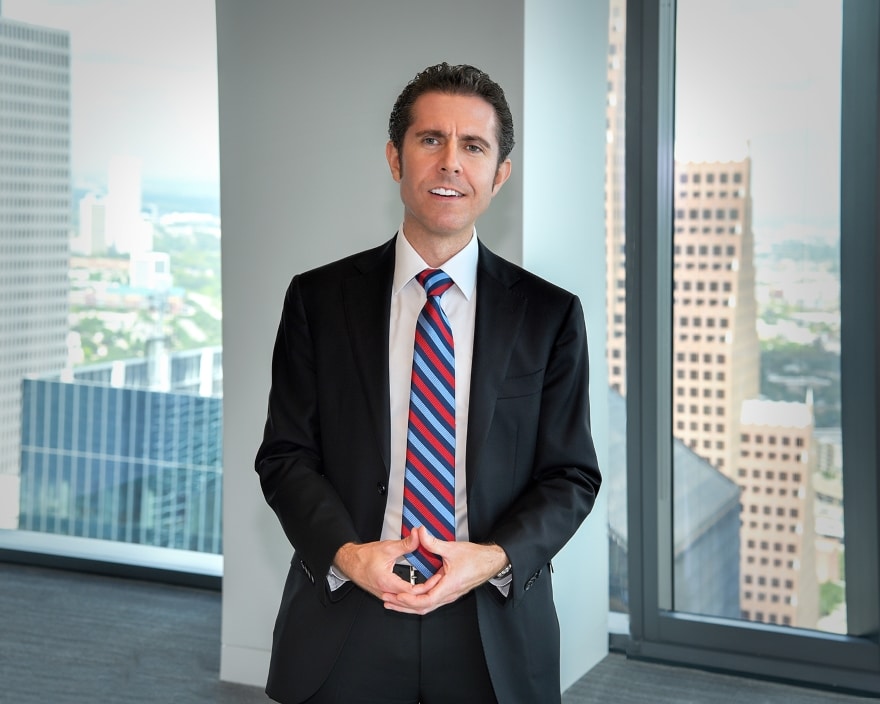 Cotrone began his legal career in Washington, D.C., later moving back to Milwaukee, his hometown. As a law firm partner, he served clients across a host of technologies, including power tools, computer software and hardware, financial services, and medical devices and systems. And he had the privilege of leading a team of talented practitioners.
Still, Cotrone was intrigued by an offer in 2012 to join General Electric's Oil & Gas division in Houston. "I sensed that I could apply my diverse experiences from private practice, while gaining valuable new insights as a corporate attorney," he says.
The role at GE did not disappoint. Among many notable projects he has undertaken, Cotrone recounts architecting a new licensing model for the subsea drilling business, which licensed IP to third-party service providers in return for a share of monies collected.
"By making a paradigm shift, we generated new revenue streams and freed up company resources for deployment elsewhere," he explains. "The model has proved to be scalable across multiple business units for which I oversee IP matters. It's been a win-win for us and for our licensees and customers."
A new challenge
Having acquitted himself well at GE, Cotrone is currently senior IP counsel at Baker Hughes, a GE Company (BHGE). BHGE, a publicly traded business, resulted from the 2017 merger of GE Oil & Gas and oilfield services company Baker Hughes.
Last year alone BHGE increased its research and development by 10 percent to $700 million, introducing over 100 new products and garnering around 2,700 patents worldwide. BHGE also launched its U.S. Energy Innovation Center, a comprehensive R&D facility developed for commercializing low-carbon and other environmentally-friendly technologies through a network of startups and incubators.
On the heels of the merger, Cotrone became the lead IP lawyer for an additional business unit, Wireline Services, which has a storied history on the Baker Hughes side and a vibrant global leadership team.
"The merger has been an amazing learning experience, with change being a formidable challenge," he says. "Yet, no matter the magnitude of change, the best elements of my work remain the same: wonderful clients and colleagues with whom I team up to ultimately benefit our shareholders. I get to counsel BHGE internal clients across a broad spectrum of functions, such as executive leadership, technology, product management, human resources, compliance, and information security."
Such diversity of interactions across BHGE's multinational footprint necessarily has schooled Cotrone on legal and business issues that go well beyond the domain of intellectual property. As a result, he frequently advises clients on general corporate matters.
A learner and teacher at heart
Cotrone has a solid grounding in technology, having majored in electrical engineering before attending law school. Yet he takes a pragmatic tack with technical matters since there's a bigger picture at stake.
"As a strategist and counselor, I leverage my engineering training to assess the legal and business implications of technologies, and to solve vexing problems," he says. "My overarching role is to help maximize my client's return on investment in technology. If you get too enamored with technology per se, you may build patent portfolios of limited value."
Such are among the points he emphasizes in his extracurricular roles that include being an adjunct professor at the University of Houston Law Center since 2017, a guest author on IPWatchdog.com, and a speaker at legal conferences in the U.S. and abroad. These roles have been a natural fit for Cotrone, who from an early age was drawn to learning and dialogue.
"I've been very fortunate to participate in the broader conversation in the IP community," he says. "I learn so much from my peers and students, and I'm grateful for opportunities to share my perspectives about IP practice and the practice of law in general. I have a special interest in helping lawyers and teams reach their full potential, so my speaking and writing increasingly trend in that direction."
Cross-training on multiple stages
Besides his professional pursuits, there have been times when Cotrone has applied his IP savvy toward areas of personal interest.
An accomplished pianist and organist, Cotrone is also an inventor who holds two U.S. patents related to digital sheet music technology. Music was his early passion, and he draws parallels between performing, practicing law, teaching, writing and speaking.
"I exercise many of the same 'muscles'—whether creative, analytical, communicative or adaptive—so investing in one pursuit benefits the others. For example, performing in concerts and speaking at conferences hone my 'stage presence' and communication 'chops,' helping me counsel and represent clients more effectively."
Though a classically trained musician, Cotrone raves about rock, jazz, blues, gospel, bluegrass artist Bruce Hornsby and the way he commands the stage and improvises—skills that would benefit any lawyer.
"He's constantly evolving," Cotrone says of the virtuoso pianist and gifted songwriter whose career has spanned 33 years, including a stint playing with the Grateful Dead. "Always reaching to grow and achieve more. That's my approach to music, law and life."
On the music front, Cotrone in recent years has dedicated himself to learning to play by ear, a milestone in his own evolution as a musician.
His professional life similarly benefits from a drive for self-improvement, though it's not a model the 45-year-old Cotrone would choose to patent for himself. He'd rather share his philosophy of the need for personal and professional growth, and the wisdom of helping others to become all they can be. He's found that solely relying on technical skills in any endeavor can put a lid on one's possibilities.
"There's a lot of untapped human potential in the legal field," he says. "Great leaders can help unlock it."
Showcase your feature on your website with a custom "As Featured in Vanguard" badge that links directly to your article!
Copy and paste this script into your page coding (ideally right before the closing