Essien Udokang – McKesson Canada
Writing the script for McKesson Canada's growth
There's nothing like being immersed early in the inner workings of a company to make a new legal leader feel welcome. Essien Udokang says that's how he felt upon joining pharmaceutical giant McKesson Canada in November 2018. He may have even been slightly surprised at how early he was afforded a seat at the proverbial table.
"In some companies, lawyers can be looked upon as rubber stamps or brought in at the 11th hour to fix a contract," he explains. "I was asked right away to sit in with senior leaders overseeing our retail banner group and contribute to corporate strategy."
His input was needed as McKesson Canada was in the early stages of assembling its Be Well® rewards program that simplified the process for customers having a prescription filled and earning loyalty points at around 400 Rexall pharmacies nationwide. Be Well is now one of the leading digital programs in pharmaceutical services, the customers uploading their histories into an app, the medications either available through courier or in-pharmacy, with points earned for every dollar spent on front-shop products, and an online health assessment included.
Simple as it now sounds, Essien said it was a complex undertaking that took several years to roll out, with him advising on legal implications. He says the effort's been vindicated, describing Be Well as a "smashing success" that, conveniently enough, went active before the COVID-19 pandemic and spun further partnership initiatives.
The Rexall business was also grateful, he says, for Be Well. According to Essien, the company's digital adaptation helped sustain business under unprecedented circumstances.
"It was as if we were on a boat going down a river, and they're depending on me to tell them where the legal waterfalls were," Essien tells Vanguard in September from Toronto. "I felt very privileged to interact daily, not just from the legal perspective but also business."
His agenda grows
The journey continues with Essien's responsibilities expanding in support of McKesson's online wellness and e-commerce site, Well.ca in general and the pharmaceutical technology support group that develops software for Canadian pharmacies.
"We hold hands with our pharmacies," he says. "We care about them, and we're there whenever they need our support."
The worst of the pandemic hopefully over, Essien, who oversees a team of commercial lawyers, has been fronting other endeavors. Last year he commenced with directly advising Rexall, McKesson's corporate-owned pharmacy chain, which was purchased from the Katz Group of Companies for $3 billion in 2016. Additionally, since February, he has been advising McKesson's BioPharma provider solutions business.
He says there's much opportunity to grow in this space, and McKesson Canada has prioritized it for sound reasons. Aside from doing the distribution and dispensing the specialty medications in its affiliated specialty pharmacies, Inviva, the company's affiliated network of infusion clinics owns and operates approximately 50 such operations throughout Canada.
It's all part of what Essien says is the greater responsibility a lawyer assumes when working in any aspect. For him, it hasn't been that difficult a transition.
Back in business
Before becoming a healthcare lawyer, Essien was literally hands-on, a Queen's University and Canadian Memorial Chiropractic College graduate who owned and operated the Toronto Spinal Care Centre from 2000 to 2009, a multi-disciplinary healthcare office where he and his team of professionals treated thousands of patients. But he envisioned making a greater difference, albeit from a more indirect role.
While still seeing patients, he enrolled at Ontario's Osgoode Hall Law School, sold his clinic and assessed injury claimants for both insurance companies and Toronto law firms. After earning his law degree, he worked for three Toronto firms, two on Bay Street and the last being Baker McKenzie where his subject matter included pharmaceuticals and life sciences from 2013 to 2018. That prepped him for the in-house role at McKesson Canada that is so to his liking.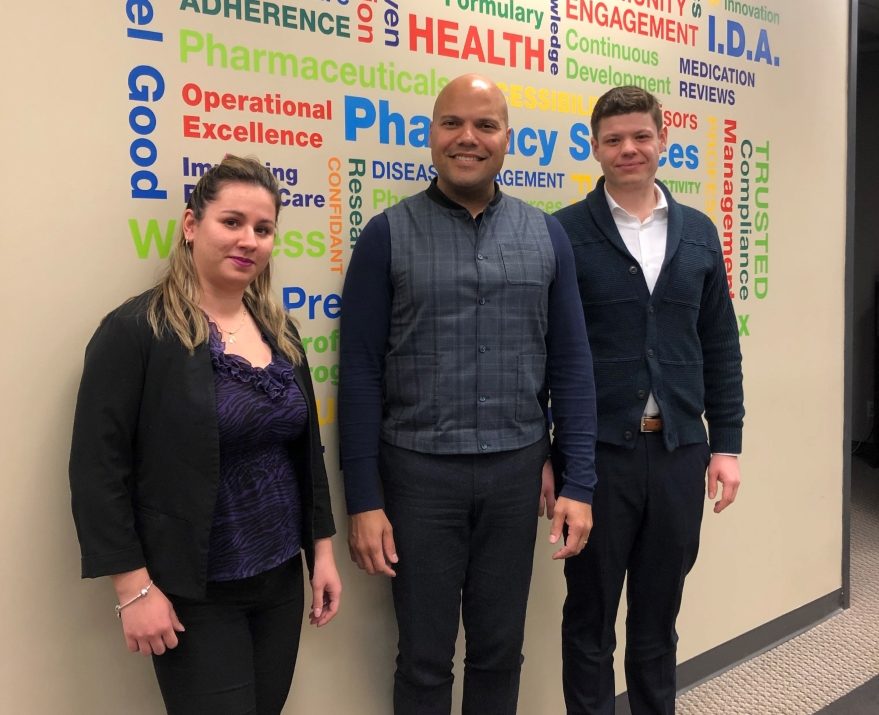 And the Vancouver-born son of a Nigerian father and Scottish-Canadian mother is a people person. The family lived in Nigeria during most of the 1970s before returning to Canada so Essien's father could teach at the University of Ottawa and Carleton University.
The intellect passed down to Essien seems to have been passed to his three children—two university graduates and the youngest about to begin higher education. All are classically trained musicians, with that gene seemingly coming from their parents. Essien and his wife, both classically trained, met as singers in a Toronto chamber choir.
In any pursuit, Essien emphasizes how harmony is essential. Maybe more so on the professional front.
"You shouldn't go into a service business like healthcare or law unless you viscerally care for the client and want to do good for them," he says. "Whether diagnosing and providing treatment, providing a legal opinion or helping negotiate a commercial deal, you must bring the same care to what you do and those you serve. People are people whether on the chiropractic table or in the conference room."
View this feature in the Vanguard Fall II 2023 Edition here.
Showcase your feature on your website with a custom "As Featured in Vanguard" badge that links directly to your article!
Copy and paste this script into your page coding (ideally right before the closing