Jana K. Law – Entergy Arkansas
Electrifying—and making available—clean energy
Renewable and clean energy sources are not a new phenomenon. American inventor Charles Fritts created the first commercial solar panels in the early 1880s.
However, as people become more aware of the importance of sustainability and the positive impact of relying on clean energy resources, many companies, especially those in the energy industry, are working to provide customers and clients with those alternate options. Entergy Arkansas is charging forward with its Go ZERO initiative, which stands for zero emissions resource options, and its ever-expanding zero-emissions portfolio.
Since joining the company in July 2018, Jana Law, its regulatory senior counsel, has been helping it obtain the proper certifications and approvals to bring online renewable resources and to advance clean and renewable energy options like Go ZERO. At the start of summer 2023, she and her colleagues led efforts to secure from the Arkansas Public Service Commission an order approving the Go ZERO tariff.
The first of its kind, the Go ZERO initiative is a tariff allowing commercial and industrial customers the ability to subscribe to renewable and clean resources—solar as well as nuclear and hydro—to offset their emissions. These non-residential customers will now be able to choose from Asset-Backed Renewable Energy Credits, Asset-Backed Zero-Emission Alternative Energy Certifications and Time-Match Reporting of Hourly Load and Hourly Renewable Energy Output.
"Our work is highly focused on meeting the needs of our customers, especially their increasing need and desire for energy from renewable and clean resources," Law says. "Entergy Arkansas already is one of the largest providers of energy from renewable and clean resources, including solar resources, in Arkansas, and the company is working diligently to keep bringing more renewable and clean sources into our portfolio."
Charging towards greener pastures
Founded in 1913, the Louisiana-based Fortune 500 integrated energy company generates, transmits and distributes electric power to over 3 million utility customers across Arkansas, Louisiana, Mississippi and Texas.
With the addition of Go ZERO, "our customers will get the same reliable service but will also be able to subscribe to renewable and clean attributes as a one-stop shop to meet all their energy needs," Law says.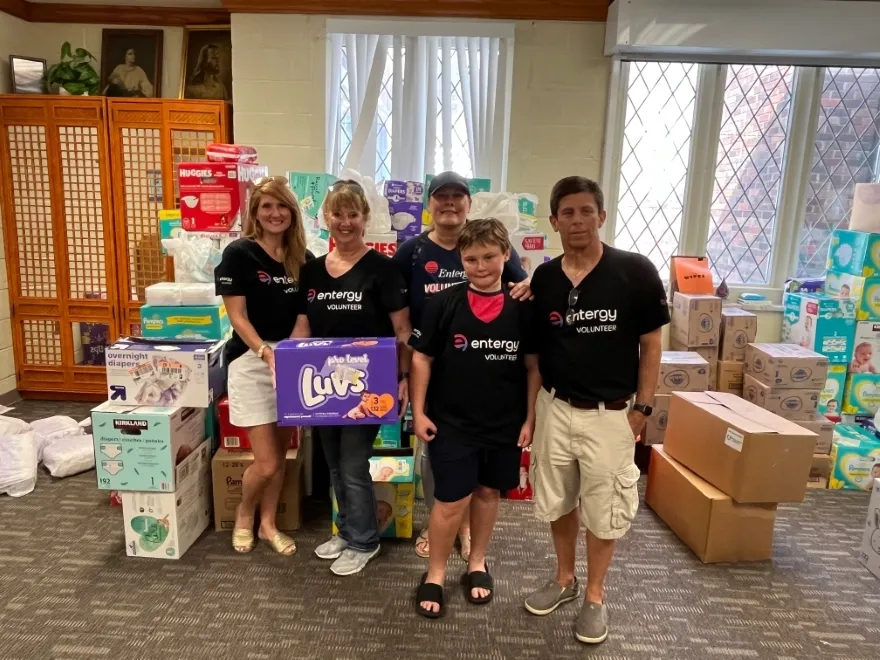 According to a report by Entergy Arkansas Communications Manager Kacee Kirschvink, released in June, nearly 65 percent of the power provided to customers in 2022 came from a nuclear source—Arkansas Nuclear One—a virtually emissions free resource that's much cleaner and better for the environment according to several experts in the field. Although natural gas and coal currently supply 30 percent of customer needs, more than 2.7 percent of energy was produced through solar, and this amount is slated to grow significantly in the coming years as additional solar resources, including those for which Law and her colleagues have helped secure regulatory approval, are brought online.
While Go ZERO is a unique program, it's one of several other Entergy Arkansas initiatives, such as Green Promise, through which residential and non-residential customers can access renewable and clean environmental attributes.
Law says the company also provides various incentives to encourage customers to make energy-efficient upgrades to their homes and businesses, such as installing energy efficient windows and better insulation allowing for easier maintenance and stabilization of interior temperatures.
"Entergy Arkansas is an electric utility, but its focus is not just on providing reliable power but also building a sustainable, green future for current and future generations," Law says.
The power of volunteering
Expanding its offerings of renewable energy isn't the only way Entergy Arkansas is working to give back to and be a vital part of every community it serves, Law says.
When storms occur, Entergy Arkansas has people in the field monitoring everything from a strong thunderstorm to tornadoes and hurricanes. She says the company has people constantly working to quickly restore power to businesses and homes whenever service is interrupted.
"Perhaps that's just good business, but Entergy Arkansas' focus goes beyond ensuring reliable power, and one of the reasons I was so interested in joining the company was its support and dedication to the communities we serve, particularly through volunteer work," she tells Vanguard.
According to Law, various teams across Entergy Arkansas, including the legal team, work closely with the Arkansas Foodbank and various other local and national charitable organizations—even providing pro bono legal services. She says the company has many other volunteer opportunities and provides paid time off specifically so team members in any department can participate in a company-sponsored volunteer event or to avail themselves of personal ways of giving back to the community.
For instance, in the first week of August, Law and several other members of the legal team volunteered at a diaper bank, where they helped distribute diapers and wipes to over 200 central Arkansas families. As a mother of four, these types of organizations are dear to her heart, she says.
Volunteering was something she explored further while attending Tulane University's A.B. Freeman School of Business, where she graduated magna cum laude with a Bachelor of Science in finance and management, and a minor in sociology. She later obtained her law degree from the University of Arkansas Bowen School of Law, with high honors.
In January 2018, she helped found the Leadership Foundation for Women, a non-profit designed to help women navigate the corporate world. She currently chairs the organization. In the past, she has also been a board member of Arkansas Women in Power and just recently completed a year-long Leadership Arkansas program focused on education, economic and workforce development within the state.
"My values and Entergy's align, and I believe in their mission to help communities, which is why I left private practice to work here," Law says. "I have enjoyed every day since then and am excited about what Entergy Arkansas will bring its customers next."
View this feature in the Vanguard Fall II 2023 Edition here.
Showcase your feature on your website with a custom "As Featured in Vanguard" badge that links directly to your article!
Copy and paste this script into your page coding (ideally right before the closing