Tracy Tong – The Clorox Company
Scooping up legal obstacles with experience and ease
When many people began working from home in 2020, they realized they had the time for a furry companion or two—and the pet industry has been hitting historic highs in sales ever since.
In October 2021, Forbes reported that, according to the American Pet Products Association, the nation's pet industry reached a milestone in 2020 of $103.6 billion in total annual sales. That number is expected to increase to $277 billion by 2030, according to analysts at Morgan Stanley.
According to Tracy Tong, The Clorox Company has been well prepared. She's a senior corporate counsel at the global manufacturer and marketer of consumer and professional products, including bleach, cleaning products, personal and home care necessities, and among other things, cat litter. Even before the COVID-19 pandemic, the company had followed the growth trends in the pet industry and decided to build a new cat litter manufacturing facility.
In 2018, two months after joining the company—her first in-house role after seven years with law firms—Tong dove into the project, which was still in its early stages at that point. She provided legal advice and assistance, supporting matters ranging from real estate and construction agreements to land entitlements and tax incentives, as well as public and community relations.
"It was rewarding being involved in a project from the outset, especially on something I knew would have an impact on many American households," Tong says.
A fresh step in pet product manufacturing
The 97,000-square-foot facility, located in Martinsburg, West Virginia, has expanded the company's capacity for manufacturing and distributing cat litter to match increasing customer demand. The manufacturing facility is supported by a 450,000-square-foot offsite warehouse.
The first step was acquiring land. Tong worked with the project team on the land purchase and with local, county and state agencies to receive financial support and tax incentives. The value proposition was clear, as the facility would benefit consumers across the country and be a boon to the local community and economy. It would join Clorox's two Kingsford Charcoal sister sites in West Virginia.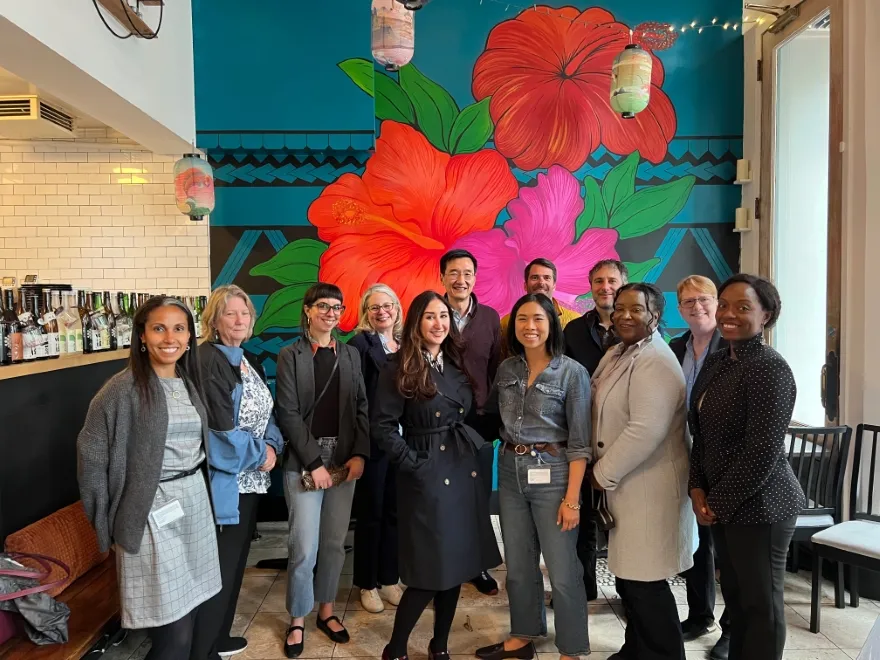 The plant has created over 100 new full-time jobs since opening in October 2022, as mentioned in its press release. The site and Clorox's operations should annually bring an estimated $190 million to the local economy.
The project also gave Tong a chance to cultivate strong relationships not just with leadership, but also with people across Clorox, as the project touched various functions. She built close working relationships with Clorox's project, engineering and corporate communications teams to manage public and community relations matters. She also worked with the procurement leadership sponsoring the project as well as legal leadership.
"The project management skills I developed during my law firm days really came into play with this project," she says.
A truckload of technology 
Tong enjoys her routine and daily responsibilities just as much—and the creativity and efficiency she can bring to help her team and the company.
For instance, she's the lead attorney for Clorox's insider trading compliance program and recently implemented a new insider list management platform to help establish a more robust compliance infrastructure.
The system has a direct link to the company's human capital management platform which allows for more automation of the updating of the company's insider list.
"We need to make technology work for us, so we can spend our time tackling issues and matters that can't be addressed in an automated way," she says. "Modernizing means we can better use our time to manage other high-value matters—not just in the legal department but across the organization."
She adds that technology and digital transformations are key corporate priorities—in 2021, Clorox announced its plan to invest $500 million in improving its digital capabilities. To implement the new insider list management platform, Tong worked closely with the technology team to ensure the initiative was plugged into the right enterprise-wide platforms. She also checked that the vendor and platform were vetted from a data and system security perspective.
"This effort was also another chance for me to engage in more cross-functionality, working with teams across Clorox that I had not previously collaborated with," Tong says.
Hiking into in-house
Tong's inclination to support others and build relationships has always been an innate piece of her. It manifested throughout her academic career, especially when she was a law student at The University of Chicago Law School.
She was a member of the Law Students' Association and became president in her third year. She facilitated administration-student body relations while also creating fun, social events like the law school's annual Law School Prom, so students would have a more rounded experience. She even won the Ann Watson Barber Outstanding Service Award for her dedication.
However, she found that after having her daughter in 2022, she's having to remember and rediscover her interests. So, while she and her husband aren't taking seven-mile hikes as they used to, they have started taking their little girl with them on shorter nature jaunts.
While she valued the experience and foundational skills she gained at law firms, she enjoys being in-house much more as she gets to see the whole picture. She says her 12 years of legal work is helping her move the company forward every day.
"One of the best decisions I made was to go in-house with Clorox," Tong says. "I truly enjoying being able to see the tangible outcome of our team's efforts, like seeing a lot more Fresh Step or Scoop Away packages on the shelves for cat owners—and to work for a purpose-driven and values-led organization."
View this feature in the Vanguard Summer II 2023 Edition here.
Showcase your feature on your website with a custom "As Featured in Vanguard" badge that links directly to your article!
Copy and paste this script into your page coding (ideally right before the closing