Keith Dolliver – Microsoft
Clicking into M&A to advance technology—and gaming fun
Many of Microsoft's products, such as computers and software, are used for business, but the company's gaming consoles are purely for entertainment.
While Keith Dolliver isn't playing Xbox at work, he finds his own fun in the legal department. He's been with the global technology company, founded in 1975, for 27 years, with much of his focus being on mergers and acquisitions. As of June 2017, he's been the company's vice president and deputy general counsel of the corporate legal group.
While M&A matters are imperative to the company's growth—Microsoft brings in nearly $200 billion in annual revenue—they bring Dolliver a lot of joy.
"It's not just me either," he tells Vanguard with a smile. "We help small business owners and their technology get the attention and recognition it deserves in the national and global market."
He recalls a particular moment early in his career where, after Microsoft finalized an acquisition, the small business owner printed the large checks usually used on game shows and wanted Dolliver to pass them out to the employees. Selling to Microsoft was a huge deal for the employee-owned company, Dolliver explains—not just financially but also knowing its technology and reach would increase from around a thousand customers to millions.
"We're serial acquisitionists here at Microsoft, and I enjoy playing an essential role in our continuous M&A efforts," Dolliver says. "We're always looking to acquire new technology that helps us make a larger impact and create amazing products and projects for people across the world, from gamers to business executives."
Halos of success, tech and gaming
Dolliver also helps lead acquisitions of larger companies that are already well known, such as LinkedIn. He helped Microsoft close the $26.2 billion acquisition of the professional networking platform on Dec. 8, 2016.
According to Dolliver, the deal has benefited LinkedIn and its users. Microsoft has integrated its enterprise software, such as Office 365, which makes it easier for candidates to upload and update resumes and for employers to review them, set up interviews and communicate with potential candidates.
The acquisition also accelerated LinkedIn's international growth.
"It's amazing to see such a clear and positive impact of the work I do," Dolliver says. "I can go on LinkedIn and see that now employers and job seekers from across the world are using it—as are professionals looking to connect in almost every country."
He adds that LinkedIn is a perfect example of how Microsoft can build on great ideas and excellent technology and increase its accessibility with its reach and resources.
That's exactly what happened in 2000, when Microsoft acquired the game developer Bungie and its signature title Halo. According to Dolliver, the deal illustrates how seemingly small transactions can turn into international successes. Halo is now one of Microsoft's most popular games, with 81 million games sold since its first release in 2001.
Dolliver was also the lead corporate lawyer on the 2014 acquisition of the block-building and adventure game Minecraft, known as one of the best-selling video games of all time.
Most recently, on March 22, Microsoft had a major win on the $69 billion pending acquisition of Activision, an entertainment developer that created the popular Call of Duty, World of Warcraft and Diablo games.
"This deal will undoubtedly expand the gaming industry, and we're excited about what the means for the positive future of our company, Activision and gamers around the world," he says.
Dolliver and others at Microsoft are hopeful that they'll be able to close the deal within the next few months.
Acquiring new outlooks on M&A and sustainability  
Of course, as much as Dolliver loves acquisitions, he also knows they aren't always the best option. Sometimes strong partnerships are preferred, he says.
For instance, he's had the opportunity to work on Microsoft's partnership with OpenAI, which developed ChatGPT, an artificial intelligence chatbot that it launched November 2022. OpenAI is a nonprofit, so a partnership would allow it to stay independent while collaborating with Microsoft, Dolliver explains.
Although he spends a lot of time working with other companies, he's also focused on internal legal matters. Given that Microsoft is a global company, it needs to be in compliance with various regulatory matters and prepare to comply with regulations that are coming. For example, Dolliver is currently reviewing and implementing measures related to the Corporate Sustainability Reporting Directive, an environmental, social and governance standard, the European Union Council passed on Nov. 28, 2022.
As directives on sustainability and carbon emissions change on a global scale, this compliance work will require close coordination with Microsoft's new chief sustainability officer, chief accounting officer and other business leaders.
"We're focusing on building out a regular process and rhythm at the moment," Dolliver says. "We know this is our chance to be a leader in our industry but also to help companies across the board meet their compliance obligations and we want to grab that opportunity to its fullest extent."
Clicking into the perfect career
As much as Dolliver loves what he does now, he didn't always have a particular interest in technology or Microsoft. In fact, his bachelor's degree from Swarthmore College is in history.
However, careers in law ran in his family. So, after two years working in Washington D.C. for a U.S. Senator, Dolliver attended the University of Chicago Law School, graduating in 1990. He then worked briefly as a clerk for Judge Frank Easterbrook of the Seventh Circuit Court of Appeals in Chicago, before becoming an attorney at the firm K&L Gates in Seattle in September 1991.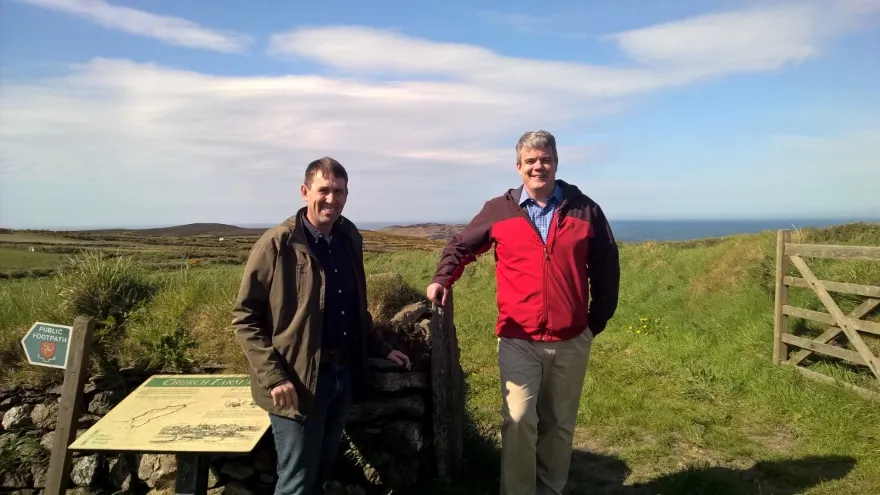 While there, Dolliver worked with a lawyer at Microsoft who eventually hired him in October 1995. He says he moved in-house with Microsoft because of the unique opportunity to handle transactional and securities work, which involves corporate mergers and acquisitions, in an in-house legal department.
"What I do at Microsoft isn't just fulfilling, but it's also fun," Dolliver says. "It's a happy environment, since we're seeking to make sure buyers and sellers are both walking away happy. I especially enjoy bringing in small companies and watching them just explode in terms of success and traction in the local and global markets."
View this feature in the Vanguard Spring III 2023 Edition here.
Showcase your feature on your website with a custom "As Featured in Vanguard" badge that links directly to your article!
Copy and paste this script into your page coding (ideally right before the closing