Christi Morrison – Weatherford International
The technology rainbow after the economical energy thunderstorm
The volatile nature of the oil and gas industry means lucrative growth periods can be followed by plummeting prices and long periods of contraction. This impacts not just the companies drilling for oil, but those providing services to them, such as Weatherford International.
Since 1941, the company has been providing equipment and services—drilling, exploration, evaluation, production, completions and well construction—to the oil and natural gas exploration industry. For nearly a decade, Christi Morrison has been applyin
g her extensive legal expertise in the field to help the company navigate the rollercoaster heights and dips it has faced during her tenure.
When she was hired in January 2014 as the senior corporate counsel, oil prices per barrel were at a high of $104—plunging a year later to an industry low of $35.
Yet, as Morrison has learned with over two decades of experience in the energy industry, one should always expect the unexpected.
By 2022, Weatherford had turned over a new leaf after filing for Chapter 11 bankruptcy protection in 2019. Weatherford's share prices skyrocketed from $5 a share in 2020 to a high of over $70 a share in 2023.
"The immense growth in just three years is a testament to everyone's hard work on implementing a solid strategy to ensure a strong future for us and our clients and stakeholders," Morrison says. "A successful turnaround has enabled us to start reinvesting in Weatherford, opening up some very exciting avenues."
Reenergizing an industry with technology
For a long time, Morrison and others at Weatherford were interested in investing in technology—but it wasn't feasible from a financial perspective. Even when Weatherford was coming off bankruptcy in 2020, the uncertainty the COVID-19 pandemic created meant management remained cautious.
However, as the chaos began to settle in 2021 and 2022, the oil and gas industry not only recovered but began thriving. Weatherford was paying down its debt, and Morrison and her team, who helped handle financing and capital markets for the company, were able to restructure its balance sheet. They've been helping clean those up for the past three years—and, by summer 2023, will be able to make another large payment to further reduce the debt and associated interest.
"This moment is an exciting one for all of us because it is further evidence of Weatherford's increasing financial strength," she says. "It has allowed us to give money back to our shareholders and re-investment in the company."
In 2022, Weatherford began investing in company-wide efficiencies and technology. This supports the legal and other departments while meeting investors and other stakeholders' demands for transforming the energy space.
For several months, the legal operations department sorted through and chose vendors before tapping her team to assist on implementation. One of those, ServiceNow, was rolled out to the legal group that same year. The legal service delivery management system eliminates e-mail back-and-forth while providing status visibility to all involved.
Morrison explains that visibility into this data is imperative as the legal department is a cost center in any organization; it doesn't generate any revenue, so those in legal must be able to show the work they're doing and how it positively impacts the company. ServiceNow makes this possible, she says, as it records the data and makes it easy to access in one place.
"Legal teams traditionally do not shine at using data to show our essential work and cost savings," she says. "This portal captures everything, so we know where to better spend our time and so the company can see the impact of our efforts, especially if another downturn hits."
A global effort with an ever-evolving company
Weatherford's legal department has also benefited from a new legal document management system.
While Morrison's legal team is small, Weatherford's legal and compliance team has over 100 people at 345 operation locations across nearly 75 countries. With no unified system, the legal documents were difficult to manage, especially when employees left the company.
She and her team draft hundreds of corporate and finance documents for unique situations across the globe. These documents will now be available in the system, so that others within the broader team—say in Dubai or Switzerland—can also pull access and utilize as precedence if they run into similar situations.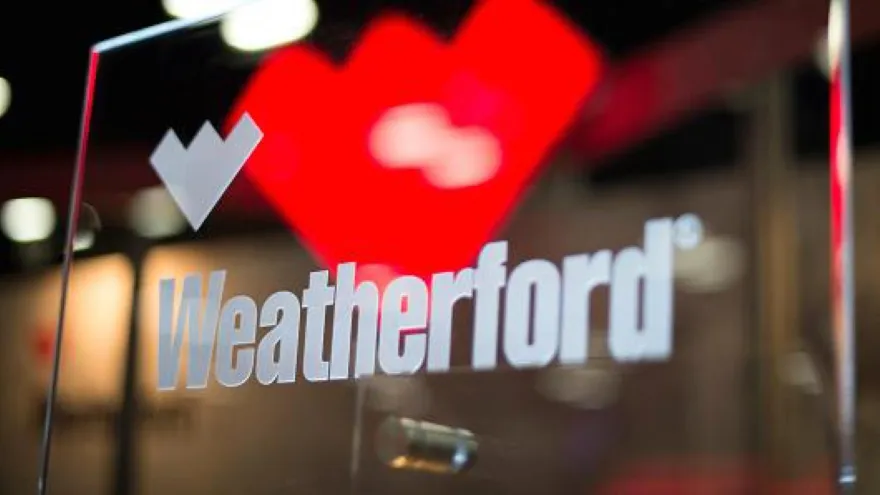 Most importantly, she says, the system is searchable. Anyone on Weatherford's legal and compliance team, dependent on access and permission settings, can search among myriad documents. This makes matters like research, discovery and tax audits much simpler.
Morrison pushed for this particular system because she'd used it previously in private practice.
"We'd spent quite a few years learning how to do more with less, so it was amazing for all of us—not just legal—to enter this new Weatherford era," she says.
Within the legal department, her corporate legal group received many of these technological advancements first because she and her team handle a lot of the high visibility corporate matters. These include lending and capital markets transactions, all filings with the U.S. Securities and Exchange Commission and corporate governance items. She also manages board committee meetings.
With this new technology push, she and her team were also able to help Weatherford release its first sustainability report in 2022.
"The report shows how, apart from technology, Weatherford is participating in the innovation and transformation of the energy industry," Morrison says.
Stepping into an international footprint
For Morrison, collaborative work on an international scale is one of the most exciting aspects of working at Weatherford. After two years in vice president roles at the U.S.-based retail energy services company Spark Energy, she was given the opportunity to practice law on a global scale at Weatherford in 2014.
Since then, she and her team have been handling a variety of legal matters, including responding and adapting to a plethora of new rules and regulations the SEC has been introducing since the start of the Biden administration. These require companies like Weatherford to expand and implement controls and disclosures related to everything from cybersecurity and environmental, social and governance initiatives to executive compensation and insider trading.
She and her team explain new SEC rules, like those related to climate change, to Weatherford's board and executives. She analyzes rules, involves the appropriate people and helps to ensure Weatherford's compliance. To do so, she often collaborates with colleagues in finance, IT, tax, human resources, equity and accounting.
"This industry is definitely a wild ride, but our legal team—small though it may be—is working hard to ensure that Weatherford International is poised for sustainable success now and for decades to come," Morrison says. "We had some lean years, but we're excited to be on the upswing now and determined to keep that forward momentum."
View this feature in the Vanguard Spring III 2023 Edition here.
Showcase your feature on your website with a custom "As Featured in Vanguard" badge that links directly to your article!
Copy and paste this script into your page coding (ideally right before the closing