Kendra Jones – U. S. Steel
Striking while the environmental "steel" is hot
U. S. Steel wants to reduce its greenhouse gases and has set a goal to reach net zero emissions by 2050. Kendra Jones is working to make that a reality.
"We've really intensified our efforts to be an industry leader in the nation—and the world—in lower carbon emissions," says Jones, the steel manufacturer's assistant general counsel for environmental since July 2021.
As part of that strategy, she says U. S. Steel is adopting electric arc furnaces. Unlike traditional blast furnaces, electric arc furnaces don't need to use purified coal. Instead, they use electric currents to melt scrap metal and recycled steel instead of only raw iron.
These electric arc furnaces are smaller, more efficient and easier to control than their coal-burning counterparts, enabling them to produce a wider range of steel products.
They also can reduce carbon emissions by up to 75 percent—a claim backed up by an independent study conducted by CRU Group, a global business intelligence firm specializing in metal manufacturing, and released by U. S. Steel Manufacturers Association in the summer of 2022.
"At U. S. Steel, we're working to protect the environment, our families, communities and the planet, from a different angle," says Jones, who has over two decades of experience as a woman in-house environmental lawyer. "My role is to be a well-rounded advisor and work with regulators for the best possible outcomes."
Driving towards a new future in steel—and cars
In the case of electric arc furnaces, Jones submits paperwork and obtains permits, particularly from the Environmental Protection Agency. To use iron pulled from the company's mine in Minnesota, she worked with outside counsel and the internal strategy team to ensure everyone understood the federal and state requirements.
"My goal is to always reduce the timeline as much as possible, so we can move faster on our sustainability goals, which is why I also work closely with our corporate environmental affairs department," she says.
On Valentine's Day 2023, these efforts resulted in the closing of a supply agreement between U. S. Steel and General Motors. U. S. Steel will be providing the automotive manufacturing giant with U.S.-sourced sustainable, registered verdeX Steel. U. S. Steel will be creating this alloy with 90 percent recycled content in electric arc furnaces.
Jones adds that steel is even better for the environment because it's endlessly recyclable without any degradation—unlike plastics and other materials, like wood, that end up in scrap heaps and landfills. Moreover, U. S. Steel is manufacturing verdeX at its company Big River Steel's facility in Arkansas. An expansion of the facility is currently underway, which will add two new electric arc furnaces to the company's capabilities.
She proudly tells Vanguard that the Big River Steel facility isn't just making a new type of environmentally ground-breaking steel—it's also certified with the U.S. Green Building Council's Leadership in Energy and Environmental Design. It meets the trademarked ResponsibleSteel Standard site certification, as well.
"This deal-partnership is revolutionary and a huge step—a leap really—forward for General Motors and U. S. Steel's work to advance sustainability and protect the environment," Jones says.
Technology for an environmentally-sound future
Jones explains that while technological advancements are making it possible to make huge strides in environmental efforts, sometimes the matter becomes complicated.
She cites the EPA-proposed "Good Neighbor Rule," which seeks to regulate cross-state ozone emissions in the iron and steel sector and others. Along with other groups, Jones led U. S. Steel's submission of comments of 114 pages in June 2022. Industry feedback like that led the EPA to significantly revise the final rule in March 2023.
The EPA is actively and continuously proposing various rules on air and water. Jones and her team look at how these impact the business and advance environmental issues, while considering the ability to actually implement these regulations.
According to her, balancing all those aspects is the challenge.
"EPA didn't consult the industry about capability," she says. "Not only was the proposed 'Good Neighbor' rule not feasible but it would have had a minimal impact on ozone reduction. Stakeholder engagement early on leads to better relationships and regulations."
The call of the wild—environment
Jones enjoys such challenges. In fact, after a stint as an adjunct professor at the University of the Ozarks after graduating in 2004 from University of Arkansas School of Law, she worked as assistant attorney general of the environmental division at the Arkansas Attorney General.  She was hired in 2005 and over the next decade advanced to senior assistant attorney general for environmental.
She then worked for nearly three years at Windstream Enterprise leading litigation, but she missed environmental work. So, she took a job as the senior counsel of sustainability and environmental at Tyson Foods. While she loved the work, when U. S. Steel approached her with the open position, she couldn't resist. She wanted to apply her skills and experience in a new field where she felt she could make a wider and more significant contribution to positive environmental impact.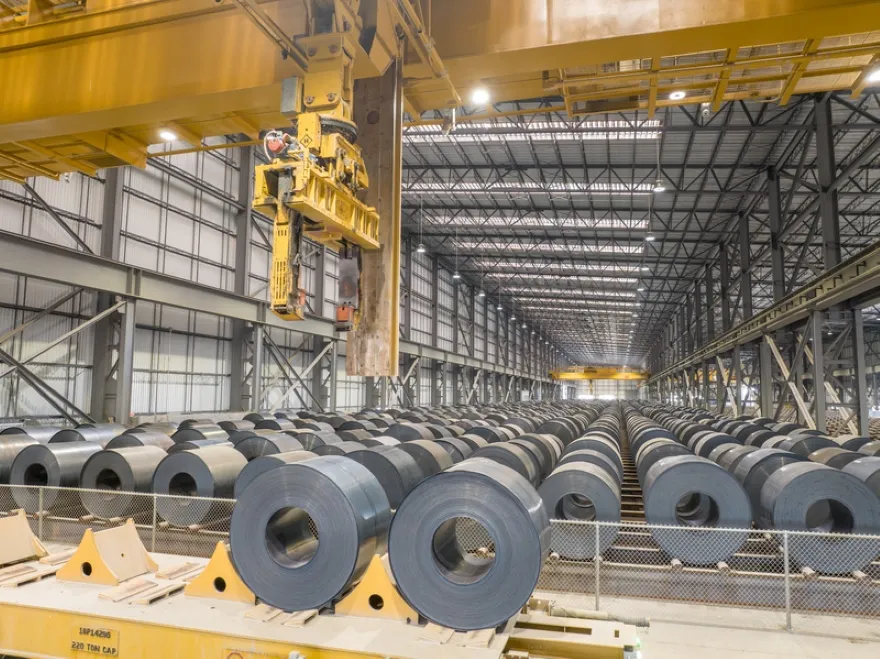 "Steel has traditionally been very carbon emissions intense, and I'm happy to be a part of assisting U. S. Steel as it navigates its very ambitious goals to transform the entire industry and protect the environment," Jones says.
She's particularly proud of the efforts and initiatives outlined in the U. S. Steel 2021 sustainability report that the company released around eight months ago; the 2022 report should be released at the end of June 2023.
Apart from work, she also recently was elected—and accepted—to the University of the Ozarks Board of Trustees.
"My career and what I'm doing currently at U. S. Steel all revolves around making a brighter future for the next generation, something that resonates deeply with me whenever I look at my two daughters," Jones says.
View this feature in the Vanguard Spring II 2023 Edition here.
Showcase your feature on your website with a custom "As Featured in Vanguard" badge that links directly to your article!
Copy and paste this script into your page coding (ideally right before the closing