Chris Zirke – Roundstone Insurance
Roundstone GC ensures the insurance company is prepared for growth
When Jane Smith launched her tech services and consulting firm five years ago, she knew she had the contacts and expertise to develop the business and provide innovative solutions to customers across a breadth of industries.
She was right, but as her company grew, she faced the additional and difficult challenge of providing health insurance to her expanding staff—what plans would provide the best value for her and the best coverage for everyone?
Could she find a solution that was affordable over the long term and would ensure she could keep her staff and attract more talented people as her business grew? Would it offer wellness programs that could help prevent paying claims for chronic health conditions?
Jane Smith and her company don't really exist, but the challenges she'd face do—providing health care coverage, especially in small to medium-sized organizations, is confusing and costly.
Chris Zirke, the general counsel at Roundstone Insurance, says the company specializes in helping businesses with as few as 25 or as many as 500 employees provide affordable and high-quality health insurance plans using a self-funded model that's typically a viable option only for companies with 1,000 employees or more.
He leads a legal team of 13 who manage the daily details in areas including contract negotiations and management, compliance with state and federal regulations, and policy administration.
However, Zirke is also helping ensure Roundstone attracts and trains new talent, leading HR on new initiatives while incorporating an entrepreneurial approach in daily operations.
"If you look at my career, I've had positions where I impact the organization on all levels," Zirke says. "I've always had the desire to impact people across the organization in a positive way."
Self-funded benefits
Headquartered outside Cleveland, Roundstone was founded by Michael Schroeder in 2003. The company offers its "Group Medical Captive," a self-funded group health insurance model that pools self-funded employers' medical premiums to share in risk as opposed to those employers using a fully-insured plan from a specific insurance company.
In the self-funded model, employers set up their own health plan and pay their own claims through a third-party administrator. For catastrophic risk, self-funded employers purchase stop-loss insurance and pay premiums that are determined by demographics and a risk assessment profile—which is traditional in the insurance industry. Stop-loss insurance covers claims over a specific employee deductible as well as if total annual claims exceed a certain threshold.
Roundstone administers the overall stop-loss and captive program and provides customer service to both benefits advisors and employers.
According to the research website Statista, self-funded insurance plans are commonly used by larger companies. In 2022, 82 percent of companies with 1,000 to 4,999 employees used such coverage and the percentage increases to 91 percent in companies with more than 5,000 employees.
However, only 30 percent of companies with 50-199 workers are self-funded, and that drops to 11 percent in companies with three to 49 employees.
Roundstone's group medical captive model can reduce health insurance costs by 20 percent annually compared to fully-insured plans. It can also provide employers more freedom of choice in plan designs, and in selecting third-party administrators and pharmacy benefits managers.
As Zirke says, Roundstone's solution, currently used by more than 600 U.S. employers, offers customized health benefits options, transparency in how claims are managed—and the employer keeps the savings (beyond administrative fixed costs) of any unused premium when employees don't file claims. They also receive an annual prorated distribution of unspent premiums from the captive pool.
Training for expansion
Zirke says Roundstone has grown from 60 to 135 employees in recent years, so the HR team has sought to improve the onboarding and the training programs for new employees as well as managers.
To begin those processes, Roundstone hired Scott Miker as its training and development manager in September 2022.
In February, Miker launched "Manage with a Purpose," a 10-course, in-person management training program that Zirke helped develop. The program covers details such as how to build trust in teams, goal setting, employee relations and how to effectively conduct performance reviews.
The management training program was preceded by efforts to reorganize onboarding new employees, including an organized schedule for the first week for new employees. This is complemented by new hire training in four sessions that shows what Roundstone does and how its departments contribute to the company's mission.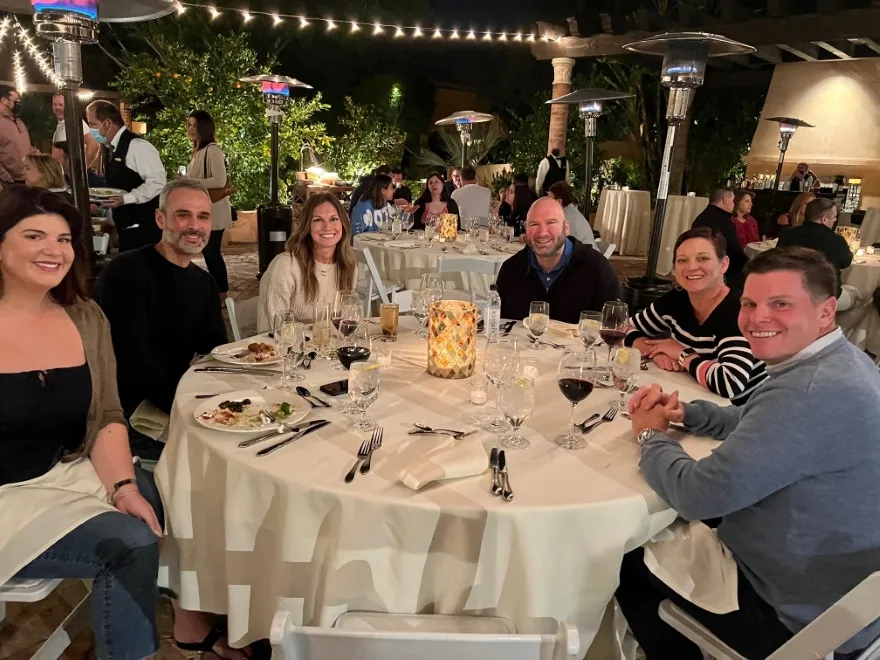 "If you have a great initial training program, you create better employee engagement from the start," Zirke says.
He's also working with consultant Impact Architects to implement the Entrepreneurial Operating System, or EOS, application to employee and management training efforts. Zirke also implemented EOS while in private practice with the Gertsburg Law Firm and says it helps refine Roundstone's vision, create accountability, set goals and measure performance while identifying issues that might impede growth.
"I love the results," Zirke says. "I'm a firm believer in it, because it gets every component in sync to power a company."
Legal with a business approach
A native of Youngstown, Ohio, Zirke found he enjoyed the law-related courses he took to earn his bachelor's degree in economics from Messiah University in 1998. Because he knew he needed a graduate degree for his career, he decided to go to law school.
Zirke earned his J.D. from Cleveland State University Cleveland-Marshall College of Law in 2002 and joined KeyBank as a senior contracts negotiator after graduating.
He left KeyBank in May 2008 to become CEO and managing member of the Blue Falcon Franchise Group, which brought the first Jimmy John's sandwich shops and Soccer Shots youth soccer programs to northeast Ohio.
In 2012, Zirke also returned to KeyBank as a vice president, attorney and strategist. In February 2015, he became vice president and general counsel at Corporate United, which provided group purchasing and logistics services. While there, he helped guide the company's sale to Omnia Partners.
Zirke sold Blue Falcon Franchise Group in November 2016 and left Corporate United in December 2017 as it was sold to Omnia Partners. He was in private practice with the Gertsburg Law Firm, first as senior counsel practicing franchise law and then as a partner and chief operating officer before joining Roundstone in April 2020.
"I liked that Roundstone was looking for someone to fill more than just a general counsel role," Zirke says. "My skillset will help me grow the company's people and ultimately the company."
View this feature in the Vanguard Spring II 2023 Edition here.
Showcase your feature on your website with a custom "As Featured in Vanguard" badge that links directly to your article!
Copy and paste this script into your page coding (ideally right before the closing