Jason Cedrone, Angela Iannetta and Danielle Gorst – Jones DesLauriers, Navacord
Simplifying insurance and risk-based decisions for executives and entrepreneurs
Whether it's a privately owned business needing to restructure an outdated insurance program or a multimillion-dollar publicly traded company trying to comply with state and federal laws for a huge new project, finding the right insurance solution can be daunting.
Understanding the spectrum of risk transfer products on a granular level—and knowing how to tailor the right solution to each client? Calling it a challenge would be an understatement.
Then again, for people like Jason Cedrone, Angela Iannetta and Danielle Gorst, their consultancy approach to risk transfer strategy helps to simplify client decision making while maximizing cost savings. The three are part of Jones DesLauriers, Navacord, a Canadian insurance and risk management firm.
"Risk and insurance are often an underserviced segment of any business," Cedrone says. "Our proposition is to deliver best in market expertise that drives value into the overall business strategy."
The importance of mitigating risks
Cedrone, a partner and account executive with over two decades of industry experience, works mostly with companies facing cross-border operational risks. He's also engaged by private equity firms with a growing interest in maximizing the expense line within their portfolio companies.
Iannetta also touts more than 20 years of experience. As a partner and director of analytics and alternative risk solutions, she builds complex mathematical and financial models for clients who are looking to self-insure risks by utilizing offshore and/or onshore solutions.
She helps companies reduce their total cost of risk through alternate financing solutions like captives, where a company creates a subsidiary that then insures the parent company's risks.
Meanwhile, 25-year insurance veteran Gorst works on a more personal level. In her role as national practice leader of financial lines, she's created several large and complex directors' and officers' liability programs for public and private boards of directors across Canada and with U.S. public listing exposure. She also provides her clients with guidance and education on personal liability associated with serving on a board—and how to insure against it while minimizing risks.
"It all comes down to understanding your client's and prospects' personal and corporate exposures and their overall tolerance for risk," Gorst says.
Staying local; thinking global
Although Jones DesLauriers, Navacord's over 2,000 employees are all located in Canada, those like Cedrone, Iannetta and Gorst are always thinking on a global scale.
Because businesses can be local or international, Iannetta considers a range of risks when advising a client on how to protect a particular asset. She also provides various risk optimization and risk financing solutions such as large deductible programs, risk pooling strategies and captive insurance companies.
"We're a Canadian company, but when any one of us is setting up an insurance program or alternative risk structure, we account for national and international commercial trade and risk considerations," Gorst says. "That way, we look to capture domestic and global risk factors."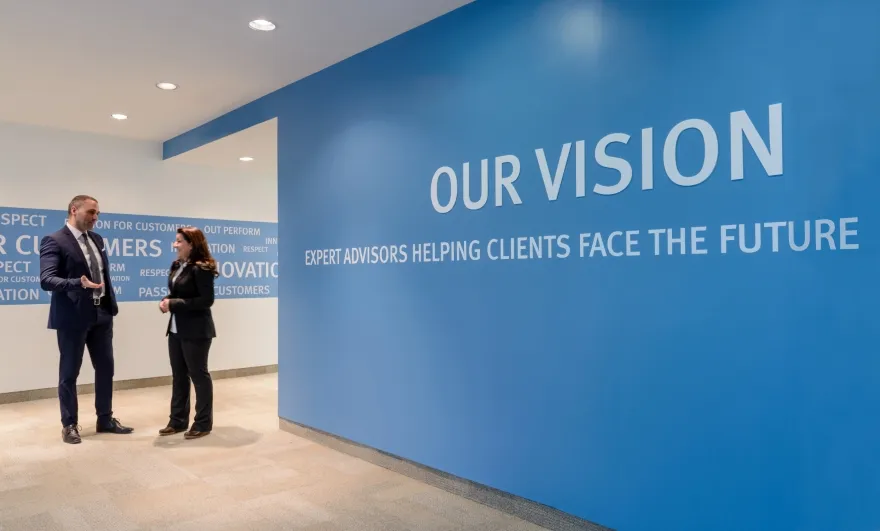 When many businesses became displaced during the COVID-19 pandemic, Cedrone and his colleagues developed exclusive insurance products in the cyber network security, green energy, iGaming and hospitality sectors.
"Many of us are partners at Jones DesLauriers, Navacord, so we are personally, financially and professionally invested in the success of our client's business," he explains.
Entrepreneurs first
Like Cedrone, who started at JDIMI in 2019, Iannetta is a relative newcomer. She joined in 2020 and became a partner just eight months into her tenure.
"A lot of companies label themselves as entrepreneurial, but JDIMI truly acts on its words because they give me and my colleagues the organizational leeway to do what is necessary to get the best results for our clients," Iannetta says.
Gorst also cites this sense of freedom as one of the reasons she loves working at JDIMI. She protects the personal liabilities and assets of directors and officers in challenging circumstances and transactions—such as litigation, risk or bankruptcies.
During economic downturns, she tackles the personal risks of executives, boards and directors, guiding them on how to make difficult financial decisions—and create insurance programs that fit their budget.
"In the end, we're all focused on mitigating and minimizing risks on an individual or organization-wide level," Gorst says.
Varied paths to insurance
While Cedrone, Iannetta and Gorst are close colleagues, each took a slightly different path to a career in insurance.
"Unlike many in the industry, I didn't fall into this field; I'm an insurance nerd, and I love the work. There is no greater reward than delivering a financial result that positively helps drive a client's business forward," says Cedrone, who graduated as a chartered insurance professional from the Insurance Institute of Canada in 2005.
Meanwhile, Iannetta admits hers was a more traditional track. After graduating from York University with a bachelor's in pure mathematics in 2000, she took a professor's advice to consider becoming an actuary. She might've hated the process of figuring out the probabilities of someone's life span, but she did enjoy probabilities for things like analyzing catastrophic risk to the balance sheet of a business.
"I never ended up sitting for my actuary exams, which I don't regret in the slightest," Iannetta says. "Designing insurance solutions leveraging my mathematical acumen turned out to be the perfect fit for me."
As for Gorst, she's been thinking about insurance since she was a child.
"I grew up with parents who owned a brokerage," she says. "They insured half the city of Thunder Bay—and I wanted to be part of that and make a lasting, positive impact."
A 1999 graduate of the University of Calgary with a focus on commerce, finance and risk management, she adds that a career in insurance was almost inevitable. Her first job was a specialty western regional manager for Chubb Insurance.
While Cedrone, Iannetta and Gorst have all worked for large, publicly traded companies, they're especially passionate about Jones DesLauriers, Navacord.
"We have a great culture," Cedrone says. "The three of us enjoy each other's company and we learn quite a bit from one another. I firmly believe that not all insurance brokers are created equal, and at Jones DesLauriers, Navacord, we get the opportunity to demonstrate the difference every day."
View this feature in the Vanguard Spring II 2023 Edition here.
Showcase your feature on your website with a custom "As Featured in Vanguard" badge that links directly to your article!
Copy and paste this script into your page coding (ideally right before the closing