Laurence 'Larry' Oleksa – Cirrus Aircraft
Readying aircraft innovation for takeoff
"There's a constant corporate culture of innovation at Cirrus Aircraft," Laurence "Larry" Oleksa tells Vanguard in May from headquarters in Duluth, Minnesota.
The company is the only one of its kind, he explains, that outfits all its aircraft with the Cirrus Airframe Parachute System® (CAPS®) – the first FAA-certified whole-airframe parachute safety system included as standard equipment.
One Cirrus aircraft, the single-engine Vision Jet, even offers a button-activated automatic landing system—Safe Return™ Autoland—that brings it back to the closest airport should the pilot become incapacitated.
"We're one of the few aviation OEMs (original equipment manufacturers) that has this technology, and it's a next step to autonomous flying," Oleksa goes on to say. "The Vision Jet has been recognized as the world's bestselling general aviation jet for the past four years."
The streak was ascertained last year, he explains, with Vision Jets—list price $3 million to $3.5 million—among more than 300 Cirrus aircraft sold and everything on pace for a productive 2023.
Cirrus Aircraft continues to innovate and expand its global footprint, Oleska says, as the company proceeds with plans to convert a former Northwest Airlines hangar into its own Duluth Innovation Center at Duluth International Airport. Aside from manufacturing and servicing the Vision Jet and SR Series, its bestselling single-engine piston aircraft in Duluth, the company also provides flight training at its Vision Center in Knoxville, Tennessee, and facilities near Orlando, Florida; Scottsdale, Arizona; and Dallas.
Revitalizing a hangar
While Oleksa can marvel at the skilled labor and engineering that will take place at that facility, he's had to apply his own legal and business strengths in advancing what will be the epicenter for the next generation of Cirrus Aircraft.
A member of the legal department since January 2018 who was promoted to deputy general counsel early this year, Oleksa enjoys his role supporting innovation initiatives such as Cirrus IQ™, a mobile application for Cirrus owners, and expansion plans that support the company's employee growth. During the 2000s—long before Oleksa joined Cirrus Aircraft—the company had leased the hangar for manufacturing but opted out during the Great Recession.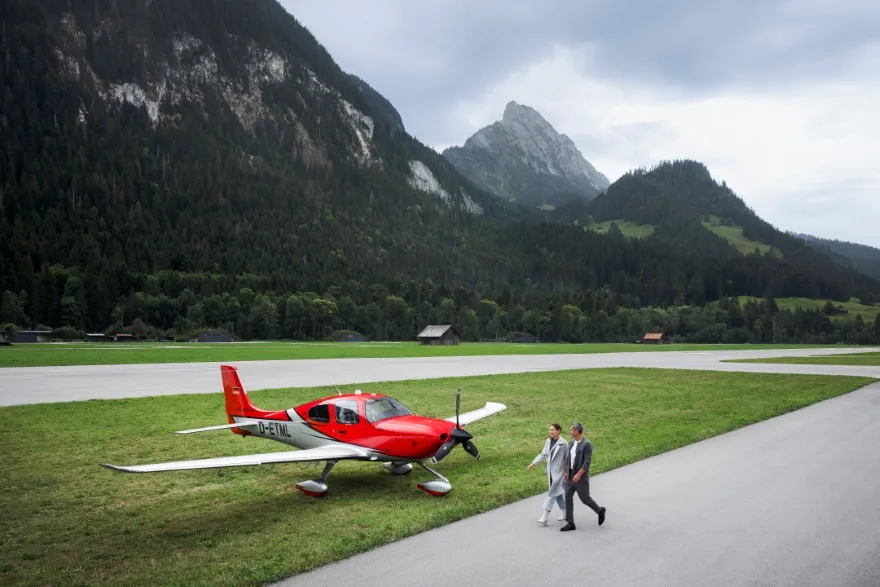 The repurposing of that 189,000-square-foot hangar being to everyone's interests, Oleksa says the negotiations for its return went smoothly with the Duluth Economic Development Authority agreeing last summer to Cirrus Aircraft buying the structure for $1. The authority also OK'd the transfer of a prepaid long-term lease for 39 surrounding acres as a further incentive for Cirrus Aircraft to expand its workforce. With the hangar and acreage, Cirrus Aircraft has committed to taking on another 80 engineers at an hourly wage of at least $36.05 plus benefits.
Oleksa's expecting the hangar's repurposing to be complete by autumn, with a shuttle linking the facility with corporate headquarters at the other end of the airport. He lauds how this project complements others in which he's had a role, including the February 2022 asset acquisition of Flying Colors Aviation Inc., a Benton Harbor, Michigan, company that paints aircraft. It's all part of handling whatever legal matters arise on any given day for Cirrus Aircraft whose U.S. operations are in Minnesota, North Dakota, Tennessee, Texas, Arizona, Florida and Michigan. The company also has more than 800 network partners worldwide.
"If there's a typical day for me, it's supporting a variety of legal initiatives," Oleksa says. "It could be international sales and contract review, supporting human resources, privacy matters … customers value their privacy and we're here to ensure it.
Having a technological background enhances his value, as do Oleksa's prior roles that include a 2011-to-2014 stretch as senior counsel of Garmin® International Inc. A Kansas-headquartered GPS-enabled technology company, Garmin has a diverse clientele that includes Cirrus Aircraft as well as marine, automotive and sporting goods companies.
But before Oleksa returned to his home state of Minnesota, he served another three years as vice president and general counsel of a cybersecurity software company, also in Kansas City. Cybersecurity of prime concern to Cirrus Aircraft, Oleksa brought his new employer a well-rounded background and says he's made the most of this role of the past five and a half years, though he still has some boxes to check.
Sky's his limit
"I'm not yet a pilot but maybe there'll be time for that," Oleksa says. "Many of my colleagues have their pilot's license but as the married father of three active boys, I haven't had much spare time, not with coaching basketball, baseball and soccer, and with a rescue puppy adding to the family's chaos."
Pressed about his coaching acumen, Oleksa acknowledges being feted as coach of the year in a Salvation Army-affiliated youth basketball league in 2020. How rewarding he says it is to be part of the Greater Duluth community.
Oleksa earned his undergraduate degree at the University of Kansas and then his juris doctorate from University of Wisconsin Law School. He honed his skills as a litigator at a Milwaukee firm before joining the Chicago office of Perkins Coie in 2004 for a seven-year run that included many technology cases. He handled Google's privacy cases as well as Microsoft's anti-privacy and while he sometimes misses the adrenaline rush of facing off in court, he's just as happy not to chase down billable hours.
That ended with his first in-house role at Garmin. Now Cirrus Aircraft might prove his most exciting role. There's just something about the aviation industry, he says, that literally and figuratively soars over the rest.
The company's safety standards have resulted in more than 250 people emerging unscathed due to the CAPS system. Recently it enabled a plane to safely land on a Belo Horizonte hill in Brazil.
But, as Oleksa emphasizes, the aviation world hasn't seen the last of Cirrus Aircraft's innovations and everyone's looking forward to the Innovation Center's ribbon cutting. And the legal department's not there to ground any initiatives.
"People talk about in-house legal as if it's the 'department of no,'" he says. "Well, that's not how we operate. We're a lean department that is integrated into strategic planning. We move quickly and provide the business teams and leadership with sound and practical legal advice."
View this feature in the Vanguard Summer IV 2023 Edition here.
Showcase your feature on your website with a custom "As Featured in Vanguard" badge that links directly to your article!
Copy and paste this script into your page coding (ideally right before the closing