Dan Mumford – Bell Textron
Legal leader 'wired' to protect IP and compliance
While piloting Black Hawks for the U.S. Army, Dan Mumford learned the challenges of maneuvering and hovering the helicopters using controls attached to the rotors and tail assemblies by cables.
Now the deputy general counsel for Bell Textron, he's helping to replace those cables with wireless controls in commercial helicopters. He says this can reduce a pilot's workload as the "fly-by-wire" technology offers greater assistance behind the scenes.
While Bell works with the Federal Aviation Administration on certifying the Bell 525, Mumford is guiding the company's global efforts to sell these first-of-a-kind helicopters commercially, including to police departments, medical and rescue services and utility companies.
"It's good to be back in aviation and be part of a mission that supports police, emergency first responders, service members and VIP customers," Mumford says. "This is something that I enjoy being part of very much because I see myself as a business partner who just happens to have expertise in the legal field."
Getting the signal
Though Bell produced its first helicopter in 1942, it was founded as an airplane manufacturer in 1935 and built the first jet fighter for the U.S. military. Chuck Yeager, the record-setting test pilot and eventually a brigadier general, flew a Bell X-1 jet when he became the first pilot to break the sound barrier in 1947.
Bell was acquired by Textron in 1960, and its helicopter division became the largest in the company as it made the UH-1 model used in the Vietnam War. Its helicopter divisions are now split between military and commercial sales.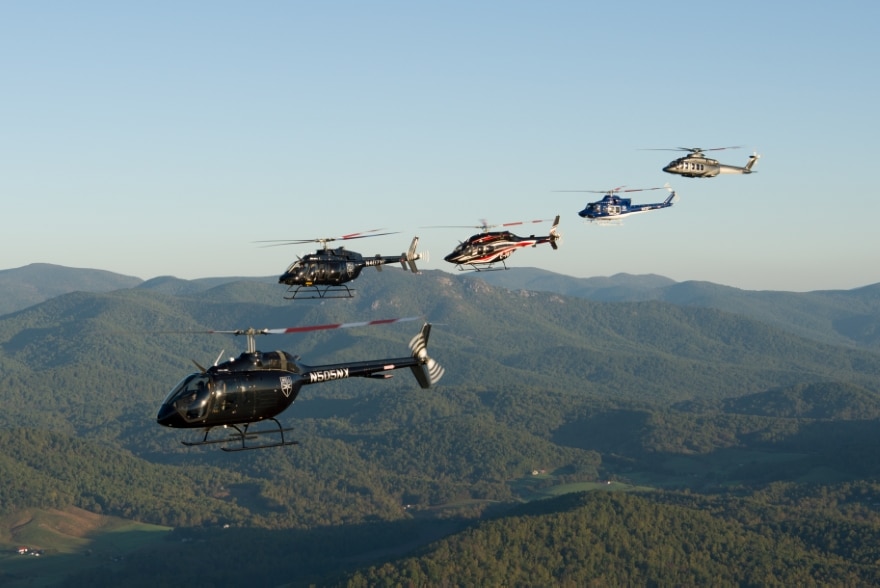 Mumford helps lead the legal department for Bell's commercial operations and says the Bell 525 helicopter using fly-by-wire technology will be the first certified for commercial use in the world.
Fly-by-wire technology is already used in military helicopters. It not only makes it easier for pilots to hover and maneuver the aircraft, but also makes the aircraft lighter and requires less maintenance and parts replacement. Digital controls have more redundancies to keep them operating in case of a malfunction, Mumford adds.
New markets, new ventures
To help compliantly sell the Bell 525, Mumford provided legal advice as the company opened a new 525 Experience Center at Stavanger Airport in Norway. The facility includes a mockup of the 525 and interactive workstations to show potential customers how it could be used in areas such as North Sea oil drilling operations.
Bell Textron has customers in 160 countries, and Mumford ensures the company, its partners and its vendors meet anti-corruption and anti-money laundering regulations. He leads annual training in these areas, and he and his team vet new vendors and suppliers before working with them. They then review their operations at least once every three years. He also advises Bell Textron on expanding operations, including maintenance.
For instance, in 2020, he helped the company acquire Zhenjiang Aerochine Aviation Ltd., a maintenance operation in China, by advising it'd be more efficient to acquire the company than get certified by the Chinese government to build a maintenance operation. In 2021, Mumford helped vet a joint venture with RBI Hawker Australia, creating the fifth authorized repair facility for Bell helicopters Down Under.
Flight first, then law
Born in Bilbao, a city in the Basque region of Spain, Mumford, a bilingual dual citizen, moved to Madrid when he was 8 and to the U.S. at 13 while his father worked at Bechtel, a global engineering, construction and project management company.
Mumford earned his bachelor's degree in engineering from Duke University in 1996, where he was also part of the Army ROTC program. After graduating, he served in the U.S. Army, piloting Black Hawk helicopters while also leading a platoon, commanding a company and becoming a logistics officer for aviation operations.
His service included an assignment in Germany, a deployment to Kosovo in support of peacekeeping operations, and then a company command in Washington, D.C., where he flew VIPs and government officials.
"Although my original plan going to college was to attend law school right after, in my junior year I decided flying helicopters would be more enjoyable," he says. "After eight years in the service, it was time to return to plan A."
"Plan A" took Mumford to William & Mary Law School, where he earned his J.D. in 2006. He then joined the firm of Kennedy Covington in Charlotte, North Carolina, as an associate practicing intellectual property litigation. The firm merged with K&L Gates in July 2008, and he continued to manage commercial litigation matters, including patent, trademark and copyright matters.
He moved in house in July 2012 when he joined Textron as assistant general counsel. As lead IP counsel, Mumford developed and managed trademark and patent portfolios, including litigation, for Textron's industrial companies such as Textron Specialized Vehicles, Jacobsen and Textron Tools & Test.
In June 2014, Mumford became vice president and general counsel for Textron's new TRU Simulation + Training Inc. venture. He also served as chief compliance officer, developing and managing the export control and compliance frameworks for a company that does most of its business outside the U.S. Among his initiatives was managing the legal affairs for a joint venture with Icelandair that established a training center using Boeing flight simulation systems in Reykjavík, Iceland.
The shift to Bell in May 2019 meant moving to Texas, where Mumford and his family enjoy the outdoors, including fishing and biking. After the COVID-19 pandemic struck, the family bought an RV and has been visiting national parks throughout the Southwest.
"As a problem solver and business partner, I see my work as an extension of my engineering career," Mumford says. "Lawyers need to worry about what-ifs, but I need to focus on how-tos, as well."
View this feature in the Vanguard Spring III 2022 Edition here.
Showcase your feature on your website with a custom "As Featured in Vanguard" badge that links directly to your article!
Copy and paste this script into your page coding (ideally right before the closing