Marty Lorenzo – Petco
Support the team, support the mission
Like the Marine he is, Marty Lorenzo is on a mission to support Petco's legal team by fostering committed troops.
The goal? To serve "pet parents" throughout the country—and help them better care for their beloved animals.
Lorenzo, an officer in the U.S. Marine Corps with 31 years of service, has served as Petco's vice president of legal affairs since 2017. Synthesizing his civilian legal and business experience with the servant leadership outlook he honed as a Marine, Lorenzo says his goal, above all, is to support the organization—both its vision and objectives.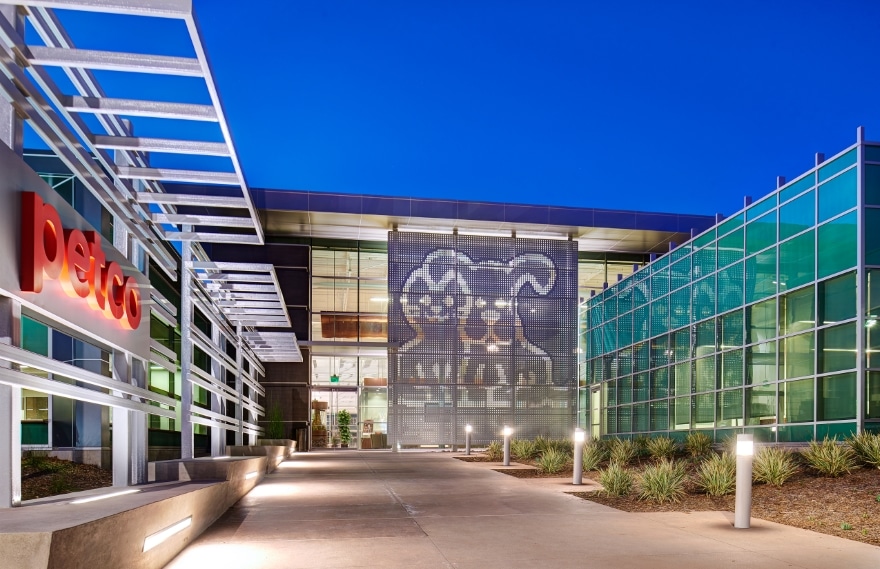 "I joined Petco because the company's vision for "healthier pets, happier people, better world" resonates with me." Lorenzo says. "I've always been personally committed to helping others and doing what I can to positively impact the world we live in."
Starting with strategy
Lorenzo says it's his job to help keep Petco's legal department on the cutting edge of business and legal initiatives, fostering a culture of innovation while keeping current operations humming.
With a team of attorneys—including the chief legal officer to whom Lorenzo reports—as well as paralegals and other professionals, Petco's legal department is structured so each business unit of the company has a go-to attorney as a trusted legal advisor. Different attorneys on the team specialize in key areas—from HR to merchandising—and members of the team support one another with specific subject matter expertise as needed.
The overriding theme between the legal department and the business units is teamwork.
"We want to be trusted advisors to our business leads, so each attorney builds a relationship with specific business units," Lorenzo says. "Our business team has a direct relationship with our customers, so we want to be connected to everything our customers experience in one way or another."
"Leaders eat last"
While customer satisfaction is paramount, Lorenzo feels an equal commitment to his coworkers.
Adopting the philosophy of "servant leadership" he homed in on the Marine Corps. Lorenzo is always on the lookout for ways to enable others to excel in their roles, whether they are teammates in the legal department or colleagues throughout the company.
"In the military you have to be a servant leader and look out for the team. If you take care of the team, they will take care of the mission," he explains.
Lorenzo also serves as the company's assistant corporate secretary, responsible for corporate governance, and as Petco's lead attorney on privacy matters, cybersecurity concerns, corporate development and new business initiatives. In each of his roles, he accepts every duty willingly and seeks to lead by example.
"Leaders do not ask others to do anything that they are not willing to do themselves. This helps build a collaborative environment defined by trust and camaraderie," he says. "Everyone has their own style of leadership, but overriding tenets of leadership we employ are to know yourself, know your team, be well-rounded and offer an adaptable approach depending on the situation, with a wide array of skills. This helps us drive breakthrough results the Petco way through world-class committed teams."
Growth at Petco
By all accounts, business for Petco—both online and across the company's network of more than 1,500 stores—is growing, buoyed by a healthy pet category and market for products to improve the lives of pets and pet parents. Often, Petco taps into the ideas of its employees, most of whom are devoted "pet parents" themselves.
New programs following Petco's overall focus on pet health and wellness include an expanding network of in-store veterinary hospitals, and fresh pet food kitchens and pantries, initiatives that require support from the company's legal team.
Through it all, Lorenzo plays a role in reviewing the legal implications for objectives—with the focus always on customers and their beloved pets.
"We put ourselves in pet parents' shoes because we want to be their one-stop shop for all things pet," he says.
From pet to vet
Lorenzo's role at Petco goes beyond supporting pets, however.
Near and dear to Lorenzo's military background is his ethos on community service and support of his fellow veterans. To that end, he's been heavily involved in supporting the launch of Petco's Military and Veterans Employee Resource Group.
With more than 26,000 Petco employees (they call them "partners") across the country, the group supports job placement for veterans; career advancement for veterans and military spouses; support for partners who have a family member deployed for military service; and even helps partners relocate within Petco if the military relocates their family. The company also has resource groups dedicated to empowering their female, LGBTQ+ and Latinx communities, with more groups under development.
"At Petco, we encourage each of our partners to come to work as their most authentic self," he says. "Being a vet or a family member of someone who's served in the military is, for many of us, part of our identity. Through Petco's Military and Veterans Employee Resource Group, Petco supports our partners in this community."
Indeed, for Lorenzo, it's a cause that runs as deep as it gets.
Authentic self
He began his career in the Marine Corps by enlisting as a recruit and attending bootcamp in San Diego. He steadily climbed the ranks and was promoted to officer. Lorenzo is currently a Major in the Marine Corps Reserve.
It was a busy time in his life, serving in the Marines while simultaneously pursuing his education. He earned a bachelor's degree in philosophy at the University of San Diego, cum laude, in 1993. Afterward, he continued at the University of San Diego's School of Law, earning his degree in 1996.
Prior to joining Petco, Lorenzo had a 20-year career in private practice. He was a partner at Am Law 100 law firms such as DLA Piper; Mintz Levin; and Kilpatrick Townsend & Stockton. He specialized in mergers and acquisitions, corporate securities and emerging growth across an array of industries, mixing his leadership skills with his business acumen.
Today, Lorenzo continues to work on strategic growth initiatives, seeking to add value at every opportunity, with a chief enjoyable focus on helping people be better "pet parents."
It's a stripe Lorenzo has more than earned: His two dogs, Khoi and Cindy, regularly vie for who gets to jump into his car first to go to work.
"Simply put, pets make everything better," Lorenzo says. "At Petco, we understand and have harnessed this belief for the more than 50 years we've been proudly serving pet parents. Developing a career you feel passionate about is special and being able to put those skills to work toward something you personally believe in is an honor."
Showcase your feature on your website with a custom "As Featured in Vanguard" badge that links directly to your article!
Copy and paste this script into your page coding (ideally right before the closing