Melissa Lee – Endera
Endera's head of legal charged up by supporting EV production and distribution
Melissa Lee is on a roll in her career.
As general counsel for Endera, she's been a guiding force in the company's rise to become a leader in producing electric powered school and shuttle buses as well as box trucks.
Endera's shuttle buses currently operate at major airports, including San Diego and Phoenix, as its manufacturing plant in Ottawa, Ohio, helps stimulate the local economy and create new jobs.
Though Lee is responsible for managing legal affairs—from developing dealer distribution agreements to protecting Endera's intellectual property and patents—she's also played crucial roles in the company's business development, too.
For Lee, who had experience practicing labor and employment law at two international firms, coming in-house for the EV manufacturer has also steered her career in an exciting new direction because as a member of Endera's executive management team, she's involved in all aspects of the company and its operations.
"We're so proud of the pivotal moment that we've reached," Lee says. "We're bringing clean shuttles on to the road as the industry matures. Our company culture spans Ohio and California, offering quality jobs with good wages and robust benefit packages, too."
Innovation and experience
Currently headquartered in Ohio, Endera was founded by CEO John Walsh in 2020 with its R&D developing its electric buses initially from a garage in the Southern California city of Pomona.
Endera's vehicles are assembled on chassis from Ford and Chevrolet. The latest B Series models have an operating range of up to 180 miles per charge, which is enhanced by using lightweight fiberglass bodies.
Lee was the company's seventh hire when she joined in November 2020. From the start, she's managed more than day-to-day legal affairs, including guiding the acquisition of bus maker Metro Titan LLC and its facility with 250,000 square feet of manufacturing space. In 2022, she provided the legal support as the company opened a new, 9,000-square-foot R&D facility in Pomona.
Working with Christina McSparron of the firm of Rutan & Tucker, LLP as outside counsel, Lee provided legal and business analysis for the Metro Titan acquisition and drafted and negotiated the purchase and sales agreement. The deal closed in April 2021, adding 20 new employees.
Although the plant is more than 2,200 miles from the company's R&D center, Lee says Ohio was a deliberate choice for several reasons. Walsh's connections in the auto industry and desire to leverage a strong talent pool of automotive technicians and developers were crucial in the search for a production facility.
Endera's workforce at the Ohio facility has increased to more than 80 and Lee says the company expects to reach 200 employees, up from the current 130, in 2024.
"Endera is proud to continue the manufacturing tradition in Ohio and because the area is about 90 minutes south of Detroit, there's a workforce that has deep experience in the auto industry," she says. "We're proud to introduce electric vehicles and technology to the area."
Ready markets
Lee provides the legal support to expand Endera's sales and distribution network throughout the U.S.; the company is currently licensed to sell through dealerships in 30 states. Most states don't allow direct sales to consumers, so she needs to negotiate agreements with dealers, including to service the vehicles, obtain tax certificates, register with secretaries of state and file manufacturing licenses to sell on a state-by-state basis.
She works with William Schaal from Rutan & Tucker to protect the patents and IP for Endera's vehicles and software.
Because Endera has so many customers in the public and quasi-government areas, such as school districts and airport authorities, Lee also works to ensure the company complies with state and federal regulations for procurement and bidding.
The timing is fortuitous. States including California, New York, and New Jersey are taking steps to add EVs to fleets of state vehicles. The federal Infrastructure and Investment Jobs Act enacted in 2021 allocates $2.5 billion exclusively to help school districts buy EV school buses and an additional $2.5 billion to buy buses operating on alternative fuels, including electric power.
In February, Endera and Coachwest Luxury & Performance Motorcars, its California distribution partner, were awarded a contract as the low bidder to provide 1,000 shuttle buses by 2025 to the California Association for Coordinated Transportation. CALACT will sell the shuttle buses to its member public transit agencies and city and county governments.
"Regulations controlling sales of commercial vehicles are a patchwork," Lee says. "While it's a big project for me and my team to secure the licensing and dealer agreements necessary to sell Endera's buses and trucks, it's also exciting because of interplay between legal and our sales, operations and production teams."
Part of the team
That deeper involvement in helping Endera grow has been very fulfilling to Lee, who worked in private practice for almost a decade before coming in-house.
A native of the East Bay area outside San Francisco, Lee graduated from the University of California San Diego with a bachelor's degree in sociology in 2000. She then earned her J.D. from the University of Southern California Gould School of Law in 2003.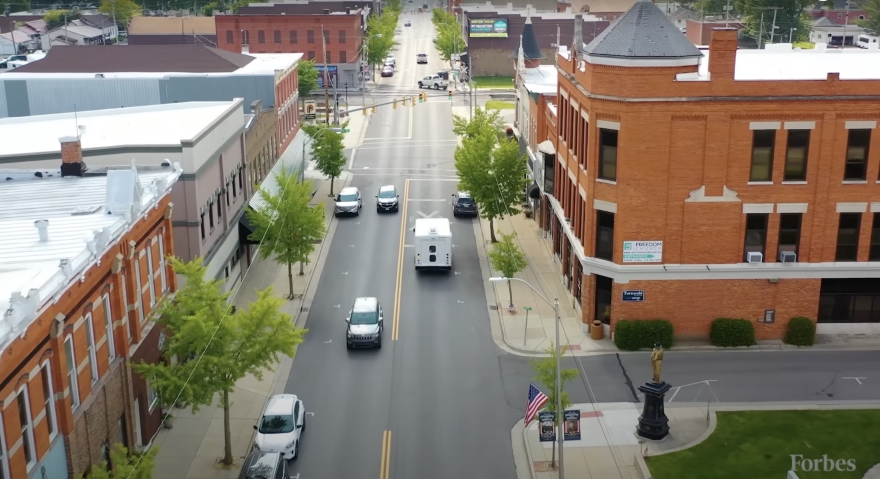 Lee practiced employment and labor law at the firms of Sheppard, Mullin, Richter and Hampton LLP and then Sidley Austin from October 2003 to March 2014, when she joined Media Services, an entertainment payroll company, as legal counsel. In November 2015, she was named vice president for HR and legal affairs, and in September 2017, was named general counsel. As general counsel, she assisted when the company was acquired by Cast & Crew in 2020.
Seeking a fresh opportunity to help a company grow, Lee was drawn to Endera.
"Our mission is to end the era of fossil fuels as we know it," she says. "It's an exciting and innovative industry and I enjoy helping found and build a company I passionately believe in."
View this feature in the Vanguard Fall II 2023 Edition here.
Showcase your feature on your website with a custom "As Featured in Vanguard" badge that links directly to your article!
Copy and paste this script into your page coding (ideally right before the closing