Robert Lev – IMC
IMC general counsel makes collaboration a company commodity
Robert Lev says he works in a lesser known—but exciting—area where financial trading and technology intersect. He's the U.S. general counsel for IMC—a "market maker"—which means the company can buy or sell financial products at any time, facilitating the transfer of risk for market participants.
"What we do is just a sliver of the fairly complex financial services ecosystem. It's not something everyone knows about or fully understands," Lev says. "We trade in various products on just about every major exchange in the world. We add liquidity to the marketplace, and generally reduce transaction costs for the everyday buyer and seller of stocks, options and other financial products."
A former futures trader, Lev manages U.S. legal affairs and advises on elements of new IMC business ventures. He was promoted to his present role shortly before chatting with Vanguard in October and says he's building a legal team that will support the company's anticipated growth in the next several years
"IMC brings smart people into the room, including lawyers, to problem-solve and the best idea wins," Lev says. "We're very tech oriented with in-house cutting edge R&D. I want my team to speak up and spot problems, but also be excited by ideas."
Adding technology to trading
IMC, an acronym for International Marketmaker's Combination, was founded in 1989 by two traders who worked on the floor of the Amsterdam Equity Options Exchange. The company has offices in Amsterdam, Chicago, New York, Sydney, Seoul, Hong Kong, and Mumbai, about 1,300 employees and trades on more than 100 venues.
Lev says IMC evolved with technology and markets. It fills a role in the financial markets ecosystem that was historically provided by local floor traders who calculated buying and selling prices manually. IMC uses proprietary software, algorithms and analytics to quickly make those calculations and its technology provides quotes for products and trading venues almost instantly.
"IMC doesn't generally have an opinion on whether a particular product's price will increase or decrease," Lev explains. "The company strives to remain neutral and provide a liquidity service to market participants."
When Lev was deputy general counsel, he provided legal support, including contract review and negotiation with third-party tech services providers.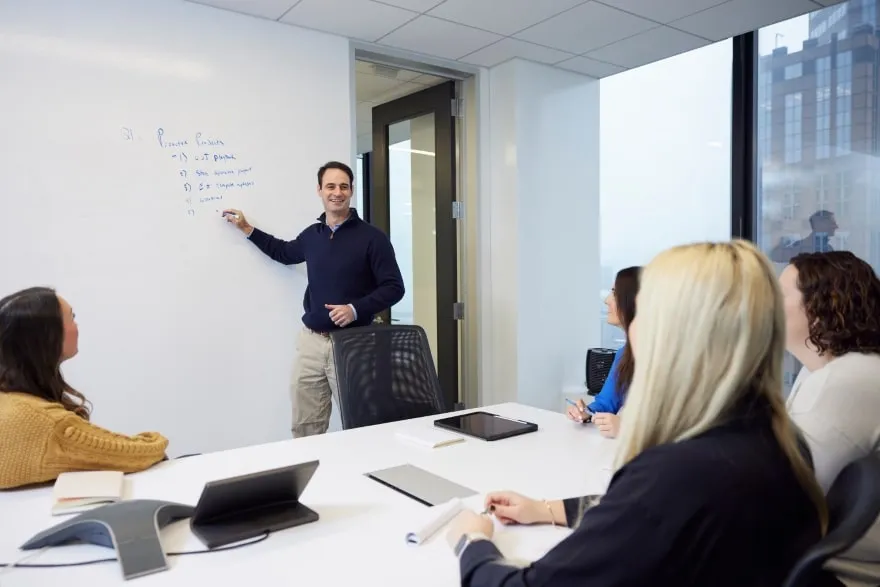 IMC entered more formal partnerships with some of those providers when it launched IMC Investments in May 2022. IMC Investments invests in startups and established businesses, offering new tech and financial services products, Lev says. He negotiates and reviews some of the investment contracts and advises on potential risks.
Innovating—and giving back
In addition to being involved in IMC Investments, Lev participated in the two-year development of IMC Execution Services, which launched in 2021.
IMC Execution Services helps institutional customers, such as hedge funds, asset managers and pension funds, find resources to generate liquidity, or cash. Lev helped design and implement the business line by creating the new legal entity, drafting a standard client agreement, and researching and advising on U.S. Securities and Exchange Commission regulatory requirements.
Lev says his legal support as corporate secretary for the IMC Chicago Charitable Foundation is a rewarding part of his work. The Foundation focuses on education. It has funded a reading specialist, music instruction and student attendance initiatives at Arthur Ashe Elementary School.
The Foundation has also funded a new turf field, playground and basketball court at Little Village Academy and child mental health initiatives at Erie Neighborhood House, Lev says.
Growing up, Lev expected to become a floor trader in Chicago, following in his father's footsteps. He earned his bachelor's degree in economics with financial applications from Southern Methodist University with becoming a trader in mind.
After graduating, he spent a year at a trading firm. By then, floor traders were beginning to move from exchange floors to electronic trading. And Lev's interest in a law career was a bit stronger than trading, he says.
From the floor to the office
"I think I'm more wired as a lawyer," Lev says. "In the legal profession, and with legal content, I personally feel I can be better prepared, think things through, and always make a positive impact despite outside variables."
Lev earned his J.D. from John Marshall Law School, now the University of Illinois Chicago Law School, in 2009. After graduating, he served as in-house counsel for CME Group, which is the world's largest financial derivatives exchange. He focused on electronic trading, providing legal support for areas such as market maker incentive programs and developing a co-location facility.
Lev is married and has two children. He enjoys family time and visiting beaches on Lake Michigan. A Chicago native, he's also an ardent White Sox fan. He expects IMC to enjoy significant growth in the next few years and is eager to help guide that growth.
"My voice is always heard, and views acknowledged if not always adopted," Lev says. "It's so rewarding to collaborate with some of the smartest, most talented people in the world. Just as importantly, we have fun not only while we are doing it, but also after we put our pencils down."
View this feature in the Vanguard Winter III 2023 Edition here.
Showcase your feature on your website with a custom "As Featured in Vanguard" badge that links directly to your article!
Copy and paste this script into your page coding (ideally right before the closing