Alan Chan – Nautilus Inc.
Redefining roles at Nautilus Inc.
Alan Chan chuckles while recalling how at other companies, people often assumed he was an engineer. Nothing wrong with that, he says, noting the scientific smarts and critical thinking necessary for an engineering career.
Had he opted for that path, Chan's certain he would have done just fine. Instead, he pursued law and if by doing so, he broke an Asian-American stereotype, he hopes others do the same. All the better if they join him in an in-house role.
"Growing up, people weren't as used to seeing Asian-Americans as lawyers," Chan muses. "They see them as engineers. But as an Asian-American attorney, I bring strength to the room. I may be an insider but I'm able to see from the view of an outsider."
Chan says that's been beneficial to his employers, his current one being fitness equipment company Nautilus Inc., where he serves as chief legal and people officer and corporate secretary at the Vancouver, Washington, headquarters. Here, more so than at other companies, he says his input is welcomed on matters micro and macro.
It's not always about ethnicity, he says. Sometimes it's just how a fresh set of eyes can see opportunity to improve what has been business as usual.
Carrying his weight
For example, soon after Chan moved into his office in August 2021, he was asked for his recommendation on the acquisition of the vision technology company Vay, Ltd. He also provided feedback to the product development and user-experience teams on its products.
Vay supported Nautilus' transformation from just producing cardio equipment, adjustable dumbbells and home gyms to a company that engages with its customer's fitness goals via the merging of its goods to a digital experience. That experience included the use of the Bowflex dumbbells, adjustable from 5 to 52.5 pounds, paired with the company's digital fitness platform, JRNY, which offers motion-tracking capabilities.
"Fitness was already a big part of my personal life," Chan says. "So, the experience of being asked to tap into my professional experiences on strategic matters like mergers and acquisitions, while also engaging my personal passions to contribute small details to improve our user's digital experience was quite a juxtaposition of my background on both the macro and the micro."
IQ and EQ
While most everybody recognizes IQ as important for lawyers to be successful, they may not realize the importance of EQ, or emotional quotient. Chan says he's honed both in a legal career that goes back to 2000 with the past 18 years in-house.
The first 16 of those years were with Arrow Electronics, a Greater Denver-based Fortune 500 distributor and servicer of electronic components and computer products. Having ascended to vice president of legal affairs and assistant corporate secretary, Chan says he was looking for new challenges when a recruiter sought him to help lead a transformation at Nautilus.
There would be challenges, what with Nautilus being a smaller company impacted by the highs and lows of COVID-19's effect on home fitness. Initially equipment sales soared as gyms closed. As gyms reopened and federal stimulus dollars dried up, sales swooned last year to half of the $590 million of 2021.
Chan, having evolved his own expertise from patent litigation to running mergers and acquisitions, sealed a complex deal for the company this past May to sell its Nautilus brand and trademark for $13 million. Yet the company retains the name, at least for the time being, while putting its efforts into its core brands of Bowflex®, Schwinn® Fitness and JRNY®. Such a move, Chan says, helps stabilize finances and positions the company for what seems a greater demand for at-home fitness.
"Our long-term plan is to move away from Nautilus," Chan explains. "Most of our revenue comes from Bowflex and we are working on realigning our brands to be more representative of our target consumer. We believe there has been a permanent shift after COVID with consumer fitness desires and we want to be there for our customers."
A true generalist
While Chan's sure to stay immersed in the business end, he can't let others matters slide. All commercial contracts have been moved to a new system embedded with artificial intelligence that Chan and his team are fine-tuning with templates and meta-data. He's pushed the organization to streamline and improve its contracting process from negotiations to approvals to recordkeeping.
He's empowered his legal team with new challenges and welcomed its input in supporting the JRNY app to better serve customers long after they buy equipment for their home gym. But to do that, the rules and regulations of many jurisdictions, including for data privacy, must be followed.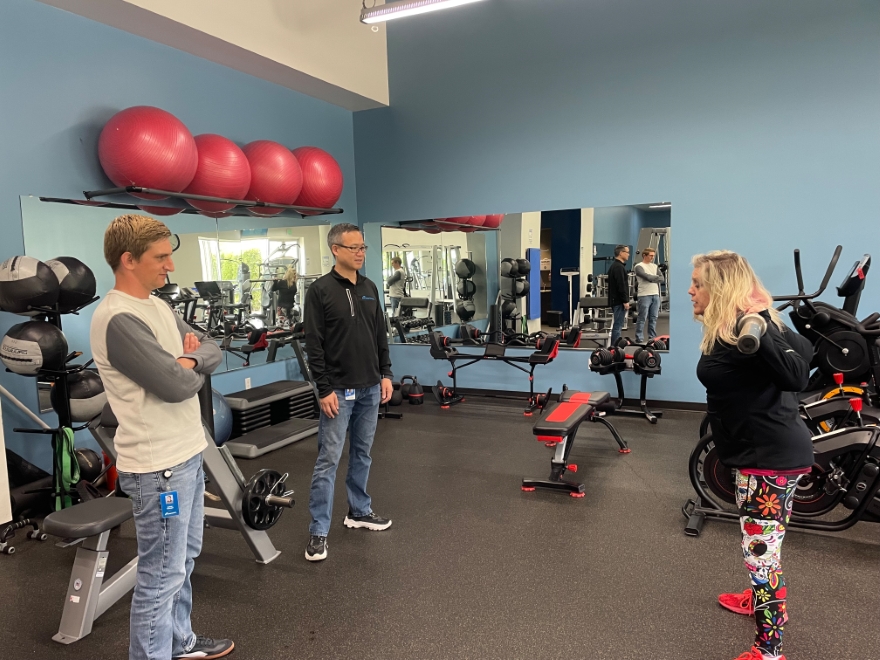 "I'm directly involved in managing all legal issues with our digital platform," he says. "We're doing more than commenting and advising on legal risks and contract liability. We're thinking strategically, not just saying whether we can or cannot comply with laws."
Then there's the personnel responsibilities he's undertaken as people officer. Here he says he listens more than he speaks and with the corporate restructuring mostly done, Chan must help fashion a company culture that's both welcoming and conducive to optimizing talent.
As an Asian-American in one of the most prominent positions, he's trying to set an example for diversity. The Pacific Northwest having a large Asian-American population, he emphasizes there's opportunity at Nautilus—and not just for engineers.
If there's a common denominator among the people committed to Nautilus, Chan says it's about sharing the mission of empowering healthy living—something's he's always sworn by. As a Binghamton University biology undergrad, he ran track and played volleyball. The Emory University law grad's now a spry 47-year-old who enjoys snowboarding with his wife and two kids.
But time on the slopes—and the golf course—may be limited as the Nautilus transition continues.
"The post-pandemic fallout provided more challenges than I expected while going from a large to smaller company," he says. "We may be smaller than Arrow and with fewer resources but, as a public company, the expectations are the same and I can't let anything slip."
View this feature in the Vanguard Summer III 2023 Edition here.
Showcase your feature on your website with a custom "As Featured in Vanguard" badge that links directly to your article!
Copy and paste this script into your page coding (ideally right before the closing