Allen Lo – Meta Platforms Inc.
Meta legal leader puts a 'like' on transforming company
Having taken on and helped vanquish the foes of Android, Allen Lo is ready to help make the Metaverse a reality.
As deputy general counsel for product, IP and legal operations for Meta Platforms Inc., Lo is helping guide the company that was known as Facebook into new realms, including virtual and augmented reality. He's also working with teams throughout Meta to protect platforms, apps and products.
Lo, who joined then-Facebook in 2017 after helping Google defend its Android operating system from patent challenges, says he relishes his role, although it takes him and the company into uncharted legal territories.
CEO Mark Zuckerberg announced the reorganization and rebranding of Facebook's platforms, products and apps into Meta in October 2021. Meta is divided into the Family of Apps and Reality Labs business segments in order to help people connect, find communities and grow businesses.
"We're dealing with some of the most interesting legal issues on the cutting edge where law is unsettled or new law is created," Lo says. "With 3 billion users worldwide, our impact is significant and the law is trying to catch up to technological advances and its societal impact."
Protection on all fronts
Lo leads a team of 400 that support the development of new products and features for Facebook, Instagram, Whatsapp and Messenger, among other responsibilities. That includes advising on risk and ensuring compliance with a plethora of regulations globally while protecting the brands from infringement.
As Meta develops its Metaverse and hardware products, including producing Quest VR headsets and Portal for video conferencing, Lo and his team manage legal affairs for the Reality Labs.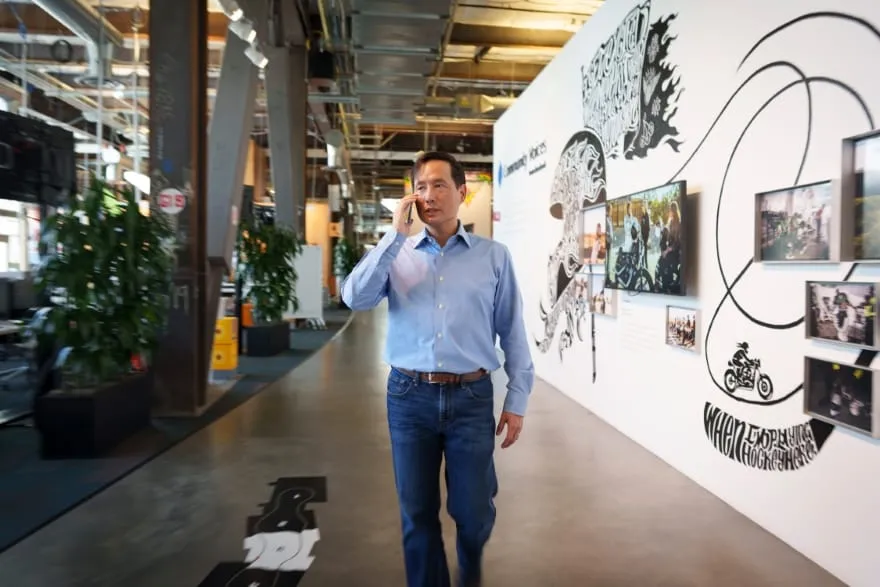 They manage intellectual property, too. That can mean ensuring social media posts using music are properly licensed, removing other content that doesn't comply with the company's policies and IP laws, and making sure Meta's platforms aren't promoting counterfeit products through e-commerce.
Lo's team helps manage outside counsel and created the guidelines for engaging firms. His team helps onboard new hires, and Lo has helped the legal team and outside counsel emphasize and measure efforts to further diversity.
Inclusion is essential
Lo has been involved in diversity, equity and inclusion efforts since attending Ohio State University, where his now-wife asked him to join the Asian American Association. Serving as its vice president (she was president), he says his eyes were opened to the stereotyping Asians face. After he entered private legal practice, he also found how Asians are underrepresented in leadership.
In 2010, Lo participated in a Stanford University graduate leadership program designed for Asian American executives that focused on issues involving culture and identity in leadership.
Lo was part of the DEI legal steering committee at Google and continues that role at Meta. He provides oversight to seven affinity groups, meeting with them monthly and enabling employees to share experiences and perspectives.
Within his legal team, Lo has created a system for equitable distribution of opportunities, which he says is both transparent and ensures support and recognition of the work team members have done.
For instance, Lo says engineers who file patent applications frequently do so on evenings and weekends—which are times when women may be busy with family obligations. So, his team has found ways to provide them with the time and opportunity to file applications while keeping their work-life balance intact.
"DEI, when done well, has a tremendous company and social benefit," he says. "Get a seat, use your voice and challenge each other to make ideas better. Real inclusiveness involves empathy—understanding why someone is saying something."
Looking for the next challenge
Lo was born and raised in Columbus, Ohio. His father had come to the city from Taiwan to earn his Ph.D. at Ohio State University. There, he met his mother, who'd come from South Korea for her graduate studies.
He followed his parents to OSU, too, earning his bachelor's in electrical engineering with a focus on computers in 1990. His father and a patent lawyer he knew advised him to also earn an MBA or law degree. So, he moved to Washington, D.C., to become a patent examiner with the U.S. Patent and Trademark Office while attending Georgetown University Law Center at night.
Lo earned his J.D. in 1995 and served as a student associate at the law firm of Finnegan, Henderson, Farabow, Garrett & Dunner LLP. After graduation, he joined the firm full-time and litigated cases in state and federal courts as well as drafting and prosecuting patent applications in high-tech.
In 2000, Lo moved in-house to become deputy general counsel and vice president of intellectual property for Juniper Networks. There, he built and managed a legal team responsible for patent portfolio development, negotiation of technology agreements, employment matters, global litigation, and support for the board of directors, among other areas.
However, Lo says he wanted to create more of an impact in his career, which led him to Google. He became deputy general counsel for patents in January 2012, arriving as the company faced plethora of legal and patent challenges to its new Android operating system and as it acquired Motorola for its patent portfolio. He led a team of 120 legal professionals defending Android and its IP.
"That was the exact role I had in my head a year before I joined—I knew I wanted to lead this when the role was opened," Lo says. "Over the next five years, we built a strategy and settled legal issues through patents and cross licensing."
With Android's IP secured, Lo sought another challenge and became vice president and deputy general counsel and head of intellectual property at Facebook in 2017. As the company's legal issues took off, he was named to his current position in April 2020.
"I've been privileged to have worked and to continue to work with some of the best people in the legal profession," he says. "So much of what I've learned and what's helped me grow comes from my team members and colleagues, and I'm so grateful to have had that opportunity."
View this feature in the Vanguard Summer III 2022 Edition here.
Showcase your feature on your website with a custom "As Featured in Vanguard" badge that links directly to your article!
Copy and paste this script into your page coding (ideally right before the closing