Daphne Turpin Forbes – Microsoft
Microsoft lawyer leads with 'grace, grit, grind and gratitude'
From laptops to gaming systems to computer software, Microsoft makes products and services used by millions of people around the world.
Customers expect high quality and performance from the company, so maintaining trust, security and reliability is crucial, Daphne Turpin Forbes says. As an assistant general counsel, she ensures Microsoft is compliant with its contractual obligations, including laws and regulations in the industries she and her team serve.
"We have to bring our A game each and every time we interact with our customers because if we don't, it could erode their trust and taint our reputation—scenarios we absolutely wish to avoid," she says. "Microsoft is serious about maintaining its culture of trust."
Maintaining trust is a team effort, Forbes says, as are most things she does at the Washington-based technology company. She and her team of seven legal professionals ensure there is always strong and consistent communication so nothing is overlooked.  This also normalizes asking questions so that risks are mitigated. To that same end, the legal team leads trainings to keep internal business clients aware of company policies, the business rules and laws applicable to Microsoft and best practices they need to follow when engaging with their customers.
Forbes leads legal support for the company's U.S. public sector and enterprise commercial businesses. It's a $7 billion-per-year segment that includes state and local governments, educational institutions and financial services entities.
"Our customers use Microsoft products and services for highly specialized workloads, some of which include sensitive and confidential data and information," she says. "I enjoy gaining our customers' trust and working with them to help them meet their desired business goals securely."
Striking a balance
Forbes and her team negotiate contracts with these organizations as they seek to purchase Microsoft products and services, such as Microsoft 365, Microsoft Dynamics and Microsoft Azure, to name a few.
"I enjoy the mix of camaraderie and contention with opposing counsel to come to a win-win for Microsoft and the customer," she says. "One of my superpowers is turning contention into collaboration."
Forbes enjoys coaching her staff on how to strike this balance, too. As she's advanced in her career, she's realized how important it is to her to help others grow as well, which she does by "leading with grace, grit, grind and gratitude," she says. By openly sharing the lessons she's learned throughout her career, she aims to help her direct reports and teammates avoid some of the pitfalls and setbacks she's experienced.
Through this approach, Forbes also models for her team "the kind of behavior that adds luster to the Microsoft brand," she says.
"Being a caring manager is important because my teammates are people first," she says. "Where I'm at in my career right now is, of course, doing my best work for the company, but making a difference in the careers of others—especially my more junior colleagues—is a common theme on how I lead."
Speaking up
Forbes' support of other employees extends beyond her team to the entire company, with diversity, equity and inclusion work being important to her.
She says Microsoft has been leading DEI initiatives for a long time, but that "DEI work needs to continue as long as inequities persist in the world." Forbes is especially focused on advocating for women, especially women of color like herself.
"If someone isn't focusing on us, we'll be left behind as we have been for so many years," she says. "I want to elevate what is equitable, fair and just, internally and externally, to make us an even stronger organization and the employer of choice for women of color."
Microsoft has mentorship rings within the company tailored to women and, more specifically, mentoring rings that focus on women of color. Forbes says these groups encourage women to learn from each other and to discover allies and "success partners" in the company who can offer advice and support in their careers.
Forbes hasn't been afraid to share with senior leaders how they can better support women at Microsoft, such as providing sponsorship for advancement. She also helps executives who lead women's initiatives understand that women of color experience the workplace differently than their colleagues who are white and male. She also speaks on panels and writes articles about women's empowerment.
"It's important to bring up issues like this with executives, and I am fortunate that they listen and take DEI seriously," Forbes says. "One of the best things about working here is the culture because Microsoft focuses not only on treating customers with respect, but employees, too."
Lifting up what's right
Much of Forbes' commitment to advocating for what's equitable, fair and just was influenced by her grandfather, who was a judge in Ohio when it was rare for a Black person to hold such a role. She remembers childhood days spent in the courtroom or out campaigning with him.
"I have found that bringing people together, listening with humility, ensuring all voices are heard and thoughtfully working on solutions together are key to effect positive change," she says. "I work hard to make sure we're empowering people and lifting others up to do what's right, professionally as well as personally."
Working in human resources, which she did prior to attending law school, also influenced Forbes' people-first approach. Before becoming an attorney, she spent over two years as a human resources manager at Lockheed Martin. While there, she earned her J.D. from American University Washington School of Law and spent eight more years with the company, first as a contracts director and then as corporate counsel.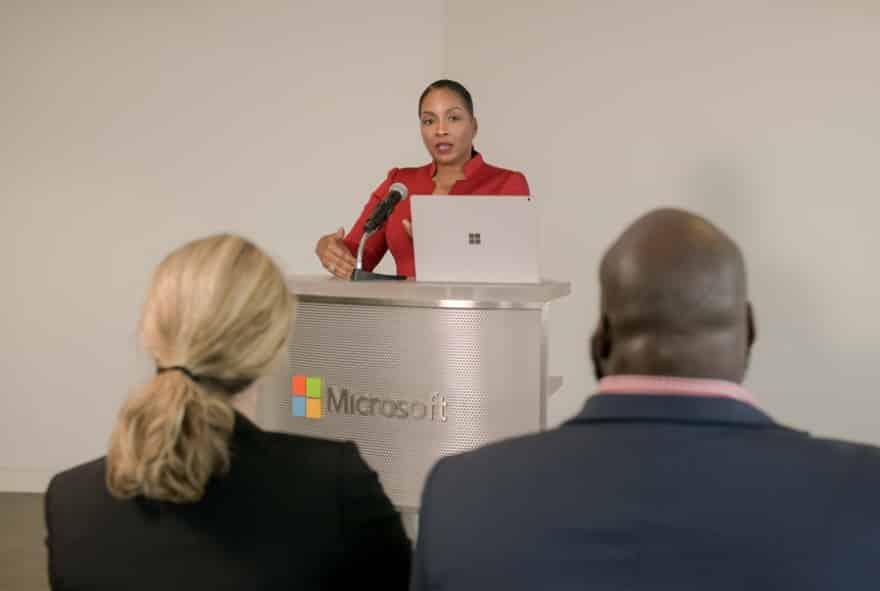 After a stint at Discovery Communications as a director of legal affairs, Forbes was hired at Microsoft in 2007. On top of her legal and transactional work, she has been the U.S. diversity and inclusion lead for Microsoft's global commercial field team and a corporate leader for the legal department's Blacks in CELA (Corporate, External and Legal Affairs) employee network.
Outside of work, she's been involved with local boards and nonprofits in Maryland, where she lives with her family. Currently she is the chair and commissioner of the Prince George's County Board of License Commissioners, the county's liquor board. She also spent two years as an adjunct law professor at Howard University co-teaching a class on technology and law.
"I'm fortunate that I've been able to take my interests in advocacy and giving back into my work at Microsoft and that the people I work with care about this too," Forbes says. "The people here are so smart and really committed to helping the world achieve more through technology."
View this feature in the Vanguard Summer III 2022 Edition here.
Showcase your feature on your website with a custom "As Featured in Vanguard" badge that links directly to your article!
Copy and paste this script into your page coding (ideally right before the closing